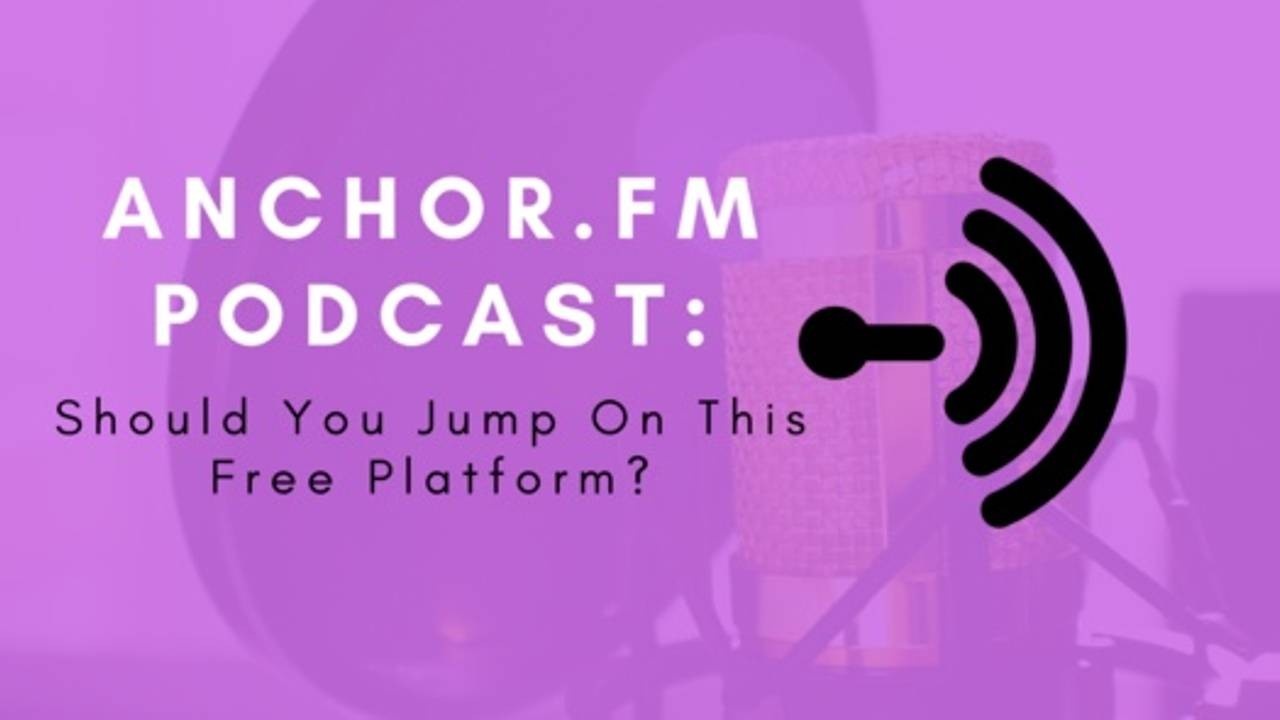 Starting a podcast is not for the faint of heart. There are several moving parts involved, from securing guests, recording, editing, uploading, and transcribing.
I'll admit, even after all these years of podcasting, it can be overwhelming.
So when a platform like Anchor.fm seeks to remove all those barriers to entry, you can't help but take notice.
Now there is no excuse not to start a podcast!
Anchor prides itself on being a free all-in-one podcast service and has remained so since 2014. Their recent acquisition by Spotify means that they are slowing down anytime soon, either.
Free sounds fantastic, but there must be some strings attached, right? This Anchor.fm podcast assessment will cover the pros and cons of this podcast hosting service.
The many amazing advantages of an Anchor.fm podcast
1. It's Free:
For starters, you can upload, share, and even monetize your podcast for free. There are several hosting options available, like Podbean, Buzzsprout, Transistor, Castos, and Soundcloud. While there are starter packages for free, none gives you total access to all these options without charge. The biggest draw is the unlimited hosting, meaning you won't have to worry about how many episodes you can create.
2. Easy to navigate:
Anchor operates like an app with a simple menu and interface. It won't take you long to upload, edit, and publish your content with simple drag and drop options available. All of Anchor's mobile pages are clear, and responsive, with everything like sponsorships, and sharing possible with a few taps.

3. Record Straight From Your Phone:
If inspiration grabs you, you can whip out your phone and record a podcast episode or complete an interview by just hitting record. Anchor will use your phone microphone, or you can plug in any handy mic. In 2018, Anchor finally improved recording to a 128 kbps bitrate.
4. Look and Sound Professional With a Few Clicks:
Anchor places the audio on a timeline feed so you can move things around, add effects, ad rolls, and so on. There's an image library to help with podcast artwork, which can save you time and money getting one designed yourself. There's also an audio library with sound effects that can become your intro or outro. Remember that this is on a shared library so that someone may have the same artwork or audio as yours.
5. Host multiple guests within the app:
If your guest has Anchor installed on their phone, you can connect with them for an interview-style podcast. In fact, you can have multiple guests on the app. Anchor also allows listeners to leave voice messages once you share the URL.
6. Monetization right out of the box:
What sets Anchor apart from other hosting services is the monetization services. With Anchor Sponsorships, you can qualify for special offers based on your podcast performance. The sponsor will offer a CPM rate (how much they will pay per 1000 downloads). You get the instructions and flip on the sponsor with a straightforward radio button. Record your ad, slap it in, and that's it. Your podcast can start earning ad revenue. Anchor also has its default ad roll. Podcasters can start making money even if they're just starting.
7. Anchor Videos for social sharing:
With Anchor video, you can create a video with a snippet of your content transcribed for social sharing. This sets them apart from other providers that only create audio snippets.
Anchor.fm has some limitations.
A "free" service is not always free. There are some ways that you will pay for the service. In Anchor's case, you do lose some useful features when it comes to setting up a professional podcast. Furthermore, some default settings benefit Anchor and not the podcaster. Here are some drawbacks to consider:
1. Recording on the phone has limitations:
It's great that you aren't limited by an expensive mic or voice recorder. However, you can still pick up background noise and create a lower quality audio recording. Some users have complained about the M4A format rather than the preferred MP3 or WAV styles.
2. Limited editing options:
Anchor's editing option allows you to cut, insert and split your audio files into a finished product. However, you miss many of the features of editing tools like Audacity or Garageband. You will want to remove excess background noise or adjust audio levels, which can be difficult on the app. Furthermore, you will be editing with your finger, which can be stressful.
3. Upload file size limit:
Yes, you can upload unlimited files onto Anchor. However, there is a 250 MB limit to your uploads. That means podcasters will have to split or compress their data before uploading.
4. No Premium Capabilities:
Some podcast hosting services like Podbean or Libsyn allow you to set up Premium content. Premium gives your content an extra revenue stream. Anchor is missing the ability to gate content.
5. Only One Category Per Podcast:
Your podcast may fall into several categories. However, Anchor is set up for one primary category. A solo category is a disadvantage if you're using Anchor for distribution on other platforms.
6. No website integration:
Is your podcast part of a bigger brand? Are you trying to share your content on your blog? While other podcast hosts have WordPress plugins or provide you with a free podcast website, Anchor focuses on mobile. That means no website integration for now.
7. Be prepared for Anchor ads in your episodes:
If you're cool with Anchor ads on your podcast, then this is no issue. Anchor has ads set as default, which you need to take off in the Settings. If you're looking to build a brand that's not centered around ads, make sure to have this addressed.
8. Limitations to distribution:
Anchor distributes your content without you having to set up on platforms like Apple or Google. However, your content will be shared through Anchor's accounts. If you need more analytics directly from Apple, you won't be able to see it. If Anchor's analytics works for you, then stick with what's within the app.
The Verdict: Be clear on your podcast intentions
So should you jump on Anchor? Before moving forward, you need to be clear on why you're starting a podcast in the first place.
Is it a hobby or a passion project?
Are you just testing it out to see what all the hype is about?
Is it a mini-series to get the word out on a particular topic?
Then Anchor is an excellent choice. You can quickly start your podcast without the friction that comes with set up. You can even monetize your content, which will keep rolling in flong after you're done with publishing (passive income anyone?).
All for free.
However, if podcasting is going to be a long-term play with an emphasis on quality, brand recognition, and revenue growth, Anchor may not be the best choice. You will need more control over the production and other facets like podcast transcription, website, and audio quality.
If this sounds like you, choose a hosting service like Buzzsprout, Transistor, Podbean, or Libsyn. Anchor has made podcasting easy for beginners, but as you go on, explore other options.
Let's Connect
Are you thinking about starting a podcast or create more content, but you're not sure where to start? Sign up for my email list for more help, tips, and insight on podcasts, LinkedIn, and Digital Marketing.
‍