How to Build an Online Presence That Can Help Transform Your Business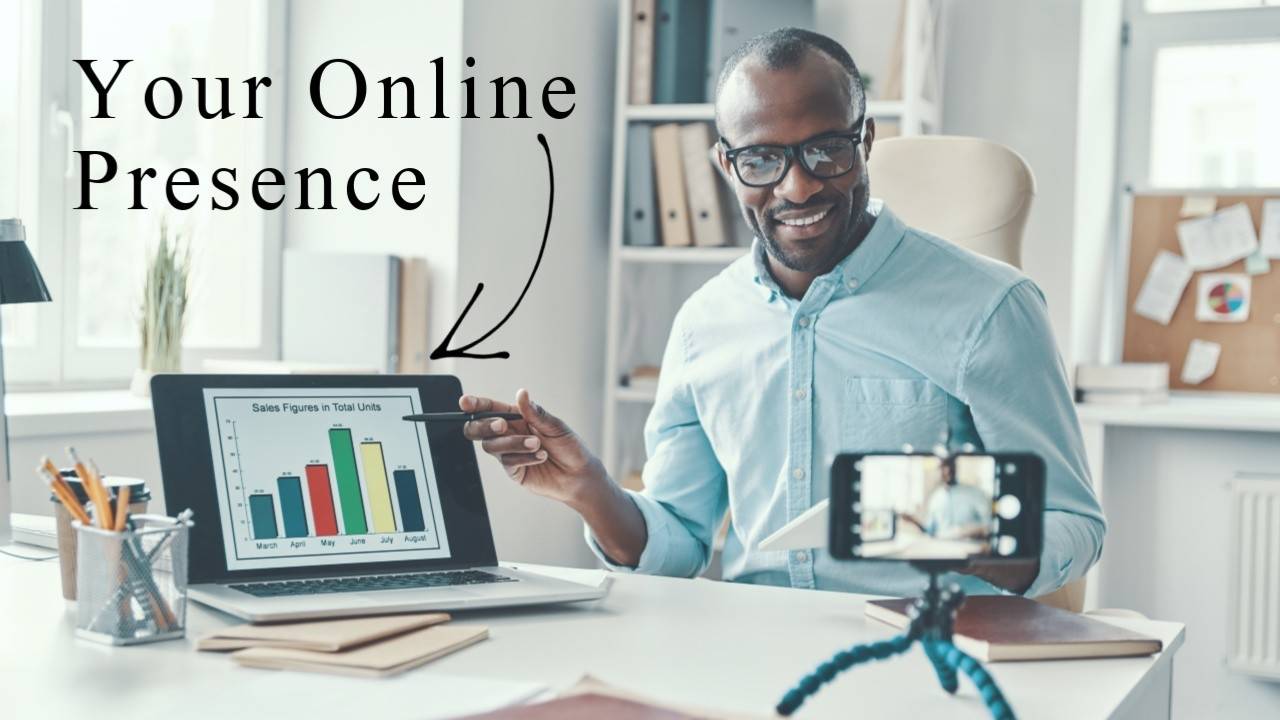 How to Build an Online Digital Presence
"Digital used to be about coding and I.T.; now it's becoming a people business." -Mary Cate Loftus
The current digital transformation has made it necessary for everyone to have an online presence. Whether you are an entrepreneur, personal brand, or business, it is important that your presence is felt on digital platforms. Why? Because everybody is online, including your clients and competitors!
According to Google, a whopping 97% of people use the web to search for local businesses. Now, for your marketing strategy to work, you have to be where your target audience is, and these statistics are proof that they are on online platforms. This then begs the question, why don't you have an online digital presence?
The good news is that it's not too late to get started. Here's how you can build an online digital presence from scratch!
1. What is an Online Digital Presence?
A while back, having an online presence meant having a website. Then social media took over, and your online presence was mainly dependent on how well you maintained your social accounts. Currently, it is more than the website and the accounts you have.
Think of it this way; there is more to a human than just body parts; there's character, behavior, beliefs, etc. Your online presence is largely determined by your behavior and online reputation, coupled with the way clients and prospects perceive you on the internet.
When people look up your name or business on the web, what will they find? What reviews have your clients left on google? Are there published articles? Simply put, how visible are you on digital platforms?
2. 4 Effective Ways to Build a Solid Digital Presence
Building a digital presence has never been easier. Anyone can build a solid online presence. Almost everyone is online, and the term 'just google it' is like a mantra. Need a local marketing agency for your business? Google it! Looking for product reviews? Yes, you will find them on the internet. Everything you need is just an internet search away.
The truth, however, is that building an online presence is not easy. There are millions of other brands on the internet, and you need to make yours stand out. The foundation of your digital presence has to be so strong that your reputation can withstand the test of time.
Here are four effective tips for creating a rock-solid digital presence.
I. Have a Strategy
The first and most important question you need to ask yourself is, 'Why do I need an online presence?' Being on digital platforms without a goal or because everyone is doing it will lead to your immediate fail.
Start by identifying your long-term and short-term organizational goals; creation of awareness, an increase of sales, lead generation, promotion of products or services, etc. This will help ensure that every action you take towards solidifying your presence is in tandem with the goals.
The goals you set should be S.M.A.R.T.:
Specific- the end goal should be clear, e.g., gain 10,000 social media followers within the first year.
Measurable- progress can be easily tracked, making it easy to estimate when the goal will be achievable, and if you are on track.
Attainable- don't be overly ambitious. If you are starting out, don't expect to get 1,000 new leads within the first month. If your goals aren't attainable, you will struggle to fulfill them, and your motivation will wane.
Relevant- set goals that are pertinent to your industry and provide direct benefits.
Time-Bound- set timeframes for your goals so that you can create a strategy around the set time.
The strategy will act as a foundation and a roadmap for the journey you are about to embark on. It will keep you on track and eliminate any distractions you may encounter along the way. If you are going to build an online presence, you have to do it the proper way.
II. Focus on the Solid Platforms
Every tip hereafter will be based on the goals that you previously set.
Identify the online platforms that can help you achieve your goals and create individual strategies for them. The most common platforms are; a website and social media.
Website
Your website will act as your official online home. This is where your target audience will most likely have their first interaction with your brand, so it has to stand out and provide an accurate image of your brand's identity.
On average, it takes less than 30 seconds for a web user to decide whether to continue browsing or leave the site. How do you convince them to keep interacting with your website? Here are three things you have to consider.
Site Layout- your website should be easy to navigate, and all-important content easy to find. The font shouldn't put a strain on the web users' eyes, and the design should strike the perfect balance between creativity and functionality.
Technical capabilities- optimize your site for faster load times! There are millions of web users, but the one thing they have in common is that they are not patient. Around 53% of web users will abandon a site that takes more than 3 seconds to load.
Your website should also be mobile friendly as more than half of all web traffic is from mobile devices.
Color scheme- your brand colors aren't for aesthetic beauty; they are a visual representation of your brand's identity. They communicate the values of your brand and set the brand voice that web users will associate with your business.
Make sure your website provides users with a seamless user experience to increase your chances of online success.
· Social Media Platforms
"If you are on social media, and you are not learning, not laughing, not being inspired or not networking, then you are using it wrong."- Germany Kent
Social media has turned the world into a global village, and this quote sums up everything you need to know about how to make use of it. Web users spend a significant amount of time on social platforms, presenting you with an opportunity to interact with your target audience intimately.
Here's how you can incorporate social media into your online presence strategy.
Be where your target audience is.
For your online presence to have an impact, you have to interact with people who have the same goals as you or are interested in your products and services.
The most common social media platform are;
❖ Facebook- This has the most diverse group of users and would be perfect for creating awareness.
❖ Twitter- this platform can be used to boost brand recognition, especially when you make sure of the hashtags.
❖ Instagram- if your brand has a heavy reliance on visual media, then Instagram would be a great place to start.
❖ Linkedin- this platform is more professional and is best used to interact with other professionals in your industry.
❖ Pinterest- it goes a long way in driving traffic to your website.
Other social media platforms include TikTok, Google+, and blogging sites like Medium.
If you want to be successful on social media, you have to be social.
Nobody joins social media with the intent of buying products. Few people want to interact with a brand that is always promoting their services. The only way to thrive on social media is to strike the perfect balance between socializing with your audience and being 'salesy.'
Create a connection with your followers by being interactive through your social posts, either by running polls, competitions, or even posting industry-specific jokes.
Consider running advertisements
Organic reach on social media is rarely enough to get you much recognition. Consider running social ads to reach more people or make use of influencers in your specific niche.
III. Provide Valuable Content Consistently
Creating a digital presence only gets one foot into the door. To remain relevant to online platforms, you have to continuously provide your followers with valuable information. For instance, if you are a tech company, keep your website and social media constantly updated with company information and relevant tech news.
You need to keep churning out content so that your online visibility is consistent. What kind of content will your followers engage with more? (podcast books, blog, videos). What knowledge do you have that they would find helpful? Do not neglect your online platforms!
IV. Constantly Optimize Your Content
If you want to hide a dead body, put it on the second page of Google.
Few people go past the first page of Google, so you need to optimize your web content so that you get ranked higher. Google's algorithms are constantly changing, but the one strategy that seems to work is the use of keywords.
Find out the specific phrases that your target audience is using to look up your brand and then include them in your content.
A quick rundown of SEO
Search engine optimization is the process of increasing your website's visibility through the use of optimized content. Your website needs to be optimized for major search engines like google and Bing so that your audience can easily find you.
Here's the one thing you should never forget; SEO is a continuous process.
3. Factors to Consider when Building an Online Presence
An online presence can either make or break your brand.
The speed of light is fast, but bad news travels even faster on digital platforms. This means that you have to be extremely deliberate with how you conduct your activities online.
Here are factors you need to consider when building your online presence;
Target audience- this is the group of people that you plan on interacting with on online platforms. They could be current clients, prospects, industry experts, etc. Conduct thorough research of your target audience, identify their pain points and offer them solutions on your online platforms.
Personalized domain- host your website on a domain that is personalized and easy to remember. This should be followed by officially branded emails where interested parties can reach you.
Brand story- How would you want web users to perceive your brand? Your online presence should mirror your brand story.
4. How Long Will it Take to Build a Solid Digital Presence?
Rome was not built in a day, and neither will your online digital presence. When starting out, your main focus should be to get as much visibility as you can. Start by building relationships before you begin promoting your brand.
How can you tell that you are on the right track? Conduct monthly, quarterly and yearly reviews and check them against the SMART goals you had previously set. The most obvious indicators are an increase in social followers and website traffic.
It may seem like you're taking forever to solidify your online presence, but don't give up. Build your reputation one block at a time until you are well-positioned in the minds of your audience.
‍