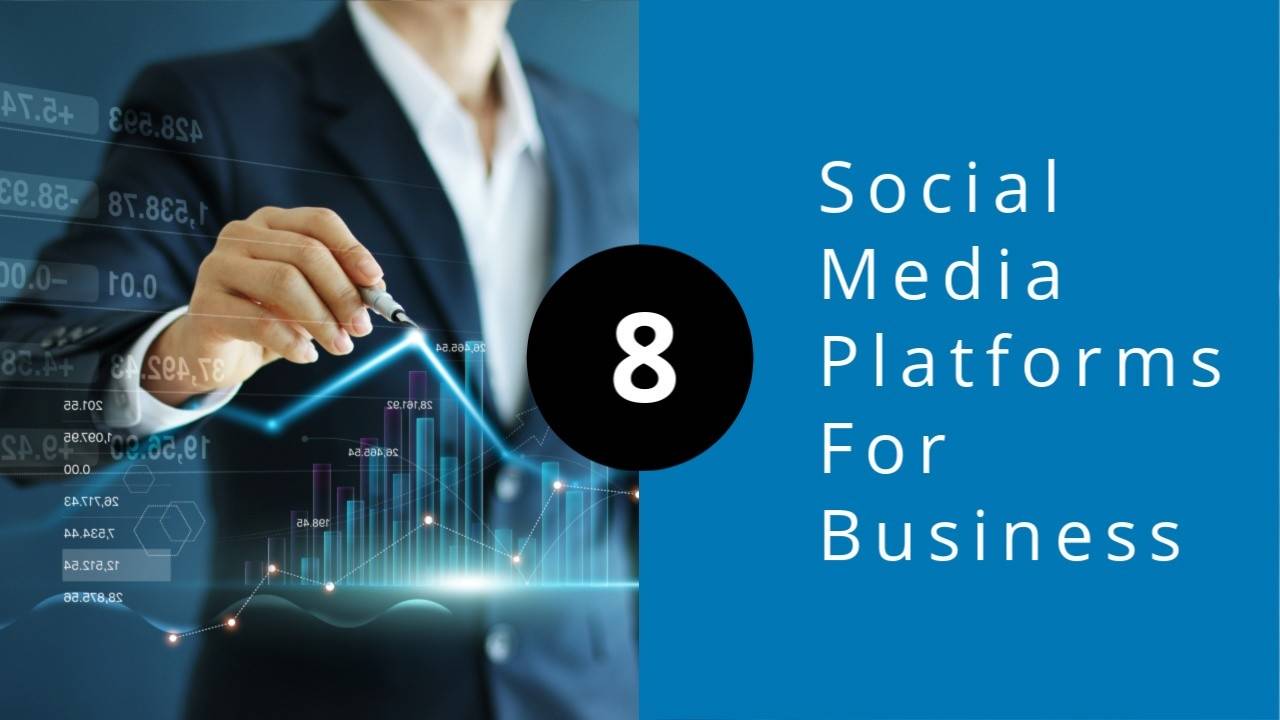 Are you ready to market your business online? Do you believe that your business needs social media? If so, you won't be making a mistake when you use social media. Social media is budget-friendly, and the return on investment is excellent. Not only will you see an increase in sales, but the platforms are growing year on year.
Now is the time to use social media for your business!
However, the question you will ask is which social media platform is ideal for your business? Before you make a choice, you will need to know where your potential audience will be. The platform that is likely to have your potential customers should be the platform you focus on. But it is crucial to test others if you want to expand.
Before you understand how social media will help your business, we need to know why it is vital.
Did you know that almost 81% of Americans are active on one social media account, and over 50% have two or more social media accounts? That's why you need to take social media seriously and build your presence. You will increase sales using social media.
Most people won't just use social media for entertainment but also to buy products and services. For instance, almost 65% of B2C marketers have gained loyal clients through Facebook only. It is estimated that 93% of Pinterest users use it to buy products.
Not only will consumers buy from online businesses, but they will spend a lot of money on companies present on social media.
If you think social media has not made an impact, almost 71% of online buyers have reported having an excellent experience of shopping from a company with a social media profile. Most consumers also are likely to refer the company to relatives.
With these numbers, we can agree that there is revenue on social media. But which platform suits your business?
In this piece, we will discuss 8 top social media platforms that can help businesses increase their revenue.
Facebook
Facebook is the world's popular social media platform. It has over 2.4 billion daily users and is still growing.
It doesn't matter whether your goal is to increase leads, sales, brand visibility, or website traffic; Facebook will help you attain your goals faster when used correctly. Facebook can help you achieve your online business goals because of the number of users and targeting. Almost every business can get clients on Facebook. If you have the right strategy and offer value, you will see a return on investment.
Well, you may think, Cool, my potential clients are on Facebook. So, how do I attract them to see what I'm offering on Facebook? The solution is through Facebook Ads and consistent posting.
Out of all the social media platforms available, Facebook's advertising is the best and does well even against the likes of Twitter and others that were in existence before Facebook.
When you use Facebook, you will target your potential audience using gender, occupation, age, spending behavior, likes, and more. It will allow you to control your ad spend, how you will target your audience, and type of content.
If you're not convinced that Facebook will boost your business; don't worry, it will promote your business. If you don't have a sufficient advertising budget for Facebook, it might not be an ideal platform if your business deals with products that are banned, such as tobacco or marijuana.
If you use Facebook, you will need to have a budget that will get you results. If you have the budget, you will have the chance to reach relevant people who are using the platform daily. Most people have gotten leads and sales after using Facebook advertising.
If you put out excellent content, do A/B split testing, and use Facebook's advertising platform, you will see your business blossoming.
Instagram
Instagram is very close to Facebook. Why? Because it is owned by Mark Zuckerberg, who owns Facebook. The platform has an estimate of 500 million people who use the platform daily.
Facebook CEO Mark Zuckerberg bought Instagram because he believed in its potential and benefits. He bought it 18 months after it was introduced to the world. The platform has experienced significant growth ever since its launch.
And because it is in the same ecosystem as Facebook, it will have the same user base and advertising systems, just like the one Facebook uses. It will have similar advantages that Facebook has. However, Instagram is different and has unique benefits.
Getting clients organically on Instagram is easy and can be done without spending a lot of cash. On Facebook, invest in campaigns to reach you, clients, and grow your followers.
Instagram allows you to get followers organically, even without having to pay. If you're consistent, you will reach your clients fast. It is a photo and video app. So ensure your content is brilliant and appealing.
Instagram is perfect for businesses that don't have a huge advertising budget. You will only post photos and videos to attract clients. You can post text without a picture on Facebook, but on Instagram, you can't display text without a photo. Even if you leave it blank, it won't attract people to your profile. Also, people remember almost 80% of visuals than what they read.
Twitter
It is one of the earliest social media sites. It has roughly an estimated over 300 million people who use it monthly.
On Twitter, you can post copy, photos, and videos; however, Twitter is mostly used to update people on real-time activities happening all over the world. We can all agree that you've heard "live-tweeting" somewhere.
It is also ideal if you want to have a conversation with clients through a hashtag. Instagram also uses hashtags. If you want to know what is happening and full details, just search for a hashtag. You will find useful posts from customers and businesses are in the same industry. Not only will you get feedback fast, but you will also see what customers are saying about your product.
For instance, if you own a garage, you will find people seeking to get their car fixed tweet how they want it done. You will respond to their tweets with your services and a discount to get them to hire you.
YouTube
YouTube is the biggest video platform in the world. Also, it is a video search engine since Google owns it. It lets users upload and watch videos.
The video-sharing social media site has roughly over 2 billion people logged in monthly. With over 2 billion people watching videos, you can create content and share it on YouTube. You will probably get people interested in your product. Make sure the video is interesting.
It is like Snapchat and Instagram, YouTube is all about videos, but unlike other platforms, Google owns YouTube. Since Google owns it, YouTube uses Google's advertising tools, and you can use it to run YouTube ads for your business.
It also uses similar strategies to help users get what they want when they search on the platform. You can customize your content around relevant keywords so that your potential audience can find you.
You won't need to spend a lot of money on advertising if you can make videos rank high on search if you use the right keywords in the video title, description, and tags.
LinkedIn
LinkedIn is perfect if you own a business that seeks clients based on their occupation or has a B2B model. It is a platform that has an estimate of 300 million monthly users. Almost all users active on LinkedIn are working or seeking jobs.
Since LinkedIn is a social media site for business, most people will share detailed information about their previous jobs, former employers, email, and phone numbers than other platforms. Facebook, Instagram, and Snapchat are used for connecting and entertainment while LinkedIn is professional.
LinkedIn has advertising tools that are essential for creating campaigns. Even though the platform is not advanced as other social media sites, LinkedIn still offers benefits you won't get on other social media sites. It is vital, especially if your business is targeting people seeking jobs or other companies.
Snapchat
Have you used Snapchat? If you haven't, you need to know that Snapchat is popular among millennials and Generation Z. It is a social media platform that lets users post stories (photo or video), and the stories will be visible for 24 hours. Also, you can send stories to another user.
If you have a business that is targeting young people, take advantage of Snapchat.
Snapchat has over 300 million monthly users and over 200 million daily users. Almost 70% of the users are age 30 and below. To be specific, nearly half of Snapchat users are between the ages of 18-24.
Snapchat is like Instagram since one has to either share a video or photo post.
You can also use the advertising tools offered by Snapchat. You will pay and have a link using Discovery ads.
You will reach the target audience when you pay to appear on the Discovery platform and the Top Story section. Don't forget to post consistently on your profile. Snapchat is for the youth, and it is growing fast.
Pinterest
Pinterest is the best social media platform if you own a business in the creative niche or target females.
It is estimated that the platform is visited by over 250 million users monthly. 80|% of the users are women, 90% are active pinners who use Pinterest to help them buy products, and 85% say they've purchased a product after using Pinterest.
Some of the most common searches include how-to posts, fashion tips, wedding style, and food recipes. If you have a business that deals with fashion, lifestyle, or food, use Pinterest as a marketing tool. Not only will you reach your target audience, but you will attract a loyal following.
Also, you can use Pinterest's advertising tools. Even though it isn't popular like Facebook, you can use the advertising platform to reach your market and monitor the conversions.
Pinterest can do some things other social media sites can't do. If you want to reach many people on Pinterest, use relevant keywords a user uses that.
Pinterest offers businesses the opportunity to come up with a content plan for spending a lot on advertising.
TikTok
TikTok is a new and trending platform that was founded in 2018. It lets users on the platform to record 15 seconds of videos and post them. TikTok has 1.2 billion users and over 500 million active users monthly.
It is more popular than LinkedIn, Twitter, and Snapchat. Even though TikTok has attracted Gen. Z, it hasn't developed advertising tools like other social media sites.
Most online marketers who are active on TikTok are making money through influencer marketing. A lot of brands are yet to take advantage of TikTok. As a business, reach the Gen. Z audience, which is challenging to attract.
Social media sites like Instagram, Facebook, and Twitter are already saturated.
Conclusion
These are the best eight social media sites that can boost your business if you're seeking to reach new potential customers. You should think about the social media platforms available and decide which one is the best for your business. If you don't have a social media marketing strategy, you can contact us to talk about your online business goals.
‍