How to Leverage Social Media to Boost Your Business's Audience & Sales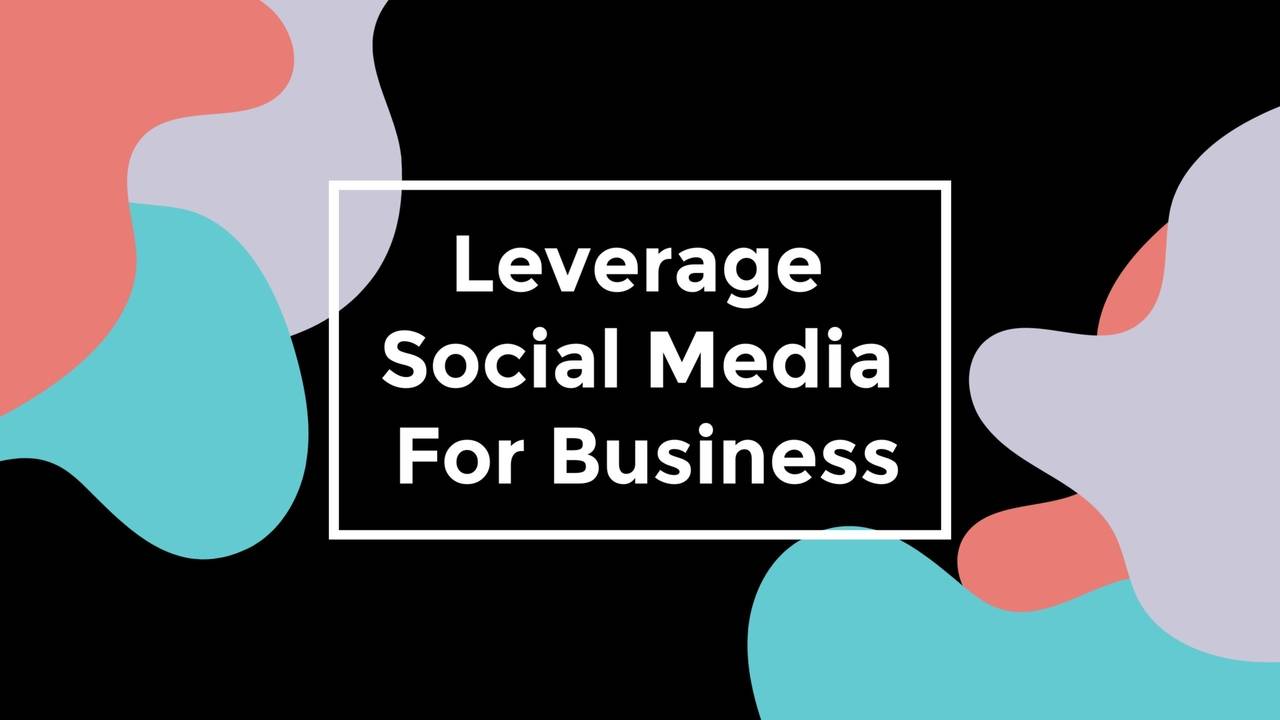 Leveraging social media to boost your audience can help grow a business and increase sales.
It isn't just big businesses that can see benefits from having a social media presence. With nearly 1.7 billion users on Facebook, and 160 million on LinkedIn in the United States alone, it's easy to see the potential reach of your company. Best of all, you have plenty of platforms you can choose from:
LinkedIn
Facebook
Instagram
TikTok
Twitter
Pinterest
Snapchat
Still not buying how you can use social media to boost your business? Well, let's take a closer look at just a few of the benefits of creating and growing a digital profile, and how you could best use it to expand your audience.
Boost Your Daily Traffic
One of the best ways to increase your conversions? Grow daily traffic to your website. The more people who visit your site, the greater your chances are of actually making sales.
That's all well and good, of course, but how? That's where using social media to boost your business comes into play. Remember, there are billions of people who are regular users of social media. In that context, establishing a solid social media presence is the logical next step in any strategic marketing plan.
Not only can you use social media to boost your business, but you could also harness it to generate quality leads, too. After all, many platforms know that businesses use them to advertise. With that in mind, they frequently let you narrow down your scope so that you can target specific demographics and consumer profiles.
For example, if your business sells scented candles, your target consumer is likely to be vastly different than a recruitment agency. By honing in on that, you're increasing your chances of successful conversions with each ad placement.
Want to use social media to boost your business directly? Try advertising a form of gated material to generate quality interest. Whether it's a free webinar you're hosting or a digital guide you give away, you can be more confident that those who click through will convert since they're already displaying interest in your product.
Of course, there is also the organic traffic that comes with having a social media presence. This doesn't mean choosing a single platform and hoping for the best. As with any marketing plan, it's important to be active and diverse. Along those lines, you could make a LinkedIn, a Facebook, an Instagram, a Twitter, perhaps even a TikTok, if it's relevant to your business.
To get the most engagement possible, and ensure you really have traffic every single day, it'll be prudent to publish good content regularly. Now, the most effective kind of content for you will largely depend on your business. A dog groomer, for instance, may benefit from creating informative blog posts about pet care while a clothing shop might instead gain from an Instagram post of their products. Regardless of what you create, it needs to be quality, and updated multiple times a day.
This may seem overwhelming at first, especially as you may want to focus on Search Engine Optimization (SEO) to ensure you get clicks. At first glance, SEO can seem intimidating. In particular, it may require that the content be thoroughly edited, be informative and well-written, contain quality images to break up text, and feature the right keywords and phrases (but not too many!). Thankfully, there are some hacks to make content creation easier, and help you get publishing several times a day.
However, that doesn't mean that you need to be tied to your accounts, posting throughout the day. In fact, you can automate your posts to update on a schedule. This not only gives you more time to invest in other aspects of running the company, but can aid your social media presence. When you post on a timetable, your followers are going to know when they can expect your updates, and that might lead to increased engagement.
Why go through the effort? Because social media is inherently shareable. Not only can you generate interest by hosting giveaways or handing out freebies, but you inspire parts of your customer base to share your posts. If that happens, your company can benefit from garnering free advertisement to other likeminded (and like-spending!) individuals.
You don't have to do everything by yourself, either. Indeed, there are plenty of tools available that could assist your efforts to utilize social media to increase your audience and boost your business. Some are free, or "freemium" as they are commonly known, but, as the saying goes, you get what you pay for. While the best tools will likely have a price tag attached, they'll help you automate, monitor, analyze, and manage your content to streamline creation.
Up Your Hype with Buzz Marketing
By its nature, social media is a dynamic environment that encourages quick consumption of media and information. Moreover, it enables immediate accessibility on a global scale. For many businesses, that means opening your market up to vast potential.
With the right approach, that fast pace can contribute to what is called buzz generation. Also commonly known as buzz marketing, it places emphasis on word-of-mouth to raise awareness for the content that you post.
As a marketing technique, buzz can ensure a campaign, product, or post gets maximum exposure beyond the confines of social media. A potential client who sees a post on, say, Facebook, might go on to share a link to it with family or friends. Even on a social media platform itself, the more likes or comments that a post gets means that it is likely to keep increasing its reach and draw in more and more engagement.
Ultimately, social media can be an effective solution to communicate clearly, all while capturing audience attention. Both in the short and long-term, buzz can boost a consumer's excitement and anticipation for whatever product, campaign, or message that you're looking to amplify. And it's all thanks to social media.
To put it simply, buzz can be produced by leveraging the creative and interactive aspects of social media to deliver strong messages, and tell the sort of sincere brand stories that can leave a lasting impression on your consumers.
For instance, you could show that the old adage that a picture is worth a thousand words still rings true by utilizing Instagram's grid view to create visually appealing, easy-to-share content. Attention spans can be readily lost online, so having a visually pleasing marketing focus may make snagging that attention easier.
Using LinkedIn? That article you crafted (and then scheduled to post!) could be read and circulated among those in your industry. This not only acts as free advertisement, but, gradually, helps establish your voice as an expert amongst your peers. Being seen as an expert lends you, and your business, credibility.
Similarly, Twitter's emphasis on easy sharing makes it a solid vehicle for buzz marketing since a well-composed tweet can quickly blow up and become viral. Of course, you may need to look into the ingredients of a viral tweet for your industry, but we'll get to that in a bit.
With the right approach, social media can allow us to nurture meaningful connections with consumers and followers, transforming buzz into loyalty. Over time, that could inspire a sense of emotional investment in your clients. This then can translate into productive conversions, not only for your products, but your brand. In fact, you might see returns not only in terms of brand loyalty, but in inspiring a consumer to become a trusted brand advocate to their friends and family.
Scope the Competition
Every successful business knows what its competitors are doing. Again, it is another advantage to using social media to boost your business and learn from the competition. This way, with a solid chunk of research, you can start your social media presence off on the right foot.
How? To start, you could check out your competitors' posts. Most social media platforms allow you to gauge engagement by seeing how many likes, shares, or retweets different posts have. Go through your competitions' pages, and see what content has been their most successful, and what those posts might have in common.
Just as important, you can use social media to also learn from their mistakes. That means asking yourself the following questions:
Which posts don't generate engagement or ample buzz, or which of their posts get negative comments, and why?
Are there similarities between competitors' successful content?
What content should you avoid?
Are certain hashtags more popular than others?
Next, after getting a baseline of what posts could be successful, consider their brand voice and tone across the field. Which competitors use a conversational tone, and which more formal? What's more successful, and why? Though you may not want to mimic these things exactly, you can use them as inspiration. Ultimately, establishing your own brand voice will be vital to standing out from the crowd and generating buzz.
For example, if a company similar to yours has popular posts featuring inspirational quotes with flower backgrounds on Instagram alongside a discount code, you could emulate that theme without directly copying them.
Remember, creating a genuine and unique brand persona can be a key part of using social media to boost your business. So, find your own quotes, and consider using pastel sunsets as an alternative to flowers. Above all, it's prudent to create a similar feel that still falls in line with your own brand identity.
While this research may seem tedious, it's likely to be worth it. On what other medium can we hope to gain insights into how our competition's content is successful, or not, for free? The key is to make sure you compare your competition, and don't focus only on the biggest brand. By looking at multiple competitor accounts, you can have a better overall understanding of what works for their clientele, and what really doesn't.
Still, it doesn't hurt to think even bigger. Analyzing your competition is the perfect means of developing a better understanding of your perfect client, and your target audience. Now that you have taken a close look at the competition, it's time to build up your client profiles based on that information. As a start, ask yourself some more questions:
What sorts of people are liking your competition?
Who is sharing posts?
Do these people have anything in common?
What are their backgrounds, possible education levels, or ages?
When you have a client profile, you can then hone in your advertising, both paid and free (think back on that social media buzz generated through posts, likes, and shares). All of these steps can aid in growing your audience as a business.
Develop a Relationship with Your Clients
What better way to use social media to boost your business than to develop a positive relationship with your clients? Social media is an avenue for you to not only attract reviews and create buzz, but to make genuine connections and gain customer loyalty.
Doing so is simple, but it will nevertheless require an investment in time, like all forms of marketing. To begin, you could leave comments on clients' (and potential clients'!) posts, respond to messages, and use social media as an opportunity to recover your clients if they have a less than positive experience. When your clients are happy, then your business is happy.
Don't underestimate the power of word-of-mouth advertising from happy clients. Fortunately, social media is the perfect avenue to ensure that your customers stay happy, even if they've had a bad experience. For instance, if someone leaves a comment stating that the product they ordered wasn't what they expected, you have the chance to recover them as a client publicly. Other potential customers can see how you value your customers, and the steps you're willing to take to make them happy.
Happy clients are more likely to recommend your business to others, share your posts, or even tag their friends in potential giveaways that your company might offer. This form of advertising is invaluable as we are much more likely to try something if someone we know and trust has had a good experience.
You can also leverage social media to boost your business by working with influencers who consumers follow and trust. While macro-influencers (those with huge followings; think hundreds of thousands) have a bigger overall reach, micro-influencers (those with only a couple thousand followers) may get you more active engagement, and generate more conversions. If you want that return on investment, consider choosing a micro-influencer.
Often, they're more niche than macro-influencers, which could mean their followers will likely be actively interested in your industry. They also typically have higher engagement rates, and are frequently seen as more trustworthy than their more popular cousins. Why? They're genuine, which can translate to bigger sales for you.
When it comes to influencers, try not to focus on one-time sales. Instead, look to develop a relationship with each client as this may create brand loyalty that lasts a lifetime. Part of that means having a genuine presence on social media, one that embraces brand identity without sacrificing human connection. Start conversations with potential clients, answer questions that are asked in your comments, and reply to those who take the time to engage with your accounts.
At the end of the day, a huge following can be a nice boost to a company's ego. However, if all you have are numbers, with little to no engagement, you may not see the conversions you're seeking. A smaller following that's devoted to your brand may seem less glamorous, but could be more profitable in the long run. We want an audience that is active, as well as one that's large, to make social media as effective as possible.
Take Your First Steps
Now that you know the what, why, and how of using social media to boost your business and grow your audience, let's briefly discuss where to start. We mentioned a few of the most popular social media platforms, but start with LinkedIn. If you don't have a LinkedIn profile yet, we go into detail about why you need one, and how you can get going. For B2B, there is no better social media platform.
Next, Facebook, and by extension, Facebook Groups, are also advantageous for many businesses, especially those that are B2C. Not only do they make advertising easy and affordable, they also allow you to target your ideal demographic, so you aren't wasting time and money. And because you've analyzed your competition, you know exactly who that target demographic is.
Don't stop there. The more relevant social media platforms that you harness, the better. Expanding your presence may take some effort, but it's going to be worth it for you in the end. After all, what business couldn't benefit from free advertising?
‍