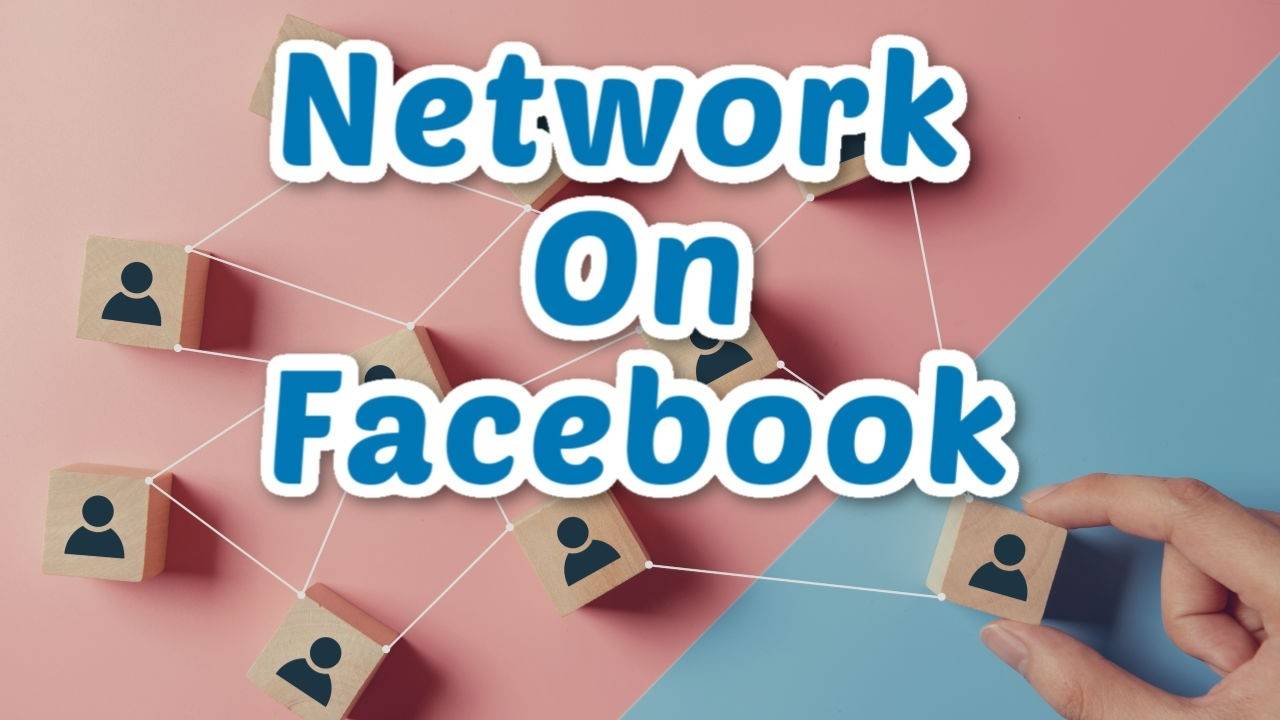 Networking.
The word sends shivers down your spine. All it takes is the casual pairing of the words "elevator" and "pitch" and you're breaking into a cold sweat.
Thankfully, in today's technological era, networking no longer has to feel so disabling. Businesses are going digital, and social media has become a breeding ground for meaningful professional connections.
Even if you're feeling unequipped for virtual networking, do not worry – we have you covered.
Here is everything you'll need to know about how to network on Facebook in this day and age.
Using Facebook for Work, Is It A Good Idea?
With its 2.6 billion users – and with 69% of US adults wielding an account – Facebook is like the king of the social media jungle.
But, is it professional?
The answer may surprise you. As teens flock to Snapchat and TikTok for their daily dose of quirky dancing trends, Facebook is starting to attract a whole new subgroup of unexpected users: business executives. Big names like Adena Friedman (CEO of Nasdaq) or Doug McMillon (CEO of Walmart) not only have a page on Facebook, but also brandish thousands of followers.
Whether you like it or not, employers and customers will often size you up on social media before going into business with you. In fact, 55% of recruiters claim to use Facebook as part of their hiring process.
So why not get with the times by learning how to network on Facebook?
All you need to do is follow these four simple steps.
Step One: Leveraging Facebook Professional Features to Craft A Respectable Profile
Before you even get started, you need a business-friendly profile. While you admittedly shouldn't mute your personality, you definitely don't want the first impression you make to hurt your brand.
For this, you can either choose to clean up your current profile, or create a separate account entirely.
Option A: Keep Your Current Profile
To avoid the hassle of switching between accounts and of appearing twice on Facebook's directory, you may want to network using your existing profile. The only downside is that you'll need to establish clear boundaries between personal and professional sides of your account.
To draw those delineations, you will need to: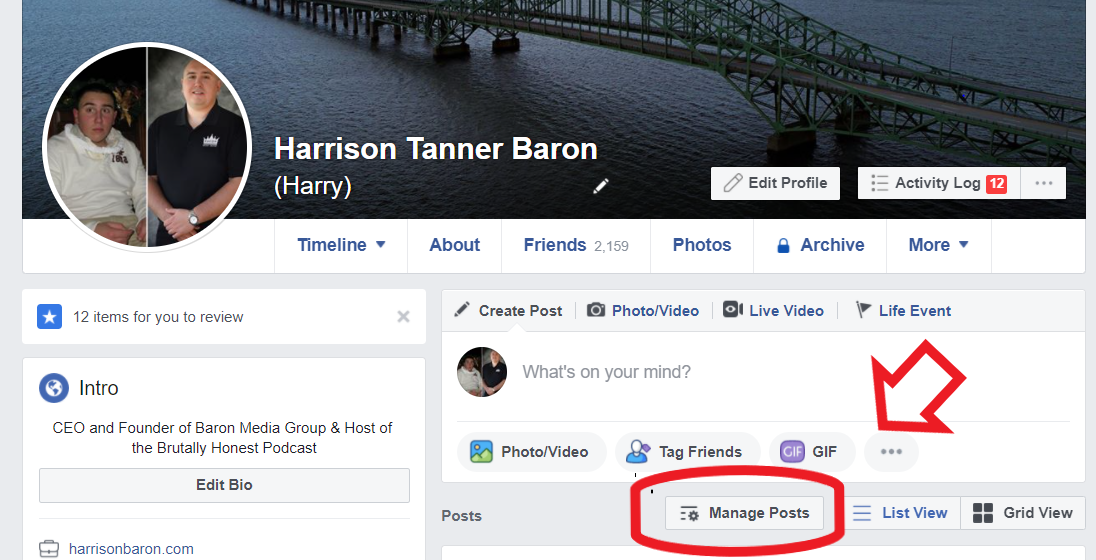 Go back in time and review everything you've posted, from pictures to comments. Take down anything compromising, embarrassing, or sexually suggestive.
To do this, go to your profile. As you start scrolling down, the option "Manage Posts" will appear at the top of your screen. When you click it, you will see your publications show up as check boxes. Select those you find inappropriate and click "Next." You will then get to choose between "Hide Posts," "Remove Tags," or "Delete Posts."
Showcase Your Professional Information.
You don't want your profile to turn into a resume, but you definitely want it to highlight important career milestones.
To add them in, go to your profile, and locate the "Info" box on the left of your screen. Click "Edit Details" and fill in the desired fields.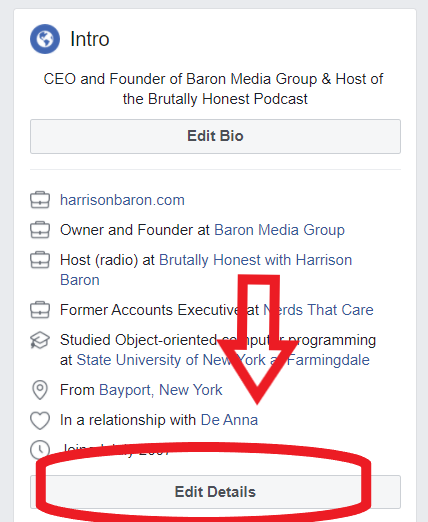 Create A Professional Facebook Networks List.
To save yourself from impending disgrace, create a separate friend list for work-related contacts. That way, you can choose what they see and don't see.
Go to your News Feed and locate the "Explore" section on your left. Scroll until you see "Friend Lists." When you click it, you will see a "+Create New List" button. Click it, and create one called "Professional." Add all of your professional contacts into this new list.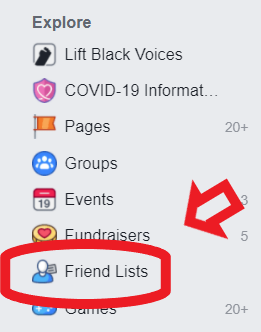 Check Your Privacy Settings.
Even with a separate list for professional contacts, you'll want to update your privacy settings.
Wherever you are on Facebook, locate the small downward arrow at the top right corner of your screen. Click it, and select "Settings." Once there, you will see a menu on the left.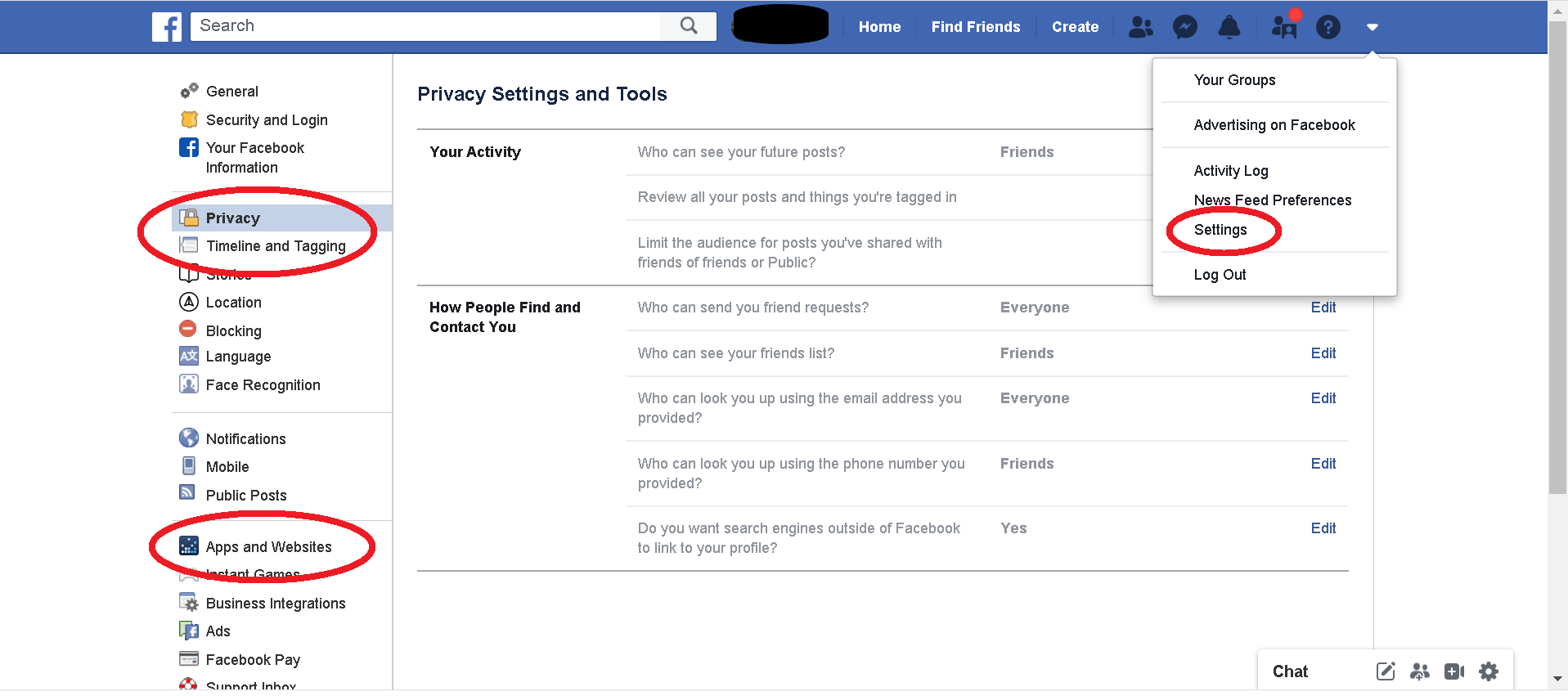 In the menu item "Privacy," make sure that "Who can see your future posts" is set to "Friends," not "Public." Then, by selecting "Timeline and Tagging," change the setting for "Who can see posts you're tagged in on your timeline" to "Only Me." Afterwards, go to "Apps and Websites" and adjust each app's visibility to "Only Me."
Finally, go back to your profile and select "More" below your cover photo. In the dropdown menu, select "Likes." Click on the pencil ("Manage") button on the top right and select "Edit the privacy of your likes." Set all of your likes' visibility to "Only Me."

Get a Professional Profile Picture.
You don't have to hire an expensive photographer, but make sure your profile picture is business-friendly. Avoid anything that could harm your brand. Good lighting, clean clothes and a visible face – unobstructed by hair or sunglasses – will go a long way.
Does the link to your profile look like a cat rolled around on your keyboard? If so, you can edit your URL to feature your name instead. For this, go to www.facebook.com/username. All you have to do is enter a URL-friendly version of your name into the "username" field. Click "Save Changes," and voila! You are now easy to find.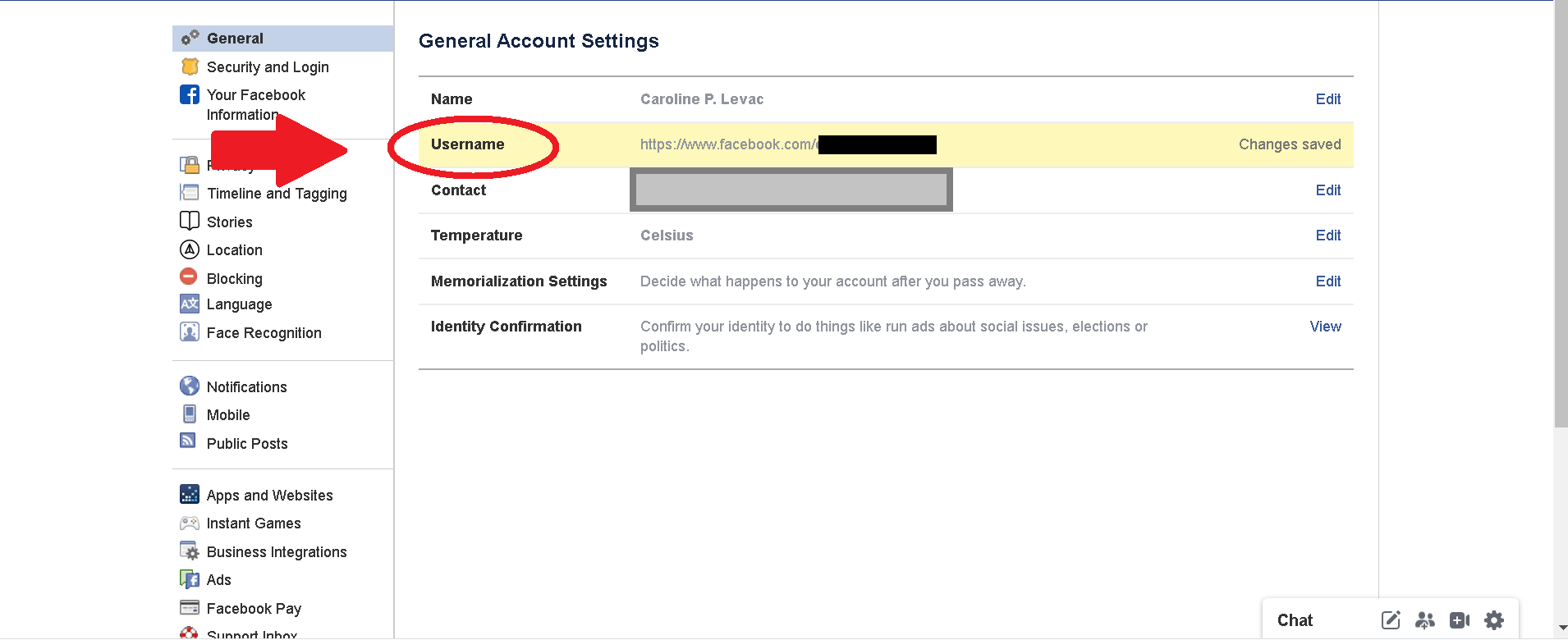 And that's what you need to do if you choose to keep your current Facebook profile.
Option B: Create a Separate Account
If you are terrified of having embarrassing remnants of your past found by the wrong people, you can also start fresh with a new, separate account.
The downside is that there will be two of you on the platform, which can be perplexing for those looking you up. You will need to be careful not to confuse accounts when adding new contacts, and you will still want to ensure your personal account looks decent from an outsider's point of view.
Some of the previously stated advice – such as uploading a professional picture and setting your vanity URL – applies here as well. In addition to it, you will need to:
Log out from your current account and create a new one. The process is simple, but you will need to use a different email address from that of your personal account. When that's done, you will be able to switch between accounts using the "Account Switcher" icon at the top right corner of the screen (between the "Notifications" and "Help" icons).

Build Your Profile From The Ground Up.
An empty profile will make you look like a bot. Add a profile picture – ideally different from that of your personal account – and fill in all of the relevant information in your bio.
Add Work-Related Friends.
In order to look like a human being, you'll want to have some friends before you start networking. A good place to start is coworkers – old and current. You can find them by searching for their names in the search bar on top of the screen, or by using the "Find Friends" feature (which you will find by clicking the "Friends" tab below your cover photo on your profile).

And that's it for creating a new account.
Phew, step one was a doozy! Now, let's get to business with step two.
Step Two: Marrying Facebook and Professionalism In Every Interaction
Now that your profile is all set up, it's time to start interacting with your contacts. Even if you still need to build your professional network, you should start developing the following habits as soon as possible.
Consistently Monitor What You Share
Consider carefully how each post affects your brand. Do not post anything you wouldn't want your boss, an important client, or your mother-in-law to see. (Whoever scares you the most.)
When you really want to post that cat meme, be sure to use your lists to customize your post's visibility settings. It's easy: just use the dropdown menus at the bottom of the publication box to select who can (or cannot) see the item.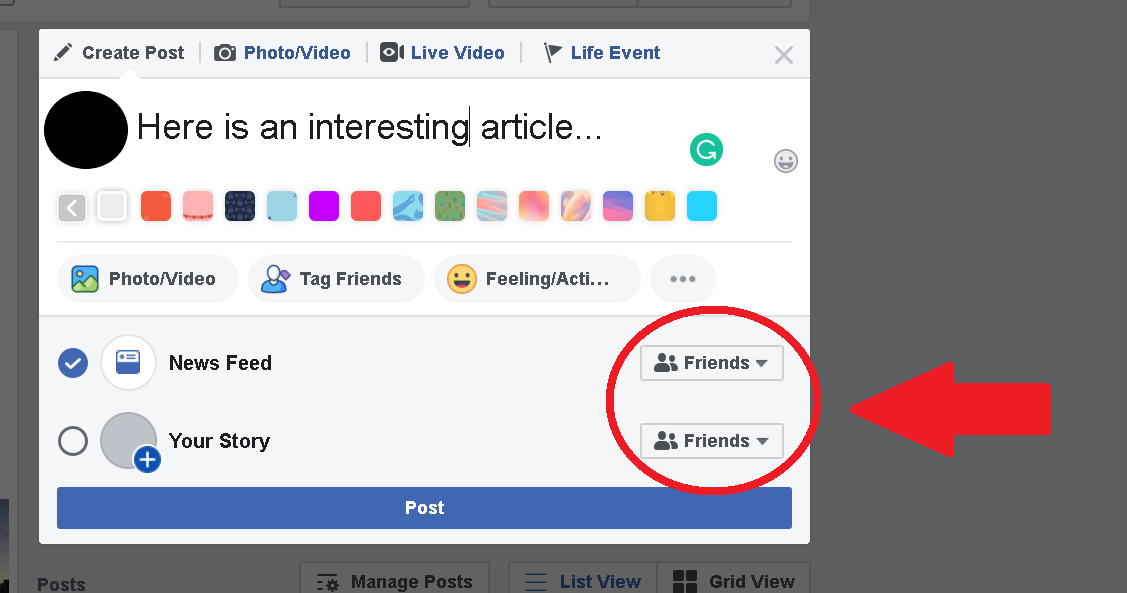 Post Relevant Career-Oriented Content
Don't go radio silent because you're too scared of faux pas. Your professional contacts should get something out of being your friend on Facebook.
You can post informative articles, inspiring photos and videos, and if you have a blog of your own, be sure to share that content as well. You can even initiate discussions by asking open questions on trending industry topics.
Limit The Amount You Post
As per the cliché: everything in moderation. Posting more than twice a day will make it seem like you spend more time on social media than doing actual work. That's not a good look on you.
Regularly (But Reasonably) Engage With Your Contacts
Be a human being, and connect through simple conversations. Comment on their publications, and follow-up on comments they leave on yours. You can even post relevant content on their wall when appropriate, to stimulate discussion.
That being said, be sure not to wear out your welcome by reaching out too often or invading their privacy. Keep conversations succinct and pertinent. Also use the Messenger app sparingly, as many find it unprofessional. If you do use it, format your message as close to an email as possible.
Communicate In a Respectable Manner
It's simple: stay away from emoticons and consistently check your grammar. You don't want to lose contacts because you couldn't tell the difference between "your" and "you're."
Once you've mastered how to conduct professional interactions, you're finally ready to start expanding your network.
Step Three: Thinking Strategically About How to Network on Facebook Groups
Anyone who has networked on Facebook will agree: groups are where it's at. You can meet like-minded individuals and connect over shared interests, without having to rehearse that dreadful elevator pitch.
If you haven't already joined groups on Facebook, here's how to get started.
Find Interesting Facebook Networking Groups
Locating relevant groups on Facebook is actually quite easy.
First, think of keywords relating to your industry, interests, and experience. Then, look them up using the search bar at the top of the screen. You can narrow down the results with the filter options on the left.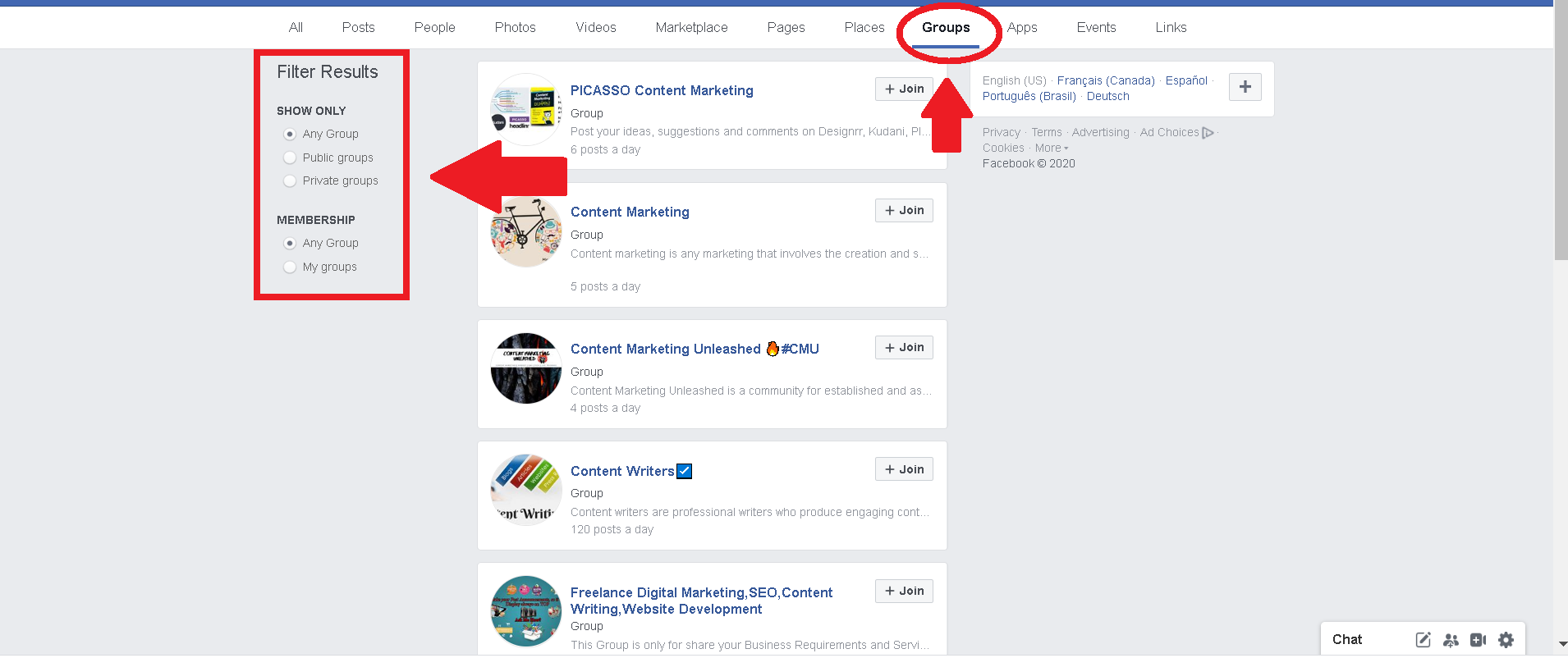 When clicking on a group, you will often see suggestions for similar ones appear on the right of the screen. Look those up too.
You can also find more results by searching "popular Facebook groups" on Google, alongside your other keywords. This should bring up blog posts and tweets offering group suggestions.
Finally, if you have friends who are successful in your industry, ask them what groups they use to network and follow trends. That way, you may even learn about secret groups to which you need a member's invite.
Choose The Best Facebook Networking Groups To Join
Not every group pertaining to your interests is a wise choice. In fact, joining dozens of groups will only dilute your networking efforts. Instead, choose a few strategic ones that meet the following criteria:
It's active. There are several new posts each day, and members are engaging with the content.
The description matches your interests. The title is rarely enough to go by. Read the description to make sure it provides the kind of engagement you want.
There is no spam. Nobody wants a group filled with self-promotion and ads.
Members regularly ask questions and seek advice. To establish authority, you'll want opportunities to provide support and advice to other members.
Sometimes, you may have to join a group in order to finalize your assessment. Some groups, you can join directly by pressing the "+Join Group" button. Others, you will need to get approved by an administrator first.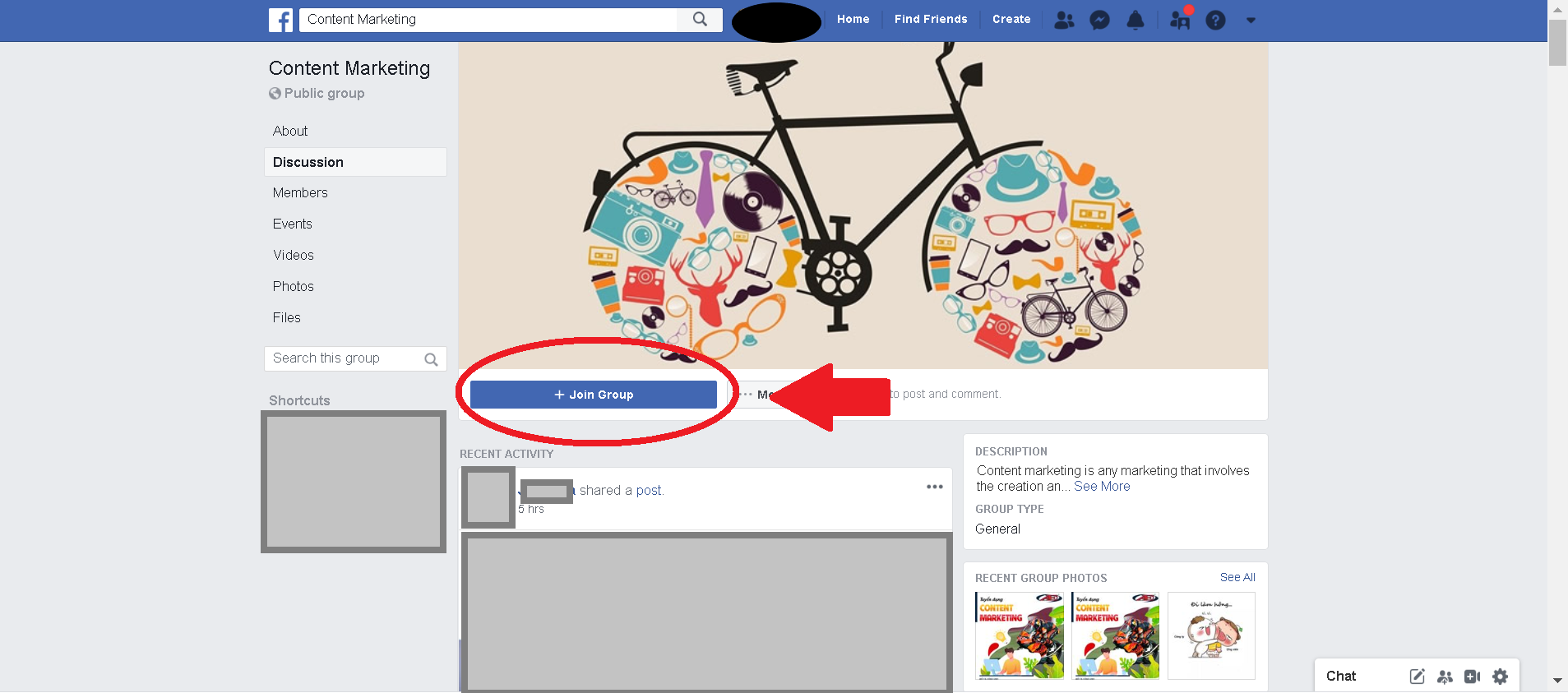 If you join a group and find that it does not meet your expectations, feel free to leave. No harm done.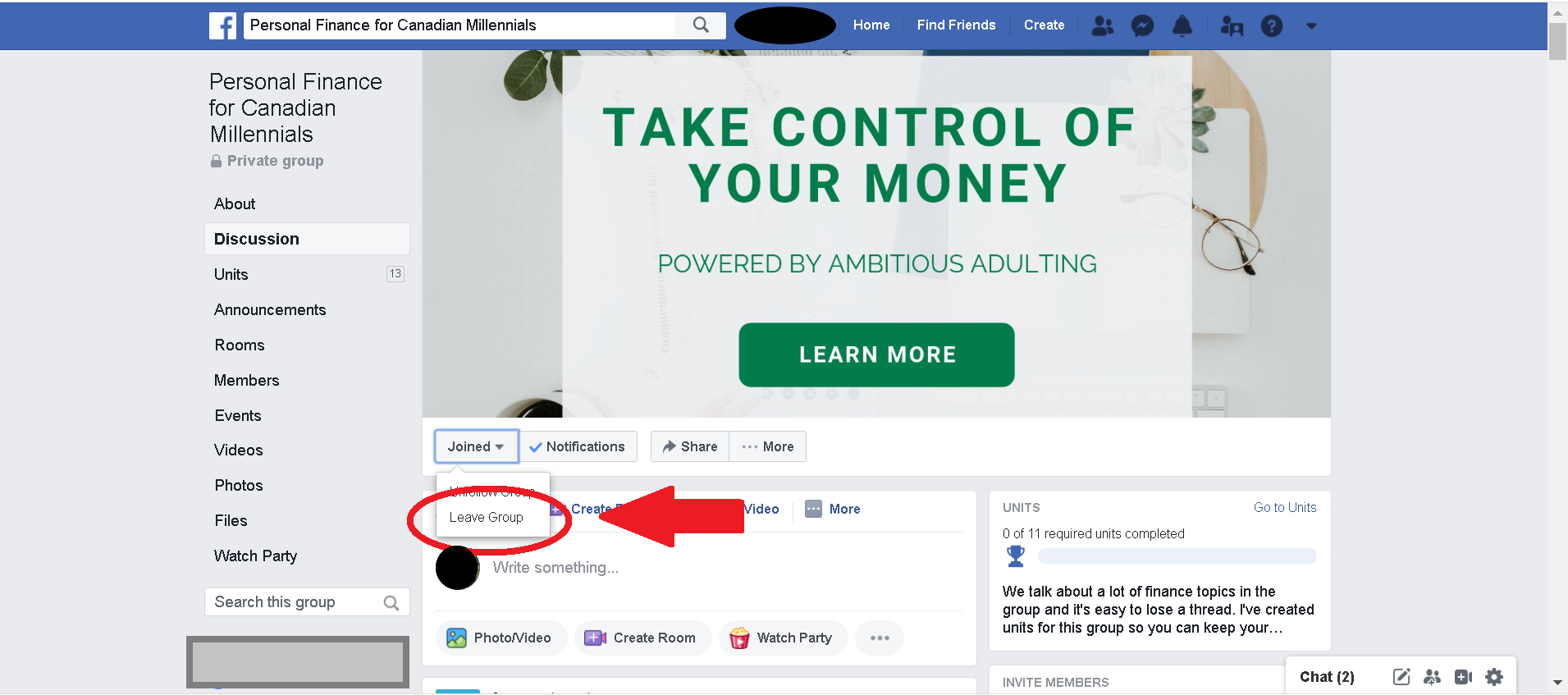 Introduce Yourself To The Members
Whenever you join a group (and intend to stay), be sure to post an introduction. State your industry, interests, specialties, and also what you hope to get out of this group.
Do not advertise yourself or your services just yet. You will come off as a spammer, and fellow members will be reluctant to connect with you. Remember: you are here to network, not to sell.
Participate In The Group
To build successful connections, you want to get noticed for your valuable contributions. Share links to interesting events, blog posts, or articles. Start discussions on relevant issues. Ask questions when you're in need of advice yourself.
And of course, be present in the comments section. Reply to other posts, take part in ongoing discussions, and when you can, give advice to those who ask for it. Over time, members will remember how you've helped them.
Add Friends When Appropriate
When you start to know people and it feels appropriate, you can add them as friends. Make sure you've connected a few times before sending the request, and try to also include a personalized note about how you've appreciated interacting with them so far.
If they accept, add them to your professional list. If they don't, respect their decision. Not everyone is comfortable blending their personal and professional lives on Facebook.
And with that, you now know how to use Facebook groups to advance your career!
Step Four: Using Facebook For Business Networking Events
Did you know that 35 million people view a Facebook event every day? Even as networking online gains more traction, meeting contacts face-to-face remains impactful. You'd be remiss not to take advantage of Facebook events, whether by attending or organizing them.
Attend Industry-Related Events
Finding events near you is simple. On Facebook's homepage, locate "Events" on the left-side menu. After selecting it, Facebook will remind you of upcoming events you've viewed, and sometimes recommend new ones.

For more options, use the "Find Events" feature on the right side of the screen. Plenty of filters are available to effectively pinpoint what you're looking for.
Once you've found an event that's right for you, invite fellow group members! It's a great excuse to meet in person.
Organize Events Yourself
There is no better way of establishing yourself as an authority than by organizing an industry-related event.
It can be as simple as a small gathering in your city, or as ambitious as a full-blown conference. Either way, you'll want to leverage your group memberships, both to recruit attendees and to get help with the organization.
If it all sounds too intimidating, start by inviting a handful of contacts to meet up for coffee, and work your way from there.
Facebook events are one more essential feature you can't pass up.
Now That You Know How to Use Facebook For Your Career...
Networking may sound scary, but on a platform designed for friendly connections like Facebook, it really doesn't have to be the stuff of nightmares.
Once you've followed all four steps, it's simple: rinse and repeat! Continue to bring value to your contacts and promote your professional brand. When finally you come across an opportunity to organically sell your services: pounce!
With patience and a keen eye, you'll reach your goals faster than you can ask "so, what do you do for work again?"
‍