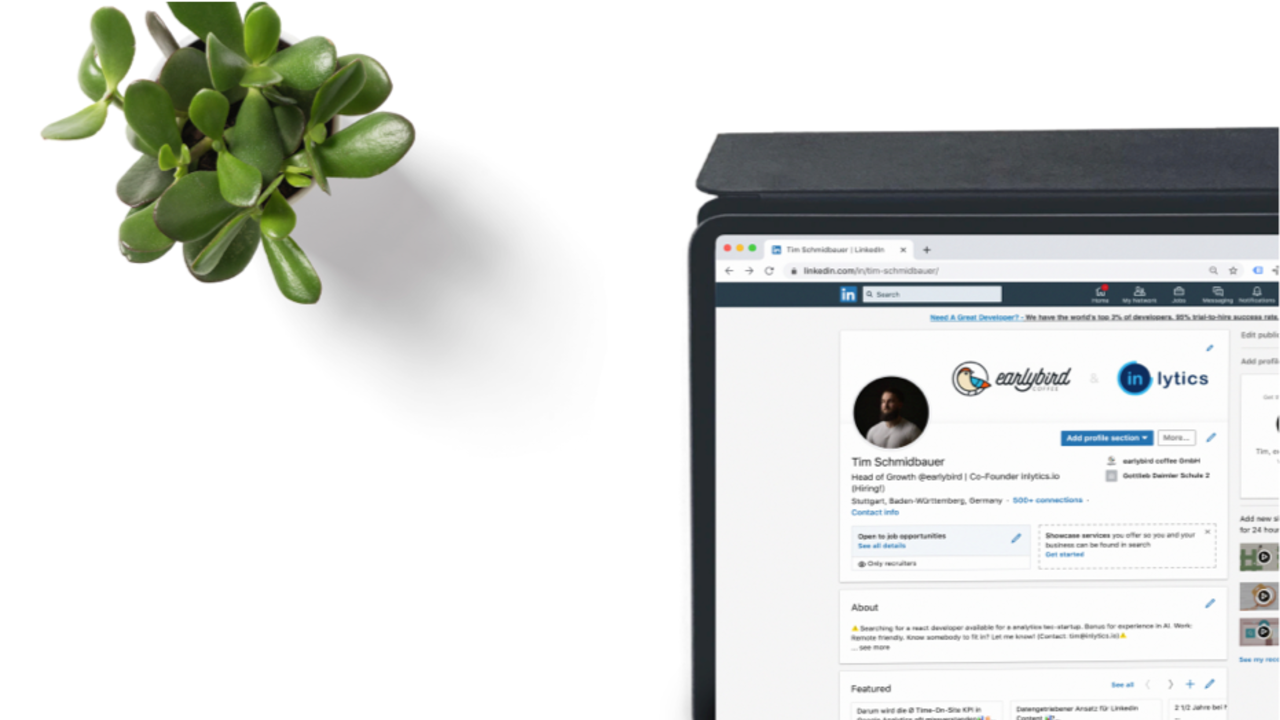 An outstanding LinkedIn profile isn't only for the new graduates. Everyone who desires to advance their career and expand their professional network should have one too. With over 600 million users from across the globe, a LinkedIn profile increases your chance to be seen by the recruiter/s in your dream company. You can also build your brand to help you sell more and earn more opportunities.
However, since LinkedIn already has millions of users, you need to make sure that your LinkedIn profile stands out, captures attention, and helps you connect with the right people. To help you do that, I've prepared 10 LinkedIn profile tips to help you out.
1. Upload an appropriate photo.
As with other social networking sites, the first thing you need to do to your profile is uploading a profile picture. However, contrary to your Facebook profile (where you can upload whatever photo you choose), your LinkedIn profile picture should be professional-looking and must reflect what you do or who you are. Remember that your potential connection will establish their first impression on you based on your profile picture.
2. Create an eye-catching headline
In your LinkedIn profile, the next thing that your profile visitors will read is your headline. It is located below your name, and by default, it will reflect your current position. That may be quite fine.
But since you can customize it, why not maximize the 120 characters with something eye-catching?
Besides your job title, add specific details about what you do and your significant contribution to your company or industry.
Here are some examples of a captivating headline:
Advertising Sales Rep, helping clients create winning branding strategies.
Sales manager with a non-stop drive to increase sales and profitability.
Social media strategist providing brands with the visibility needed in the online space
3. Write an interesting summary statement
Your summary statement is a longer form of your profile headline. You have 2,000 characters to tell your story as a professional. Aside from stating your work experiences, specify your expertise and what you can contribute to your potential employer, company, or niche.
Make sure to include keywords that are highly related to your field.
More so, it is best to take up only about 1,000 characters for your summary statement since attention spans are short. Be creative with your words while maintaining professionalism.
4. Boast about your experience
Don't just copy-paste your experience from your resume. Remember that your online readers have a short attention span.
In listing your job experiences, include only those relevant to your field and your career path. As you describe your experiences, choose the most appropriate action words to tell what you have accomplished in each position you handle.
Also, relate how you have impacted your previous companies - the projects you led and the results you delivered.
5. Have impressive recommendations
Before, LinkedIn would require at least three recommendations to consider a profile complete, but they changed that, and recommendations are no longer mandatory.
However, having numerous recommendations will still help boost your LinkedIn profile. There are a lot of people from whom you can ask for recommendations. You can start with the management, then your colleagues, suppliers, and customers.
6. Gather related endorsements
Another helpful section is endorsements. It helps you get recognized for your skills. Unlike the Recommendations section, where you can only ask people related to your field, even your friends can "endorse" you in Endorsements. With more endorsements for a particular skill, the more likely will your profile show up in the results when a potential employer searches for a person with that skill.
7. Maximize LinkedIn SEO
To further help your profile appear in search results, identify the keywords and industry terms related to your profession. Then, add these keywords to your Job title, Specialties, Career experience, Personal interests, and Key achievements. By doing this, your profile will more likely appear in the results once a person searches for the associated keywords.
8. Customize your URL
Each LinkedIn profile comes with a unique LinkedIn URL or web address. The default one indicates your name and some random numbers, but you can actually edit it to make it more personal, relevant, and memorable. It will just take a few minutes, so why not maximize this element as well to make your LinkedIn profile truly your own.
9. Check your LinkedIn profile strength
At the right portion of your profile, you will see a gauge that determines your "Profile Strength." It shows you how complete your profile is. You can keep adding more sections and details to your profile until you reach the "All-Star" rate.
10. Engage, be active, and make connections
Another way to make your profile more visible on the platform is by being active. Find and join relevant groups. On your own, feed, share, or post articles and tips. Remember that your photo and headline are being seen and are more likely to be clicked as you post and comment.
By being active in the platform, it also helps you establish connections with people. In terms of connections, the more you have, the more visible your profile is. This is why you should also make sure to connect only with people you personally know and/or related to your field.
In the sea of job seekers and individuals seeking career advancement, every medium and opportunity to be seen by employers are vital. LinkedIn has become a great and helpful avenue for job seekers and employers alike, and since it is free to create a profile, why not take advantage of it.
Just follow the LinkedIn profile tips shared here to optimize your profile and help you stand out from the rest. Be proud of your experiences and skills but only state what is true of you.
Then, as you continue updating your profile and being active in the platform, it is more likely for you to land that dream job or maybe receive a job offer that's beyond your expectations.
‍