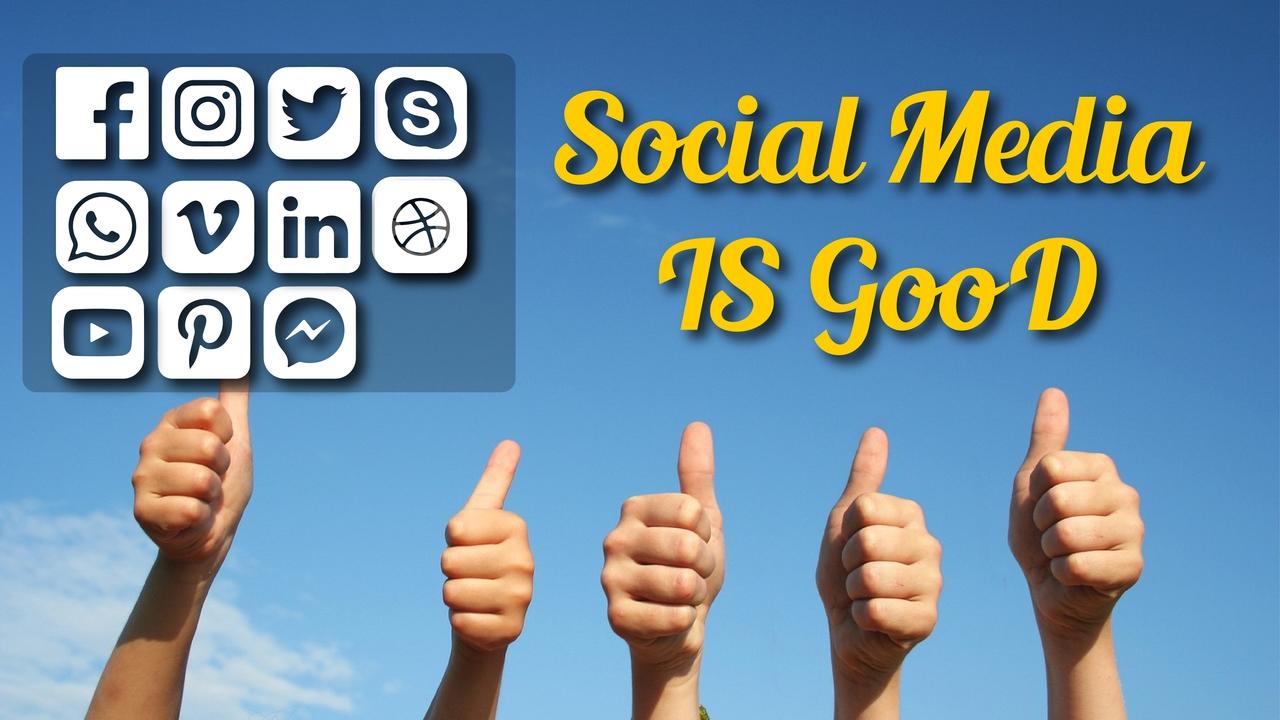 Social Media Is Good; Here Is Why
Over 70 % of Americans today are either using Facebook, Instagram, LinkedIn, Twitter, Pinterest, or all. In 2008, only 28% of Americans had active social media accounts. That is to say that the number of people signing up for new social media accounts keeps on increasing every day. And that also means that social media is good. Among other things, social media is one of the fastest news dissemination networks in the world today. Breaking news spread faster on social media than the traditional news broadcasting channels. So, is social media a good or a bad thing?
While most parents and guardians will always see the negative sides of social media, there is a lot that the world can benefit from it; from teens, tweens, and even the old age group. The internet and social media can help the youth stay connected; or rather build networks that can empower them in many different ways. Today, youths from all over the world can come together through social networking and talk about things that affect them from the different communities they come from and help each other overcome challenges that they face from their various communities.
The History of Social Media and Its Good
The very first social media platform, SixDegree.com, existed from 1997 and vanished in 2001. The platform allowed people to create what they referred to as personal spaces and connect with friends online. In 2002, another social media platform called Friendster, popped up and made social media quite famous in the United States. This one was quickly outpaced by other social media sites, which came up shortly after. Myspace, which was created in 2003, was among some of the most famous social networking sites that managed to remain alive to date. Facebook followed in 2004, Twitter in 2006, Pinterest in 2009, and Google+ in 2012. LinkedIn, which is a little different from other social media sites, was founded in 2002 and launched a year later.
Facebook was ranked the most popular social media networking platform globally after hitting the one billion-monthly-users mark in 2012. The data showed that in every seven people in the world, one had an active Facebook account.
The Societal Good of Social Media
News Dissemination
With over 80% of the world connected in social media, sharing news becomes a lot easier and faster. Every traditional news media house has an active social media page or account, and in the event of breaking news, sharing the same with their followers, who share with their friends, makes the spreading of the story quite fast. If there is a situation that needs community corporation to be handled efficiently, social media helps in making it known to almost every member of the community, hence allowing the involved parties to manage it successfully.
Breaking news is not the only thing that we can share efficiently on social media. The commitments of life in our families and communities have made it quite difficult to always have meetings, especially with extended families. Social media has made it quite easy for such families to share information and stay connected. If a family member stays overseas, communicating through traditional methods like telephone could be very costly – sending a message via Facebook, Twitter, Instagram, or WhatsApp requires only internet connectivity. WhatsApp allows users to create groups, a perfect way for extended families to stay connected by communicating through the groups. This makes it quite manageable to share valuable information that would have cost you a lot of money if you were to call each person individually to convey the same message.
Building Relationships Based on Common Interests
We would say social media helps you find your type, but that would be contracting. When signing up for a new account, for example, in Facebook, you are asked what your interests are. In Pinterest, you have to choose what you are interested in before moving to the next stage in your signing up process. With this information, it is easy for people to find other people who have similar interests. Facebook allows users to create public groups of people with similar interests. For example, if you love hiking, you can find and join a hiking group on Facebook. You can share stories related to hiking, and even arrange for hiking events from the group with people from around your locality – this eventually leads to building new relationships that could end up being profitable in different ways.
In twitter, the platform is designed in such a way that it suggests people that you should follow who have similar interests like yours. If you are interested in international news, football, wrestling, and other things, the people you follow and the people who follow you happen to have similar interests as yours. This makes it easy for like-minded people to connect, and eventually build lasting relationships that could be beneficial in other ways.
Social Media Gives the Youth a Voice and Makes Them Active Society Members
Social Media platforms are readily available tools that the youth can use to air their views about specific issues in society. Social media can be used to plan, organize, and execute events in the community. The youth, having the highest percentage of active social media users, can easily access this information and attend, or simply share their views about the agenda of the event. Society leaders can use social media platforms to bring the youth together by organizing youth events like soccer games, music bands, singing and dancing competitions, among other activities.
Social media can also be used to activate the voice of the youth by involving them in discussions that affect their society. The fact that no one is looking at them while they speak gives the youth opportunities to articulate what is on their minds. It gives them the courage to mention the things they think need changing in society.
Through such discussions, society can identify among the youth, future leaders, and people with the potential to change their community.
Social Media and Education
Social media can be and is an essential tool that students can use to enhance their studies. Both high school and college students can use Facebook and other platforms like WhatsApp to form groups of like-minded people, that is, students studying in a similar field or subject. The best part of this is that the students must not be from the same school, the same state or country. As long as they are in a similar field of study, they can create a study group and support each other in their studies.
Social media study groups are quite significant, and especially at this time, when most schools across the world are closed down due to the coronavirus pandemic. School kids can continue studying through social media study groups instead of watching movies and playing video games all day. Schools can also have study groups that, even their teachers are involved. Instead of a class teacher having to wait for students to come back to school after the weekend, he/she can share vital information with the students. This is quite a perfect way to save time and utilize class time only for studies and revisions.
Social media can also be a handy tool for communication from school to parents and parents to the school. Parents can create social media groups for parents, and have a teacher, or a leader from the affected school as a member. With this, whenever the school has an important message to pass to the parents, they can convey it here instead of sending the students. Students can be quite forgetful. Or the information could be affecting them in a way they term "negative."
Social Media Can Be Used to Show Support and Empathy for Others
Social media, just as the name suggests, is a place where we express our social life experiences. People spend more time speaking about themselves on social media than in real life – for one reason or two. One reason is that on a social networking platform, the person is not afraid of sharing their problems with his/her social media friends, as they are with their physical friends. In the physical setting, people are so scared of being judged by what they are going through. A man would not talk freely about the troubles he faces with his wife in a physical setting, but he can freely share on a social media platform. From this, it is easy for him to find solutions to the troubles he faces, maybe from someone who overcame the same problem, or from a professional who happens to be his friend on social media. Even without the real help that does away with the problem permanently, just the supportive messages his friends on social media send him are enough to slow down the effects of his hurting.
Social media comes in handy whenever someone is facing a problem that, maybe, apart from empathy, needs financial support. We can use social media to raise finances and help friends to clear their medical bills or fund their projects. Facebook, Instagram, and other social media platforms make this all possible.
How Is Social Media Good For Business?
As the world takes a rapid shift from traditional marketing to digital marketing, it is good to ask ourselves what role social media plays in the transition. The answer is, social media takes the lead in this transition. The truth of the issue is that how well a company plans their social media presence determines how well their brand stands, or how quicks it falls. In the world we are living in today, depending solely on your traditional marketing team will only lead to slow and eventually no sales at all in your company.
Here are some of the most significant advantages that every business can draw from social media.
Building and Increasing Traffic
In the current world of "everything-is-digital," business organizations have to realize that without good traffic to their business, there is little or no chance of making any sales. Marketing is not all about sales, yes, but business is all about sales. If a company is not making sales, then there are no revenues, which means the company cannot go on. Every business needs to have a website to build a real audience for their brand. A website helps a company to expand its product reach to where the traditional marketing team cannot reach. Social media platforms are built with the ability to link to these websites, and allow traffic to flow from the platforms to the site.
You can create a website that allows your customers to express their sentiments about your products, the experience they had after using your services, or simply talk about your company. This is one way of building trust in the market. During this era of digital buying, customers tend to buy products that have review comments below them. You can further reinforce the impact of your product in the market by making sure you respond to customer comments and reactions.
A website alone cannot draw the desired traffic that can really grow your business to the levels you wish. Social media comes in to enhance the entire traffic building experience and makes your website vastly visible. Apart from bringing traffic to your website, building a notable following in your business page is also quite important. You can take advantage of a massive social media following to create awareness about your brand, products, and services.
Customer Support
If a customer buys from you, they expect you to pay attention to them whenever they need you about the product. For example, if a supplement business sells a product to a customer, then she experiences some side effects that you did not tell her about, she expects you to be readily available to explain to her why she is experiencing that. And if she is the only customer who had that kind of experience. If you do not have a real-time or near real-time way of responding to her discrepancies, your company will have a problem. And in most cases, if you are not available to speak to her, she will find someone else to talk to, and you never know, that person could be your competitor.
Social media comes in handy when it comes to creating a health client-customer experience and relationship. Many people expect every business to be on social media. They expect you to have a professional business page where they can ask questions whenever they have them about your product. If a customer searches for you on all social media platforms and they do not find you, your business is as good as dead. The next thing they do is to post a photo of your product on the internet; they decide to take the questions to the public. Having a social media account in either or all of the leading social media platforms can save your business a big deal.
Using Social Media to Understand Your Audience Language
A strong social media presence will spark conversations around your brand – and on many occasions, customers, or potential customers speak in their natural language. With social media, there is a technique called social listening, which allows you to understand the language your audience use naturally. You can get to know this by following the conversations around your brand and your competitors' similar brands. Social listening to your target audience conversations lets you understand what they care most about, how they expect you to help them, and what they are willing to do to get what they need.
Once you learn what they are struggling with, you can now create your content addressing such issues in a natural way that is not aimed at selling. By understanding the natural tone of your audience, you can create content that makes them feel that you care about them, and not only about their money. With many people logging into their social media accounts at least once in a day, you should adopt a trend of doing some social listening every day at a time convenient with you. Social media platforms are easy to use and built to ease your way around them, logging into your platform every day will not be a tricky thing. It is only through social media that you can get to do social listening and to understand the language of your target market.
Creating Market Networks and Business Partnerships
There is a portion of the global population that, unless it is through social media or other third-party channels, many businesses would never reach them. Imagine if you were a designer and you come up with a designer suit that you are very sure Tyler Perry would love? Yes, these celebrities have their in-house designers, but who knows, we change suppliers all the time. Social media makes it easier and faster to communicate with that part of the world that is otherwise unreachable without the help of third-party channels.
Social media is also a perfect place where you can quickly build business partnerships and networks. If you have a business idea that needs support, and you share it in a social media group, you might end up getting a business partner instead of only funding.
Final Thought
Social media has its negative sides, but when the positive outdo the negative, then we say it is good. And we can all agree that social networking platforms are changing the world. Especially in business, and the way we communicate. Taking advantage of social media and its business tools can turn out to be the perfect thing you have been missing in your company. Also, as a society, which includes parents, teachers, and guardians, embracing social media, and taking the time to understand it is what we need to do. Social media can turn out to be a tool that can change the way we interact with our children and students – if we embrace it with both arms.
Do you want to become an expert social media salesperson? Start by signing up for this Free LinkedIn Sales Navigator Course.
‍