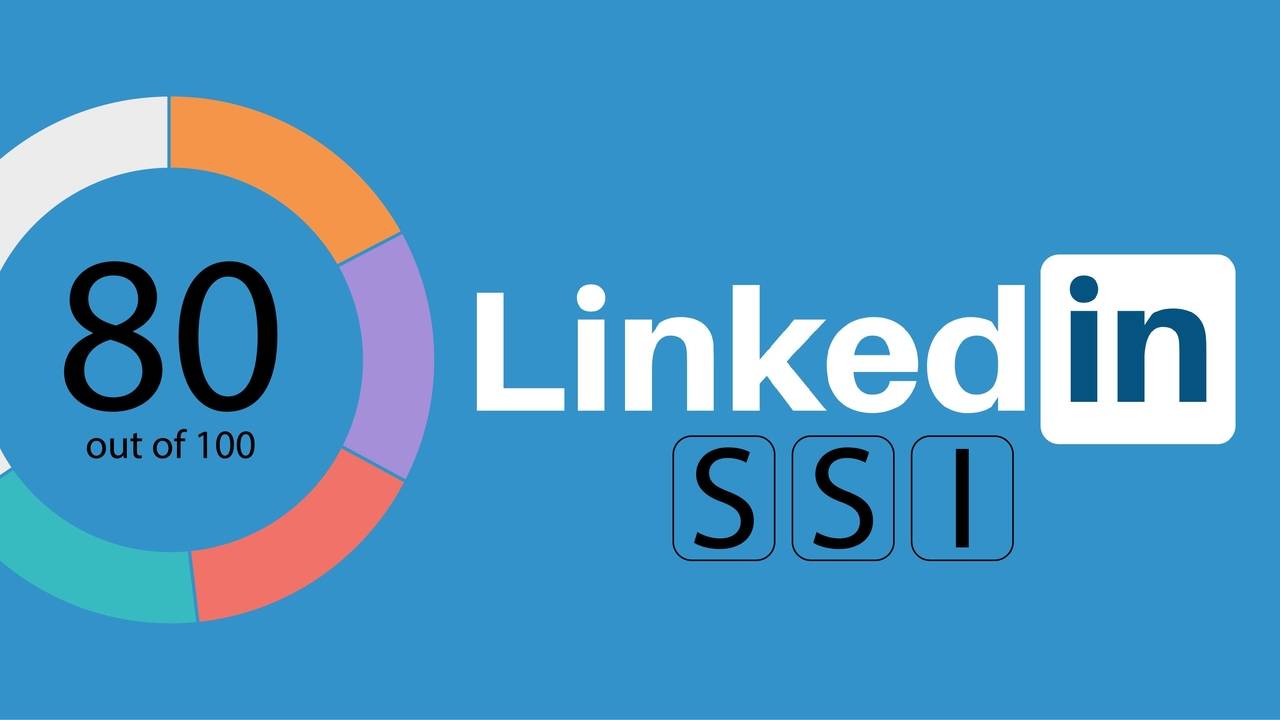 Your SSI or Social Selling Score Can Help You Understand LinkedIn Better
LinkedIn is the largest networking platform in the world for professionals, with over 690 million registered users in over 200 countries. LinkedIn is best used for, among other things, reaching B2B prospects, potential employers, and employees. This, however, does not mean that you cannot use it for B2C marketing purposes.
What Is LinkedIn SSI
LinkedIn SSI is an acronym for LinkedIn social selling index. LinkedIn SSI is defined as the measure of the strength of your personal or business brand on LinkedIn. The platform describes it as the first of its kind measure of the way an individual or a company adapts to the four pillars of making sales on LinkedIn. The social selling index is a combined performance of each of the four components on a scale of 0 to 100. The maximum score overall you can get on the SSI is 100. The top performance score for each pillar is 25. SSI is a salesperson measure of their social selling skills and strategy execution. The higher the social selling index score rises, the more the sales will likely increase.
Keep in mind if you are a sales professional leveraging LinkedIn it's important to consider a few things. The SSI is a great indicator of how you are currently performing on their platform. Using additional tools such as LinkedIn Sales Navigator will give you more of an advantage when searching for your ideal prospect. Clearly defining your sales goals, target prospects, and building a strong connection with people you message will give you more of an advantage in the long term. Keeping a healthy professional network of like-minded individuals, prospects and strategic partners will help grow your SSI as well as create an increase in sales opportunities.
The Four Elements/ Pillars of Social Selling
The four elements of social selling are:
Establish a Professional Brand – which involves creating your LinkedIn profile with your customer in mind. Everything you include in your personal or business profile must be aimed at showing the customer what you do or what your business is about – and most importantly, what you can do for them to make their life easier. A complete profile consists of a professional profile photo, headline, summary, and your experience. Add your work examples where necessary to show your prospects. Make it a daily routine to post meaningful content to your timeline. Creating and posting useful posts establishes you as a thought-leader in your area of expertise – which is what many B2B prospects are in search of.
An established professional brand:
Should have a 100% complete profile
Should include professional images on both the profile and the cover photo. Be sure to make good use of rich content that includes images, videos, and well-written text.
Should be able to earn recommendations and endorsements from your existing customers and prospects.
Should also include long-form articles. Have in place a regular posting schedule of long-form, informative articles that show your expertise in solving problems.
Create the Perfect LinkedIn Profile with this Checklist
Connecting with the Right People – with your efficient search and research using LinkedIn built-in tools, you can find and connect with the right prospects in less time. Leverage second-degree connections that can quickly and efficiently transform cold pitching into warm introductions. LinkedIn shows you who visited your profile. Take advantage of these viewers and follow them up with a professional and friendly presentation.
You can connect with the right people by:
Being proactive in your search of prospects on LinkedIn.
Using filter criteria like seniority, roles they play in a company, or skills to identify potential prospects who are not in your network.
Use the sales navigator tool to save your leads so that you can be able to keep track. You can also use the lead builder tool to keep track of your prospects.
Follow up on your prospects and reach out professionally and in a friendly way to everyone who views your profile.
Engage with Insights – LinkedIn defines this pillar as "Discover and share valuable information to initiate or maintain a relationship." This element measures the engagement you receive on the content you create and share in terms of comments, likes, shares, and any kind of engagements your posts receive. You must regularly research and create relevant content that is worthy of updates. Content that shows your passion for solving your prospects' problems goes a long way in improving your credibility on LinkedIn.
Here is how you can engage with insights, and improve your LinkedIn SSI score
Be proactive on LinkedIn. Follow other people's content. Take time to like or comment and share other content on LinkedIn that interest you.
Be up to date with what is trending in your area of expertise. Be a source of insight and share relevant content and industry news in your LinkedIn timeline.
Send messages and respond to their responses in either real-time or near real-time. This is a way of showing your reliability to your prospects.
Reach out to your prospects in a friendly way that is aimed at solving problems and not selling your products or services. Engage in community discussions by commenting on other people's status updates.
Build an extensive network of connections by following prospects, your customers as well as your industry competitors.
Identify and join LinkedIn groups in your niche area and be actively engaged in discussions with an intention to solve problems, but not to sell your products or services.
Build Strong Relationships – this fourth pillar of social selling involves establishing a strong network by connecting and building trust with the right people. It measures your success at expanding your network to both direct prospects and potential people who can introduce you to business prospects. Having a broader network gives you many opportunities for finding new opportunities and securing a seat down. Focus on connecting and establishing trust with the decision-makers. This will help you to minimize the struggles of having to go up the chain of command before meeting the decision-maker. After creating the right connections, make sure you nurture them. Reach out to your prospects periodically with proper timing to make sure they do not forget about your existence.
Closing a sales deal should be the last point on your LinkedIn priorities. Its called Social Selling because it is not all about the sales; it is about building a network, a trustworthy relationship, selling should come as a reward for the assistance that you give to your LinkedIn community. Solving pain problems is your first goal, and it will build a relationship with a foundation of trust. After which you are assured of sales success.
How to improve your Linkedin Social Selling Index quickly and effectively.
Most people who want to be successful on LinkedIn are focusing on getting their SSI higher. If I was a betting man I would say LinkedIn rewards those with higher SSI's because it wasn't you to engage with their platform more. Going through the list above will give you the highest chance of success.
LinkedIn wants you to be a contributor to their platform making sure your profile is as up-to-date is possible is the first step. People buy from people they know like and trust. Sales leaders that are winning on the platform are creating content for the platform. Not only that but they share content, create long-form posts and position themselves as influential people. These are some of the traits they possess. The easiest thing to do is put yourself in a buyer's shoes. You want to see someone who is making daily posts or last least posting regularly. Chance is good you want to see high-quality content and you want to tell third-party stories of how you help current clients succeed. These engagement factors will help create warm prospects and drive more networking activities over time. If you can make these daily activities you give yourself the best chance of success, especially with a larger network. Remember LinkedIn is full of casual users who may not be ready to buy anytime soon. The key to success is to stay top of mind. You want to appeal to your niche market to help increase opportunities. This will be an ongoing commitment on your end and the best indicator is seeing your profile visitors increasing month after month.
The basics of being successful on Linkedin.
If you plan on increasing there are some keys to being successful even before you begin. You don't need to go crazy however there are a few things that are important to give you the best chance of success. First, you need a good and professional profile picture. Second, go through and update to make sure your about section is full and well written. Having a well-written about section can give you an advantage for showing up in the search feature, helps with social selling efforts, and provides valuable content for others to understand what you do. Lastly the more time you can spend going through and filling out your profile will help increase the visibility of your profile. For those of you who want to go one step further investing and using LinkedIn Sales Navigator can give you an advantage for visibility and give you additional tools to discover more sales opportunities. I have a full article on how to tune up your profile to help drive more connection requests and engagement on your content.
How do you build a strong relationship based on trust?
Focus on connecting with relevant people in high places. Being able to bring decision-makers into your inner circle is a big win for your LinkedIn SSI score, which eventually should lead to improved sales.
Expand your network by connecting both internally (with your co-workers) and externally (with business prospects).
Ask your connections to connect you to their connections who are potential prospects in your industry.
Use credible InMail messaging to contact and begin building relationships with your prospects.
Do it with moderation – do not overdo the engagement, commenting, and messaging. Instead of messaging everyone on LinkedIn, Find a few valuable prospects every day. Your acceptance success is accounted for.
After taking the four measurements from these four elements, LinkedIn then combines them to get your Social Selling Index score.
Get your SSI score; it is free and updated daily.
What is the Importance of LinkedIn SSI?
According to LinkedIn, people with a higher SSI score create 45% more opportunities than those with a lower score. Sales reps with a higher rating have 51% more chances of reaching the quota. 78% of social sellers outdo sellers who do not use social media for marketing.
While LinkedIn says that the higher the score, the more opportunities of making a sale, it is also important to note that having many connections does not necessarily translate to conversions. That said, LinkedIn Social Selling Index is a valuable tool that helps users navigate the world of LinkedIn with ease. It creates secure connections between specific and targeted activities and increases the opportunities for sales and potential prospects.
It is up to a salesperson, or a business owner to identify and maximize the tools that help you grow your business in terms of sales, and identify the activities that produce the best results. LinkedIn SSI is the best tool to help you in sieving out this information.
The statistics from the four elements of the Social Selling Index are great metrics to tell you whether you are on the right track or not. Consistency is one of the best practices of a successful sales representative, and if the SSI can help you to be consistent, and at the same time, help you to stay on the right track, then we can agree that it is quite an essential tool for improving sales.
Social Selling Index is also vital for ranking high on the LinkedIn search engine. It can be instrumental if you are looking for inbound business opportunities and inquiries. It also comes in handy if you are looking to grow your network, or looking for the latest job offers. Having a higher SSI score makes you easily discoverable whenever a prospect, an employer, or an employee searches for services related to what you offer. If your Social Selling Index score is high, then you can be sure your connections are right.
LinkedIn Social Selling Index is an algorithm specially designed to help you make sales without actually selling. It is a way of selling without appearing like a salesperson to your prospects. There are too many sales posts on social media platforms today, and people are kind of tired of them. Cold pitching don't work today; what is left is the warm introduction, being able to start building relationships between you and your potential clients that is beneficial to both of you. And you can do that on LinkedIn. People are there and willing to build relationships. If you are doing the right thing, it means you are able to convert those connections, your relationships into customers, and start making money out of them.
From your LinkedIn Social Selling Index score, you can be able to determine how well you are doing in terms of building a successful profile. You can decide whether you are pulling the right pool of people who can convert to clients, and at the same time, establish yourself as a thought-leader in your industry. Your SSI score begins to rise once your profile is 100% complete. Your continued posting ensures that your score keeps on increasing. Typically when people hit 100% is when they stop focusing on social selling. Whether you're a sales rep or looking to build more connections with people it's important to follow through. A solid social selling program combined with a sales process after someone reaches out will help increase the likelihood of more sales and better connections.
Unlike in other social media platforms, the LinkedIn SSI makes it easy for you to learn how to identify potential customers in less time. Utilizing LinkedIn tools such as the profile search function makes it even easier. The best thing with this tool, you do not have to do much for your score to rise. As you keep doing your routine activities n LinkedIn, your SSI score keeps on growing. And as we said earlier, the higher your score goes, the more opportunities of sales conversions you get.
Once you know the benefits of a high SSI score, you get motivated to keep doing the right thing to improve your score, and that includes posting relevant and meaningful posts to your LinkedIn profile. By so doing, you can become a trusted source of information in your area of expertise. You become a trusted source of insight to the members of your groups. The shortest cut possible into sealing a sale deal is by being trustworthy.
One thing that gives a salesperson satisfaction is not just making a sale, but getting an appointment. Securing a sit-down with a potential client is a big win. By building a vast network with people in the decision-making tables, can make it quite easy for you to get appointments. LinkedIn Social Selling Index helps you to create such networks. LinkedIn Sales Navigator can also help you in identifying new prospects as you pursue the ones you already have. It also gives you advanced people searches and gives you more granular information to help make better decisions.
Should I Treat the Four Elements of SSI With Equal Concern?
LinkedIn Social Selling Index combines the measurements from its four pillars to determine your ultimate SSI score. The question is, should you give the four of them equal concern or focus on some and leave some? The most straightforward answer is that they are all equally important. Each element is given a score of 0 to25. If you concentrate on one and leave the rest will only translate to a low SSI score overall. If you want to achieve a solid SSI score of 80 and above, you have to make sure the four pillars are up to date and attended.
What we can talk about is the order in which the four are attended to. Establishing a professional brand is foundational. You can build this to completion and leave the rest. You will not achieve a good score, but you will remain in business on an average level. Many LinkedIn users only focus on creating a professional brand. What they do after that is quite little – a little posting, a little liking other people's status updates, and they are done.
You need the four pillars to establish yourself as a complete brand with the potential to solve a problem within the LinkedIn community.
Final Thoughts
Is an 80 and above LinkedIn Social Selling Index score a thing to celebrate? Or is it just a number? This question could best be answered by you. LinkedIn says that the higher the SSI score, the more chances you have in making sales. How accurate is this statement, according to you? Is LinkedIn Social Selling Index a tool you are already using, or are planning to start using? Is your SSI score moving in the same direction as your LinkedIn conversions?
While we may have different opinions, the fact is that for a person to attain an SSI score of 80 and above, he/she must have done a lot of work. As seen earlier, for your score to rise, you must be a consistent LinkedIn user. You must be hands-on with your profile, completing your profile, and staying on it, sharing content and commenting on other people's content. This does not sound like a walk in the Park, and if it were not giving results, nobody would stay on it for that long until they now have a LinkedIn Social Selling Index score of 80.
Keep in mind LinkedIn is a social network of business professionals. It's important to treat it like a professional Social Media Platform. If you're posting the right content that drives engagement you will begin to get more connection requests. The best sales professionals I have seen are producing great content and leveraging LinkedIn Sales Navigator to help them a prospect. Combing these two strategies can give you and your sales team an advantage in driving sales.
LinkedIn SSI is an essential tool in achieving success as a salesperson or a business owner in LinkedIn. Engaging in social media marketing is the most important thing to do when it comes to succeeding on LinkedIn.
‍