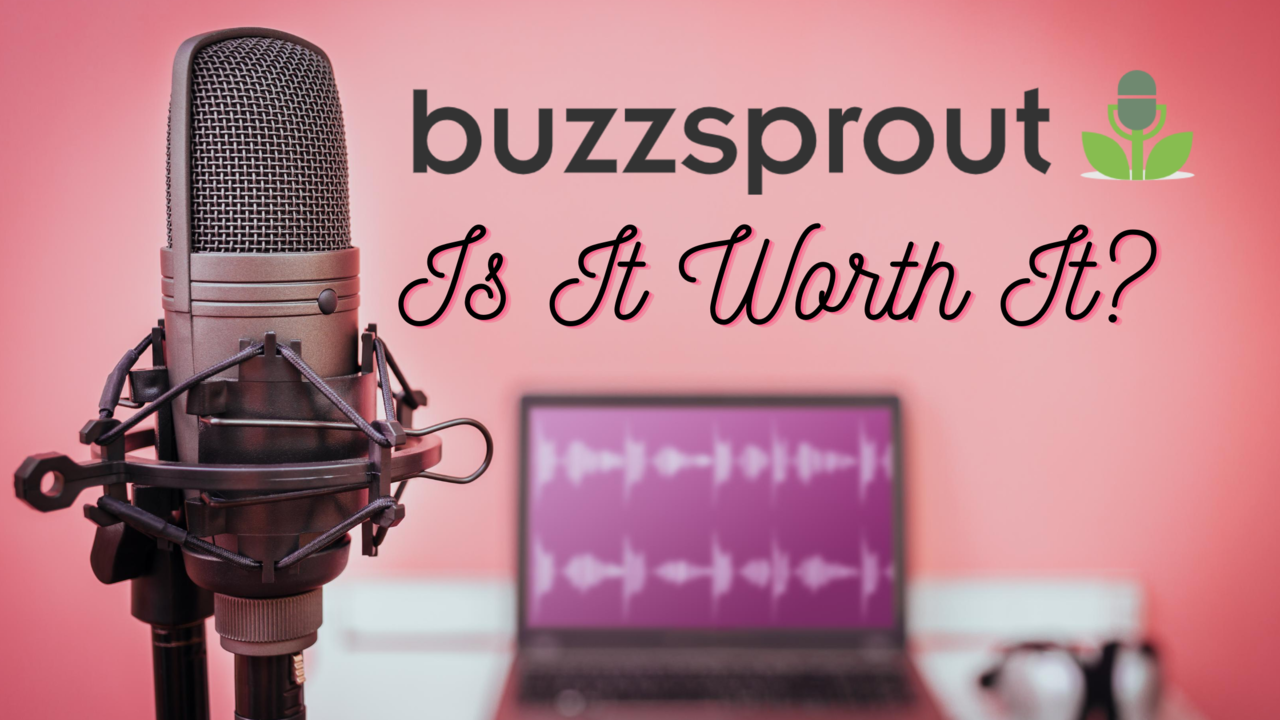 I've been covering podcasts extensively because there's immense value in starting and growing your show.
Unlike content platforms like blogging, the podcast market is not yet saturated.
According to Edison Research, about 70% of Americans are aware of podcasts, but only 32% actively listen to them. That means there's room for growth. You can position yourself or your business as an expert in your field, earn more revenue and establish your brand.
To start, you need to get a few things set up: your podcast space, your microphone, editing software, and content. A critical component is getting your podcast hosting down.
Like website hosting, podcast hosting is a place to store and share your content without using up your bandwidth. There are a few podcast hosting services available, but Buzzsprout has been all the buzz (pun intended) in terms of features, benefits, and functionality.
Buzzsprout: The All-In-One Podcasting Platform
With over a decade of experience, Buzzsprout was created with users in mind. The platform transformed from a hosting service to a complete home for your podcast. You can upload your content, manage your RSS feed, and customize your podcast experience. Over the years, Buzzsprout has added more features to make a time-consuming process easier. Here are a few benefits you'll get from hosting on the platform.
1. A simple but effective design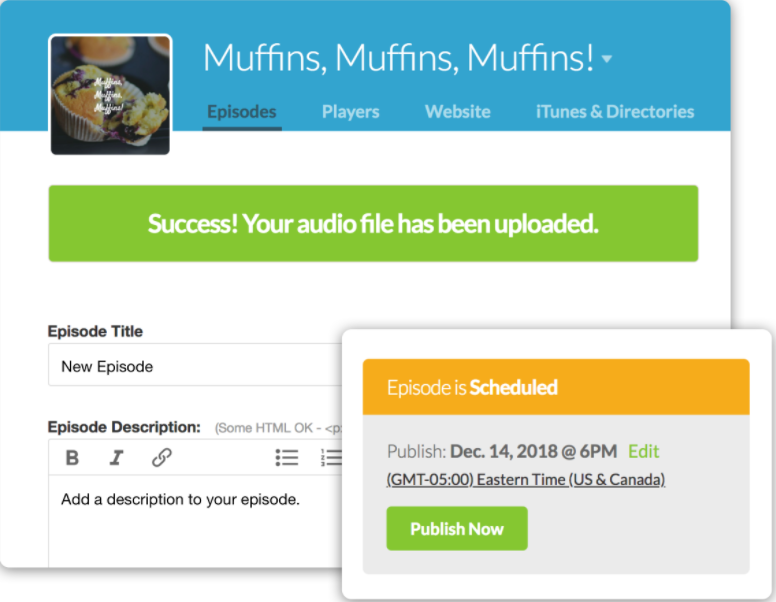 Over the years, Buzzsprout has tweaked its interface so that users can have a simple, clean way to upload, optimize, and schedule podcasts. You can adjust your episode content, website, and directory information with just a few clicks.
2. Stylish but useful statistics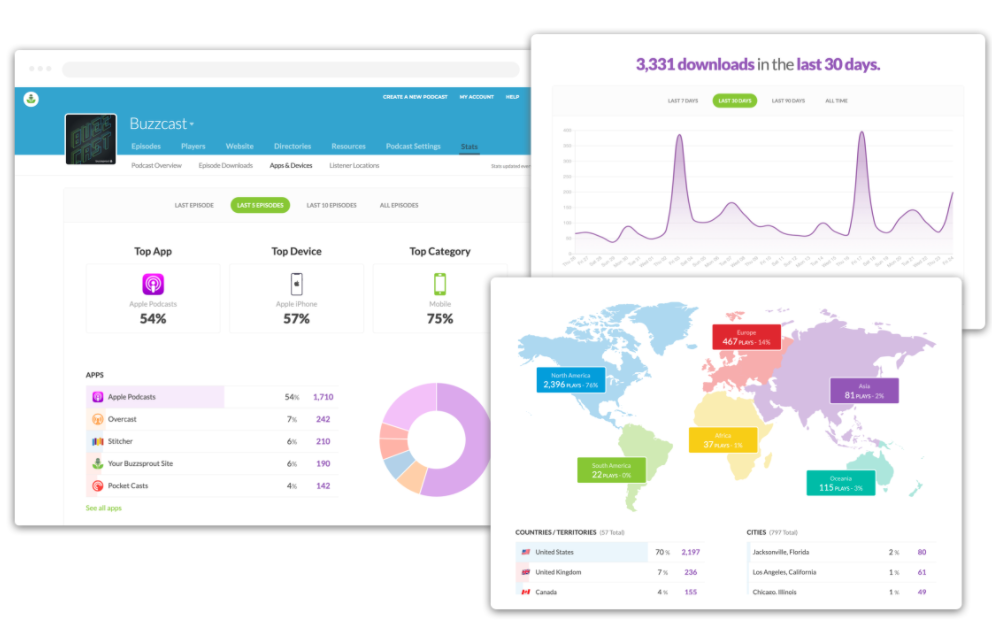 Don't let the pretty colors fool you. Buzzsprout gives you practical, detailed stats on your podcast performance. Stats are broken down by apps, country, and episodes. The stats are clear and help podcasters make the best out of their content. Stats are included with paid plans.
3. Charging by time, not storage size
Unlike other podcast hosts, Buzzsprout's model charges by time. That means you can maximize your plan, to upload as many episodes as possible. For example, if you had a 50MB plan, you may only get 40 minutes of content. Buzzsprout may compress your files to a lower bitrate, but it will still be high-quality on your feed.
4. Optimize with WordPress-like ease
Get a free webpage that feels like a WordPress website. You can change the colors, images, fonts, and line it up to your brand. It's a great way to catalog your content, upload transcripts, and collect email addresses. You can also add your custom domain. It's a great way to build your SEO and earn more listeners.
5. Sharable content, Buzzsprout-style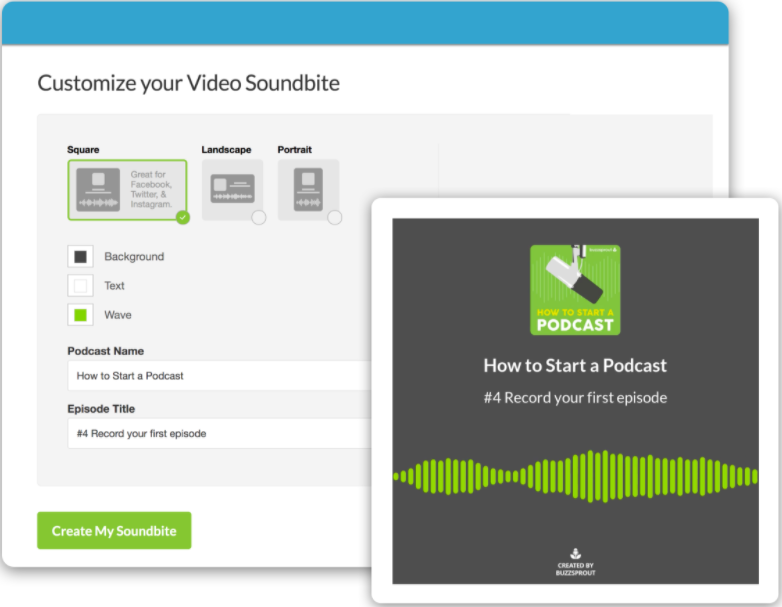 Creating your content is one thing. It would be best if you promoted it as often as possible. Buzzsprout helps you promote your episodes in two ways. First, you can create a soundbite; a specially designed audio clip to share on Instagram, Facebook, and other social media platforms. You can also share on their customized podcast player your blogs, newsletter, or email. You can start growing your listeners with these simple, built-in sharing options.
6. Get all your podcast extras in one place
To run a great podcast, there are other simple but necessary steps to complete. For example, Buzzsprout provides transcribing services for an additional cost. Built-in Mastering allows podcasters to do simple fine-tuning of their episodes. This fine-tuning includes options like leveling and removing strange background noise. Like transcription, Mastering is an additional cost, but the time and money you save getting everything done on one platform can be priceless.
8. Make money with Buzzsprout affiliate
There are a few ways you can make money with your podcast. You can sell your products, provide premium episodes, or include ad rolls. But you can also sign up for their affiliate program. You can earn either $25 for each signup or 20% recurring revenue. That means you can start making money immediately, promoting Buzzsprout on your podcast. This is part of the Buzzsprout Affiliate Marketplace, where there are other products like Allswell and Instacart that you can promote in your podcast and on your podcast notes.
7. Amazing startup support
Buzzsprout has lightning-quick support online and on social media. If you're having trouble, they respond and get you sorted out in no time. Support also comes with simple onboarding. If you're a beginner, read Buzzsprout's How To Start A Podcast Guide. When you're done, you'll be ready to hit publish with confidence.
Pros:
Time vs. File Size payment model.
Freemium version with 2 hours of record time.
Simple design.
Affiliate Marketplace where you can start earning immediately.
A built-in website with editing capabilities.
Get most of your podcast needs in one place.
Cons:
No ads or Mastering available on the free plan.
The website has limited capabilities. If you have multiple offerings, you may need a WordPress or other website.
No Premium Content Paywall option.
Is it worth it?
Buzzsprout starts at $12/month for 3 hours of hosting. The price can go to 24/month for 12 hours of hosting. If your podcast episodes exceed 1 hour, the $24/month plan may be best. If you need more space, you can pay a set fee per hour. For the price, Buzzsprout is one of the best podcast hosting companies around. Both entry-level podcasters and big-hitters will love the platform.
You get a range of features that not only exceeds competitors but is useful for podcasters. Buzzsprout's goal is to be your all in one podcast provider, and they may be the closest one yet.
Choose the right host for you at the start.
While most providers make it easy to transfer from one host to another, you should consider choosing the right podcast host from the start. If your podcast is here for the long haul, hosting it on a simple, all-in-one platform makes sense. A podcast can be challenging to set up and grow. If you need help getting started, connect with me for more tips, tricks, and content on developing your show. Feel free to check out these articles as well:
‍