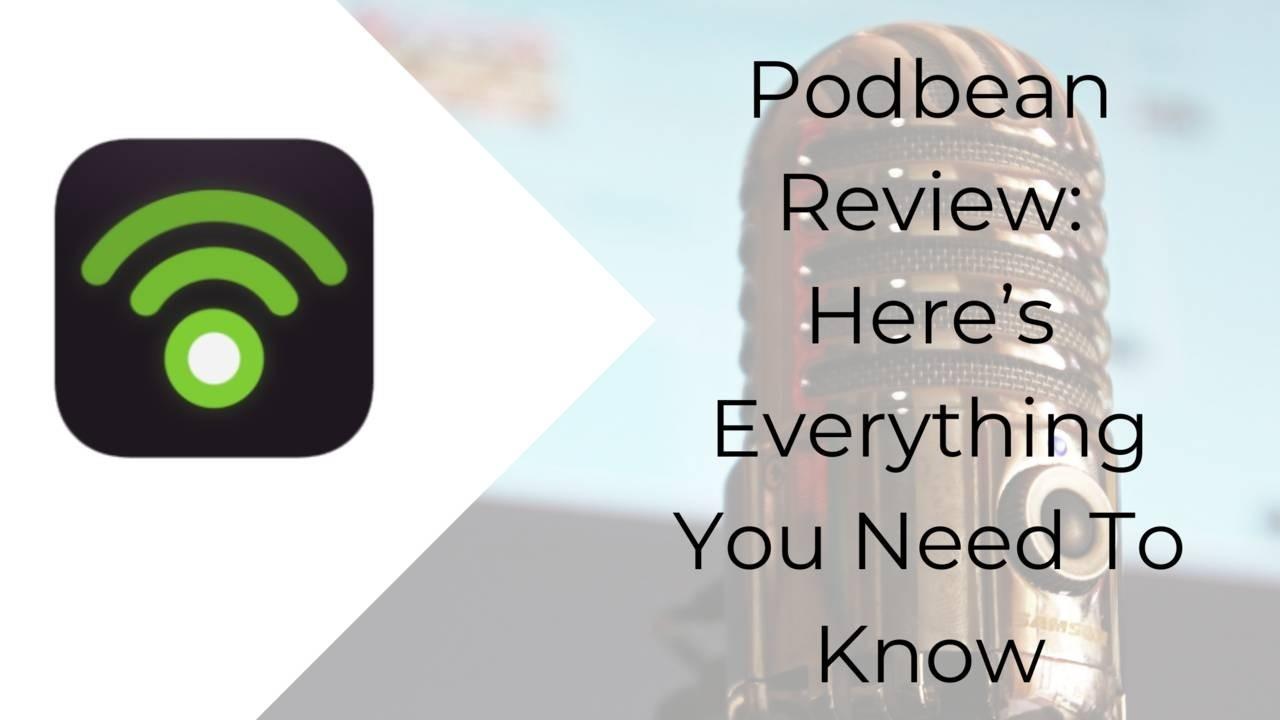 Have you been thinking about starting your podcast? I don't blame you. Podcasting is gaining popularity with over 30 million episodes online today. To run a successful podcast, there are a few parts that need to be in place.
Podcast hosting is a crucial step to make sure that your listeners can access your content. Podbean is one of many available hosts.
This Podbean review will tell you everything you need to know before signing up.
What Is Podcast Hosting Anyway?
At its core, podcasts are one or more audio files formatted for your listening pleasure. Podcasters need a way to share this audio file with their listeners. That's where podcast hosting comes in. A hosting site stores your audio data so your listeners can download and consume the episodes.
How Does Podcast Hosting Work?
Podcast hosting works a bit differently from regular web hosting. Hosting a blog takes little bandwidth compared to podcasts. Such companies like GoDaddy and Namecheap are unable to store your audio files, as they are often shared hosting services.
Podcast hosting has the bandwidth to hold hours of your audio content and can transfer that content seamlessly. In fact, the listener can start consuming the podcast on their device before the download is completed. Podcast hosting also helps you create an RSS feed. This feed is essential to distribute on sites like iTunes and Spotify. Both iTunes and Spotify are repositories and don't store your audio files.
Since podcasts started picking up traction in 2004, several companies popped up to provide hosting services for podcasters. At first, they were only giving hosting and RSS services. Now, to stay competitive, podcast hosts offer a range of services built-in to make the experience faster and easier.
Enter Podbean

Podbean has been a leader in podcast hosting since 2006. Podcasters can easily upload their audio files on Podbean. Podbean then creates an RSS feed, and with just a few clicks, you can distribute your content on popular platforms like Apple Podcasts, Google, Spotify, and more.
Those two features should be standard with any podcast hosting. Podbean, like several other hosting providers, wants to make the process of podcasting as effortless as possible. Podbean does that by providing an all-in-one podcast service. Here are some of the additional features Podbean has to offer.
Upload your podcast with just a few clicks

On the dashboard, you can upload your audio file, add the episode name, image, brand colors, and description. Podbean wins with simplicity, using an interface similar to vanilla WordPress. You can also create categories and set up your social accounts for automatically sharing on social media. Based on your podcast plan, there are no limitations on audio file size or downloads.
Natural distribution and Embeddable player
Once you've uploaded your episode, Podbean generates an embeddable player that shows all of your episodes. Listeners can click and play your content directly from the player on whichever platform you add the embed. With a few clicks, you can easily distribute your content on some of the biggest platforms available. What set Podbean apart is adding your podcast to Alexa. Podbean Alexa Skill makes it easy to make your podcast available on podcast devices.
Create your own podcast website.
Podbean provides users with a free podcast website. Choose from a list of themes and add images to make a simple website. Why do you need a podcast website? A podcast website establishes your brand and helps get you more traffic with SEO.
Podbean's Free plan does allow you a simple site but with limited access to the themes. You can add widgets to your sidebar to include more content like email signups. Podbean has a Mailchimp integration, which helps with that as well.
You will get a Podbean subdomain (yourpodcast.podbean.com). However, you can add your domain or add a domain in Podbean to give your podcast website a new look and feel. You won't be able to add more content like blog posts and added web pages. Yet, it's an excellent choice for a standard, yet professional-looking site.
What gets measured, gets managed.

Podcast hosting comes with built-in statistics, and Podbean is no exception. You get to see your podcast performance based on the activities of your users. With a simple interface, you can see your daily, weekly, and all-time performance.
You can see downloads by region, which gives you the ability to focus on specific content that your listeners enjoy. On your dashboard, you'll see the graph icon to see your stats quickly.
Can You Make Money On Podbean?
Yes! I've covered some options on how you can monetize your podcast. You can add advertisements in your podcast by adding your content to Podbean's marketplace. Based on your podcast performance, you can get matched with the right advertisers. Place the ad in your pre-roll, mid-roll, or post-roll and start making some cash!
Podbean gives you two added monetization options. First, you can create a Premium podcast. Place some episodes behind a paywall for additional revenue. There's also Podbean Patron, where your listeners can donate to support your content or for exclusive access and services.
Podbean app: Get exposed to a brand-new audience
If you decide to be part of the Podbean family, you can download the Podbean app. Like iTunes and Spotify, Podbean is also a repository that distributes some of the best podcasts in the world. With a built-in audience of millions of listeners, the app allows your content to reach new audience members.
That's not all. You can record a podcast or note straight from the app and reply to comments. There's also a Live Streaming option, where you can invite live guests, receive feedback, and place your live content behind the paywall.
Is Podbean Really Free?
If you're looking to get your podcast hosting feet wet, there is a free version available. Podcasters will receive 5 hours of free uploads at 100GB bandwidth. You'll also get a basic website but no access to monetization or customization.
The unlimited audio plan at $14/mth takes off the download and bandwidth limitations while opening advanced monetization and website customization. The Unlimited Plus ($39/mth) and Business Plans ($139/mth) add video podcasting and full monetization.
Pros of Podbean Hosting
Simple interface to add and distribute content
Built-in website
Audio Live streaming: the possibilities are endless!
Excellent analytics
Multiple monetization options.
Cons of Podbean
The free plan has limited options.
Lack of customer support, mainly self-service.
Consider Podbean for your hosting needs today.
There are several affordable options on the market. Podbean tries to give you affordable, simple podcast hosting with a host of features. If your goal is to manage the multiple parts of running a podcast easily, you can't go wrong with Pobean.
Get more podcast content straight to your inbox.
If you're looking to start and grow your podcast, let's connect to send you more tips and training on starting your own podcast. You can also read more blogs about podcasts and content marketing. Good luck with your podcast hosting!
‍