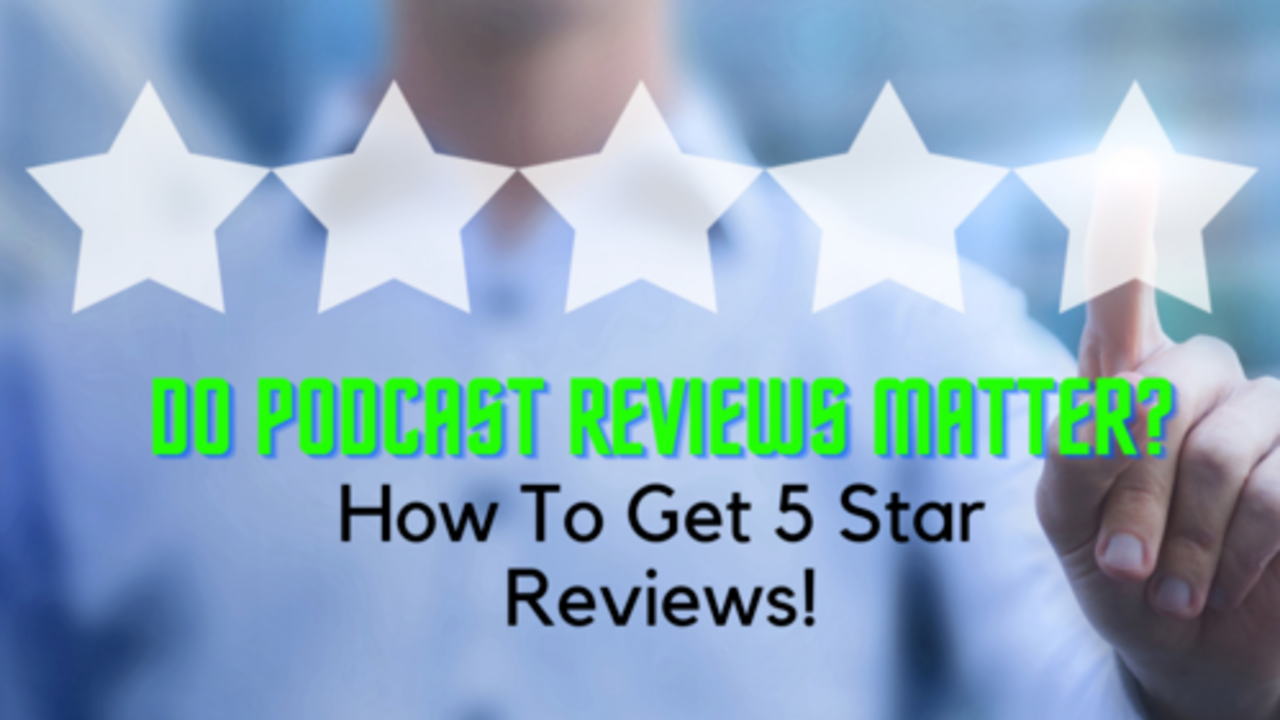 Podcasters have a lot to think about. They need to plan their content. They need to make sure the audio does not suck. Secure guests and spend hours editing content. The list goes on. When it's done, the podcaster must distribute it on as many platforms as possible. Sometimes, listeners can leave podcast reviews. For some podcasters, positive reviews are everything. To others, these reviews are baseless and add no value to their overall content. They may still get listeners, subscribers, and revenue, even with bad reviews. So the question is, do podcast reviews matter?
What are podcast reviews?
When you distribute your podcast, chances are you will share your content on sites like iTunes, Podbean, SoundCloud, and Spotify. Some of these sites allow the listener to leave a comment and rate the podcast - usually out of 5 stars. Podcast reviews are a way of sorting the content by 'Highly Rated.' It may also motivate someone to click on your podcast if they see high ratings and positive comments. Here are some reasons why you should consider getting as many positive reviews as possible:
It's amazing social proof
Word of mouth is still the most powerful form of Marketing. People love to know that other people have tried a product or service before they do. When we shop on Amazon, we don't even bother to look at items with 3 stars or less. The same goes for podcasts. A steady stream of 5-star reviews shows new and existing listeners that your podcast is legit. You can then leverage this social proof for media coverage, access to other podcasts, or to help sell a product or service.
5-Star Reviews may help with podcast ranking
There are mixed opinions on the value of high reviews. Some think that it helps iTunes algorithms to push your content up the charts. Others have noticed that subscribers and listens have a bigger effect. It's better to be safe than sorry. iTunes may more than likely promote content with great reviews. If you're looking for more exposure and listeners, excellent reviews may help.
Reviews give great feedback
Podcasters should look at reviews as data. Excellent reviews on particular topics mean that your audience wants more of that type of content. Poor reviews mean that you're not doing something right, or the content is not resonating with your target audience. Feedback can help you grow quickly by giving the people what they want.
It's motivating
Who does not like great feedback? It's inspiring and motivating when listeners get what you're trying to do. By taking the time to give you 5-star feedback, it shows that you added massive value. It's an initial boost to give you the drive to produce more content.
5 Ways To Get 5-Star Reviews
These are some solid reasons to get a few 5-star reviews and comments for your podcast. But how do you get more of them? And some 5-star ones at that? We're not talking about generic reviews, purchased reviews, or other black hat tactics. We want valuable feedback from listeners who really appreciated the content. Here's how to get it done.
Have a clear CTA in your episodes
So someone has listened to your episode and now feels motivated, fulfilled, or excited. What's next? Don't let them go on with life. You have their attention so make sure and have a Call To Action (CTA) at the end. CTAs tell the user the next step they need to take. In this case, at the end of the episode tell the listener to go leave a comment about the podcast and a 5-star review. You can't assume people will know what to do. You have to tell them. That's the power of the call to action.
Reward your listeners for 5-Star Reviews
Give your listeners an incentive to leave a killer review. At the end of your recent episode, run a promotion where they can get access to exclusive content. Or you can give away a free product, course, or downloadable. Both rewards and contents can generate a quick influx of comments.
Send personalized messages for feedback
Chances are your initial listeners are people you know. Why not ask them for feedback? Send a personalized email or DM asking them for feedback on your episodes. Instruct them on how to leave the feedback on respective channels. Most people would want to contribute to your success and will be happy to leave feedback.
Collect emails and ask for reviews
Podcasts should be the start of a funnel, which begins with collecting email addresses. Email addresses allow you to communicate with listeners between episodes. As part of your welcome email, make sure to ask for reviews.
Create amazing content
At the end of the day, the best way to get great podcast reviews is to create amazing content. Make sure to know what your listeners are looking for and keep producing exactly what they want. If the content resonates with listeners, they'll be more likely to give feedback on what they liked or disliked about the show.
Collect reviews early and often
Podcast reviews may not equate to revenue. But they do matter. For starters, nobody buys a poorly-rated product. The same goes for a podcast. There are also some intrinsic benefits to racking up those five stars. They may help give you great feedback, motivate you, and can even help the algorithm of popular distribution sites. So it won't hurt to get as many as you can. Don't forget to ask! It's the easiest way to get your initial traction.


Since we spoke about Call To Actions, it would be remiss of me not to do the same in this blog post. Your next step is to connect with me for more content on podcasting, content marketing, and increasing your sales with Linkedin. Click on the link for access to my email list. Feel free to check out my Brutally Honest podcast, where I connect with some of the brightest minds I know.
‍