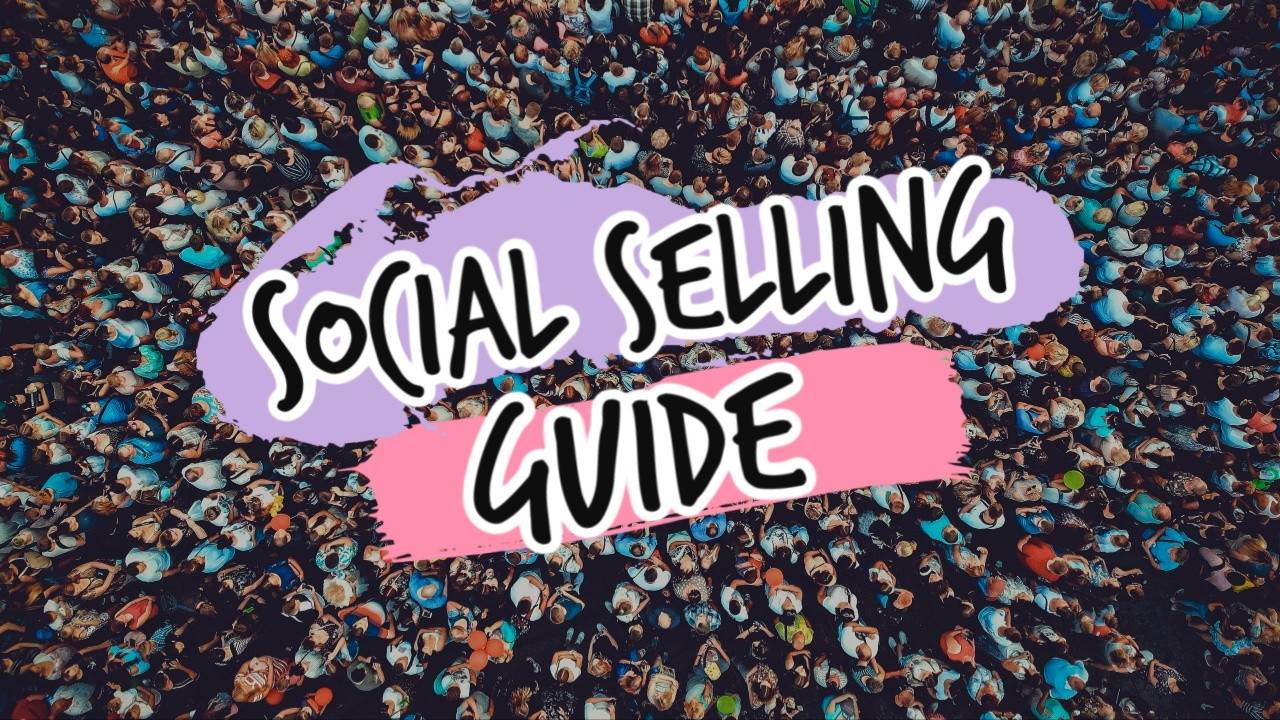 The Ultimate Guide to Social Selling.
What is Social Selling?
Social selling is about leveraging your social networks to attract high-quality prospects and build lasting relationships. It will help you gain visibility in your target market and establish credibility. Using tools like Facebook, Twitter, and LinkedIn, to foster trust, respect, and position your brand as the expert in your industry will keep you top of mind for a consumer's next purchase.
It's less about making a sale in the immediate future, and more about building a meaningful, lasting relationship. As a tactic, it sits higher in the sales funnel, doing more to increase awareness, and foster intent for your brand. You should use social selling to try and engage buyers on an on-going, long-term basis. It's all about making connections—the timeliness of social media provides a great opportunity to actively communicate with accounts and monitor your prospects to find the perfect time to reach out.
LinkedIn's 4 Pillars of Social Selling
LinkedIn has been at the forefront of the social selling movement since it began. Although it's not the only platform you can use, it is a reliable resource for tips. They have established four pillars for all professionals involved in social selling.
Create a professional brand
More than ever, buyers are looking to work with vendors they can trust. Having a strong professional brand shows that you are an active participant in your industry. This will make leads more comfortable responding to your communications and will encourage them to reach out with inquiries.

Focus on the right prospects
It's not about the quantity, it's about the quality. It's important to focus your energy on qualified prospects in order to get the most out of your social selling efforts. Do the research and put in the time to know who you should be talking to. LinkedIn reported that over 76% of buyers feel ready to have a social media conversation.

Engage with insights
One of the greatest benefits to a good social selling strategy is positioning yourself as a subject matter expert. You can do this by sharing relevant content, commenting on industry news, and building your professional brand. You should enhance your thought leadership by staying up to date with major industry movements, and by identifying new contacts or decision makers when potential accounts make new hires.

Build trusted relationships
Build trust with prospects by sharing your perspectives and providing relevant information to help solve their common pain points or answer frequent questions. Start genuine conversations and keep the needs of the prospects at the forefront of all communication.
Social Selling Vs. Social Marketing
Many people think that social marketing and social selling are interchangeable, but they are two very different tactics that should both be a part of your overall business strategy. Unlike social marketing, social selling is aimed at cultivating one-on-one relationships vs. broadcasting to many.
Although social selling and social marketing are two different things, thy are most effective when working together. How closely does your sales teamwork with your marketing team? Teaming up these departments to set goals, communicate results, and align brand identity and strategy will keep consistency for your audience across all platforms. You want every interaction to feel like "the right fit"—after all, you've spent a lot of time building that relationship through social selling.
How can you connect these two pieces to your brand's puzzle? Communication! The marketing team will often be responsible for creating content for your brand; anyone from the sales team managing social selling should work closely with them to inform content topics and put forward questions they know your prospects want to read about. The teams should connect on any common themes, trends, and interesting niches that they see through their efforts. A lot of the information will be relevant to both marketing and sales strategies.
5 Reasons Why Should Your Business Should Care About Social Selling
Generate Higher Quality Leads
The better you know your prospects, the better chance you have of picking the most effective ones to focus on. Using social listening to discover existing conversations relevant to your industry will allow your sales team to identify new leads that are already aware and interested in your products/services, so you can connect with them and share useful information when the time is right. In a survey by CSO Insights and Seismic, one in three B2B professionals said that social selling tools increased the number of leads they had to work with and 39% said that social tools reduced the amount of time they spent researching accounts and contacts.
Build Real Relationships
Let's be honest, nobody really likes cold calling. It's not even that effective anyway—ninety percent of top decision-makers say they never respond to cold calls. Social selling approaches prospects in an environment they're already comfortable with, making it a lot easier to start meaningful conversations.
Have Perfect Timing
With traditional sales tactics there was often a great uncertainty around the timeline for closing a lead. Things like cold calls typically leave the customer in the position of control. Now, consumers complete pre-purchase research faster and often make most of their decision to do business with you before they pick up the phone. 19% of buyers want to connect with a salesperson during the awareness stage of their buying process, when they're first learning about the product while 60% want to connect with sales during the consideration stage, after they've researched the options and come up with a short list. Social selling gives an opportunity to still reach these buyers during the earlier stage in the sales process, in a way that matches their needs at that stage better than a call.
Tap into New Opportunities
Have you ever been tasked with filling the sales funnel, but felt your current prospect pool had been exhausted? Social selling offers a great opportunity to expand your reach. Unlike traditional methods that often rely on referrals, word-of-mouth, close connections or friends of friends in the industry, social platforms offer a place to contact new groups of people, and new individuals. Tapping into these potential new audience streams means your sales funnel won't dry up; 65% of salespeople who use social selling fill their pipeline, compared to 47% of reps who do not.
Retain Quality Customers
On the other side, social selling also helps you stay in contact with previous customers, without interfering with their days. It doesn't feel as spammy as a rigorous email schedule, or as annoying as a mid-day phone call. It's more casual than other sales tactics, as you're regularly putting valuable content in front of them or making yourself available to answer their questions. The cost to acquire a new client is far greater than the cost to retain an existing one, so maintaining these relationships is critical.
4 Easy Steps to Get Started with Social Selling
Create social accounts
The three main social accounts you'll want to use for social selling are LinkedIn, Twitter, and Facebook. You don't need to use all three. Figure out which platforms have large pockets of your ideal prospects and focus on them.
Find prospects
Start by connecting with people you already have a relationship with, like past customers. Then start to utilize social selling tools to discover new prospects. Find users similar to your existing connections, decision-makers in your industry, and employees at target businesses.
Engage with your prospects
Once you've built a solid list of connections, start to engage with them. Like and comment on content that they've shared (not all at once, that will seem creepy), and if relevant share some other content you've found that relates to what they're saying. Keep an eye on their profiles and take note of what type of content they like, what questions they have that you could answer, and any pain points you might be able to relieve. Social listening is vital to social selling efforts.
Create informed content
Lastly, start to create content that is tailored to those connections. Use the knowledge you've gathered from interacting with your prospects to write articles on topics that answer questions you saw come up multiple times, or create infographics making technical information they were confused by more accessible. This is a great way to give your prospects what they want and need, while promoting yourself, without being in their face about it.
Social Selling Tips for Each Platform
LinkedIn
As a professional social network, LinkedIn is the most obvious platform for social selling. After all, 50% of B2B buyers use LinkedIn as a resource when making purchasing decisions. Start by building your credibility by asking for endorsements, and recommendations from existing connections that you have a good relationship with. Then, start extending your network. Find common connections by leveraging existing relationships or take advantage of LinkedIn Advanced Search to find quality prospects based on your needs. Join LinkedIn groups that are relevant to your industry and engage with another user's content. Once you're comfortable, start contributing your own.
Twitter
One of the benefits of Twitter for social selling is the ability to create Twitter Lists to monitor content from groups of people. This will make it a great platform for social listening. Get started by creating lists of existing customers, prospects, and competitors. Another great tool is Twitter chat as they allow you to position yourself as an industry expert. Join existing chats or start your own once you're established on the platform. Discover trending hashtags in your industry and use them to promote relevant content from your business.
Facebook
As the most personal of the three main social selling platforms, Facebook requires a more delicate touch. Sending friend requests to business associates can come off strong. Instead, create a Facebook Business Page for your brand. Reach out to other businesses through likes, comments, and shares of their content. Your consistent outreach is likely to be reciprocated. Once you've gathered followers, make sure you are promptly responding to their posts, and encourage them to comment on yours. Try sparking a conversation by asking a question.
Easy Ways to Integrate Social Selling into Your Day
The easiest way to add social selling to your day without getting overwhelmed is by starting with a morning and afternoon routine. Twice a day you should set aside 30-60 minutes to run through your social selling platforms and complete these four tasks:
Check your inboxes – The faster you can respond to messages on social platforms the better but checking those inboxes at least twice a day is a great place to start, that way no one is ever waiting more than half of a day to get a response.
Connection requests and invitations – You may find a few connection requests as you begin the day. Accept them and send a quick welcome message to get the ball rolling. In the afternoon, send off any invitations to new prospects you found that day, or search for at least one more connection you think could benefit your sales funnel before you shut down your computer.
Engage with comments on your content – Your social selling strategy is about building relationships. You should be regularly communicating with prospects and members of your online community. Check your notifications for any comments, especially questions, that you can reply quickly to at the beginning and end of every day. If any require follow-up, or a longer conversation flag them, and send a personal note to the user striking a conversation.
Social Selling Tools
Whether you're managing social selling on one platform, or all three listed above, it can be a bit overwhelming for one person to manage. There are some great tools and resources to help make social selling easier, and smoother for you and your sales team. Here are some to get started:
Measuring Social Selling Success
It's important to be able to measure the success of your social selling efforts. This will help quantify the value of social selling and optimize how much time your spending on it versus other sales tactics.
Social Selling Index
LinkedIn produced a social selling measurement called the Social Selling Index (SSI), which is scored on a scale of 0 – 100 based on your LinkedIn activities relating to the four pillars mentioned earlier. You can get your score for free, and see how you rank against an industry standard and among your own network. It measures how effective you are at establishing your professional brand, finding the right people, engaging with insights, and building relationships and is updated daily.
Using Analytics to Inform Social Selling Strategy
You can also track the success of social media content that you've created as a part of your strategy using analytics sites like Google Analytics (GA). You can set up event code tracking and set up conversion funnels to help measure how users are actually moving through your site. You can see how a consumer entered your site, and what actions followed. This allows you to see basic information like what pages visitors form social selling content are landing on, how long they are spending on your site, and more advanced information like any purchases they made, forms they submitted, and resources they've downloaded. This helps you see which pieces of content resonate with your audience the most, and eventually turn leads into business at the highest rates.
Social Selling Best Practices
Build a Strong Foundation
A big part of positioning yourself as an expert is building trust and credibility. This comes from starting on a solid base. Don't just create social accounts and use them without any schedule or strategy. A polished, planned social account is vital to social selling success. Include relevant information in bios, profiles, and pinned posts. Most prospects will look through your account before accepting a connection, make sure that their first impression is a positive one.
Don't Get lazy
Social selling works because it feels personal. People want to make connections with other people, not robots. Although it's tempting to save time with automated liking and commenting tools, but these do nothing to build conversations. In fact, they can do damage to your personal and professional brand. They can easily be identified among other social responses and come off as fake and annoying to most users. There are ways to incorporate social bots into marketing and customer service, but when it comes to selling, a real person is best.
Provide Value
There is plenty of content pumped into the internet daily, what will make yours stand out? Your prospects don't want to spend time consuming content, or digging through large chunks of information, only to find it unhelpful. It's definitely okay to mention your product or service in some of your social posts, but don't make your posts sales pitches or presentations. Spend a good proportion of time sharing other people's content and leaving helpful comments, give more than you receive.
Analyze and Optimize
Learning from past trials is a great way to save time and maximize ROI with social selling. Collect insights and data from current and past efforts, and then use it to identify what works and what doesn't. Then you can easily adjust messaging and platforms accordingly. Testing, tracking, and measuring will be an integral part of your social selling strategy. Stay up to date on consumption research for people in the audience you want to reach. Knowing that seven in 10 B2B buyers watch a video sometime during their buying process can help inform the content you're making and avoid wasting time and money on creating collateral that would be less effective.
Cross-Channel Connections
Social selling experts don't just limit their communication with a particular prospect to one channel. If you are connected on Facebook and interact there regularly, you can also be connected on LinkedIn or Twitter. Different platforms have different styles, and some content you create may only get posted on one or two channels. Having connections across those platforms allows them to catch all of your important messaging. The different styles also allow you to form different bonds with the same connections, some more business-like, and others more personal and playful.
Be Patient
Above all else, you need to exercise patience when it comes to expert social selling. Even when following all best practice tips, building and maintaining valuable relationships takes time, and there is no 'quick fix' that will give you shortcuts to the finish line. For short term satisfaction spend time identifying what works and what doesn't and celebrate the small wins: landing an elusive connection, having a nice interaction with someone in your content comments, and more.
Final Thoughts
If you have a Facebook Business Page, LinkedIn profile, or professional Twitter account, you're already engaged in the basics of social selling—even if you've never heard the term. It is a tactic that any sales team can add to their toolbox. Take the time to do your research and connect with the most relevant leads for your business. Then, use social listening, and industry trends to create and share content that is relevant to your prospects. Once you start to see your social selling prospects converting, don't dust off your hands and call it a success. You'll need to work to maintain your expert position, social selling doesn't work on cruise control. Continue to remain an active participant in discussions, listen to your audience, and post engaging content, and you'll see your sales funnel consistently full.
‍