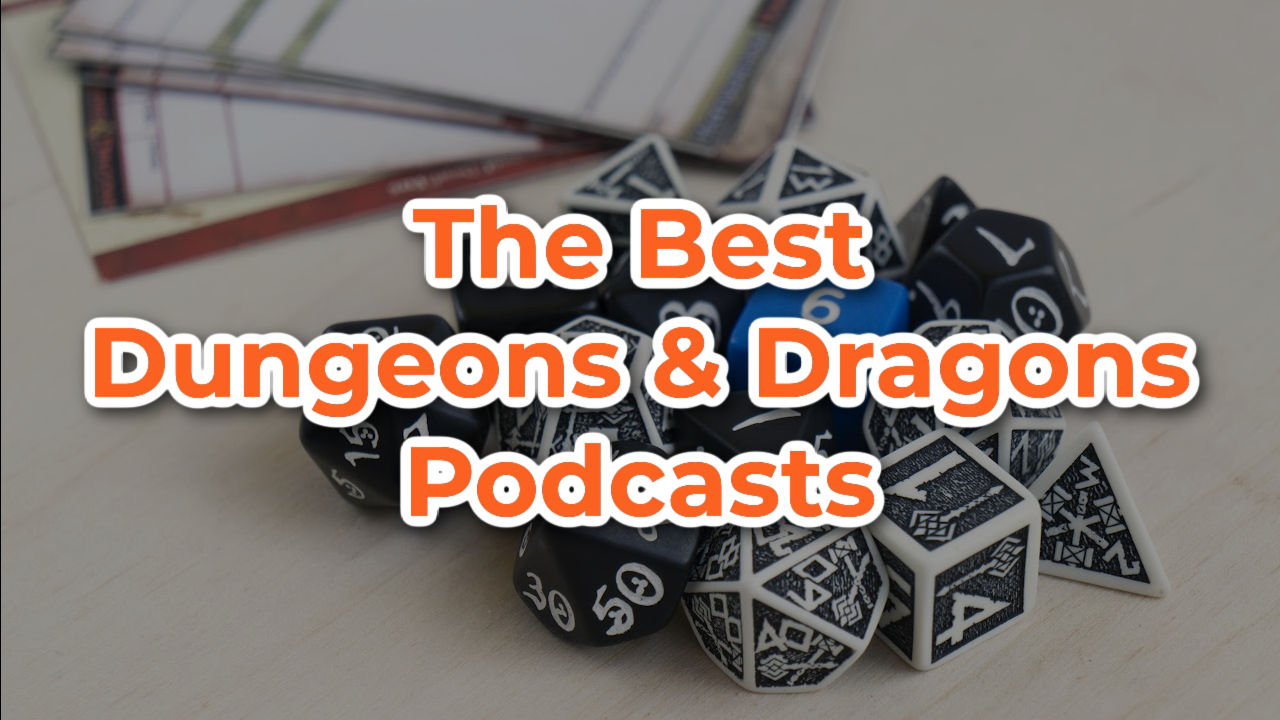 Dungeons & Dragons, or D&D for short, is a wildly popular tabletop role-playing game that has been around since the 1970s. It is a fantasy game that involves players creating their own characters, such as wizards, warriors, and dragons, and embarking on epic quests and adventures in a vast and immersive world. The game is played with dice, paper, and pencils and requires players to use their imagination and strategic thinking to overcome challenges and defeat enemies.
In recent years, Dungeons & Dragons has seen a resurgence in popularity, with more and more people discovering and falling in love with the game. This has led to the proliferation of D&D podcasts, which have become extremely popular. These podcasts often feature a group of friends or colleagues playing a D&D game and recording their sessions for listeners to enjoy. Many of these podcasts have gained massive followings and have even spawned spin-off merchandise and live events.
One of the reasons for the success of D&D podcasts is that they offer a unique and engaging form of entertainment. Each podcast episode is like a self-contained story, with the players working together to overcome obstacles and achieve their goals. The improvisational nature of the game means that no two sessions are ever the same, and listeners never know what to expect. Additionally, the popularity of D&D has been helped by the rise of streaming platforms and online communities, which have made it easier for people to discover and share their love of the game.
After listening to hundreds of episodes and shows I have curated my favorite list of podcasts to listen to. These are hand selected for high rollers and new listeners whether you're looking to become a game master, discover new YouTube channels or for your own D&D Team this has you covered. Sit back and tune into the best D&D podcasts that I can find. If you think a certain show should in included in this list reach out to me I would love to give it a listen and add it.
I have gone ahead and added both apple podcasts and links to Spotify as well as their websites, links to any professional actors and how to find live shows you may want to attend.
If you love podcasts and want to learn how to setup your own podcast studio to make the next hit podcast check my blog How to Setup a Podcast Studio.
‍
Critical Role
Welcome to Critical Role! This is the home of a group of talented voice actors who love to play tabletop role-playing games. If you're a fan of imagination, improvisation, and collaborative storytelling, then this is the place for you.
At Critical Role, we offer a variety of shows centered around TTRPGs, including our flagship show, Critical Role, as well as Exandria Unlimited, 4-Sided Dive, and an expanding selection of one-shot episodes. These shows offer a chance to enter a world of adventure and possibility while entertained by a group of passionate and skilled storytellers. We hope you'll join us on this journey!
The Critial Role podcast has some amazing talent and voice actors/actresses.
Main Cast
Laura Bailey • Taliesin Jaffe • Ashley Johnson • Matthew Mercer • Liam O'Brien • Marisha Ray • Sam Riegel • Travis Willingham
Campaign Cast & Former Cast:
Kit Buss • Felicia Day • Will Friedle • Chris Hardwick • Jon Heder • Joe Manganiello • Mary Elizabeth McGlynn • Jason Charles Miller • Darin De Paul • Chris Perkins • Patrick Rothfuss • ND Stevenson • Wil Wheaton • Ashly Burch • Mica Burton • Mark Hulmes • Sumalee Montano • Khary Payton • Chris Perkins • Deborah Ann Woll • Robbie Daymond • Erika Ishii • Yuri Lowenthal
The Adventure Zone
The McElroy brothers, Justin, Travis, and Griffin, are well-known for their comedic podcast "My Brother, My Brother and Me." They have recently recruited their father, Clint, to join them in a new adventure: "The Adventure Zone." This campaign is filled with high adventure and excitement as the McElroys set out to find their fortune and face off against a seemingly endless number of fantasy creatures, such as kobolds. The McElroys' unique brand of humor and dynamic personalities are sure to make for an entertaining and engaging experience for podcast fans and fantasy adventure fans. "The Adventure Zone" is a D&D campaign that began in 2014 as a limited 8-episode arc on the My Brother, My Brother and Me podcast. But later, it became a dedicated podcast series and also comic book series.
‍
‍
‍
Not Another D&D Podcast
Not Another D&D Podcast is an actual-play D&D podcast that began in 2018. The show is hosted by a group of friends, Brian Murphy, Emily Axford, Jake Hurwitz, and Caldwell Tanner, who come together to play D&D and share their adventures with listeners. Since its inception, the team has produced a wide range of actual-play campaigns, each with its own unique story and set of characters. In addition to the main actual-play campaigns, the team has also created several spin-off series such as "DUNGEON COURT," where they put fantasy creatures on trial, and "8-BIT BOOK CLUB," where they play classic fantasy video games.
Not only do they have series on podcasts but they also occasionally hit the road and play D&D live on stage in front of a live audience, bringing their unique brand of comedy and storytelling to fans in person. The group's chemistry and comedic timing make for an entertaining and engaging listening experience, making Not Another D&D Podcast a must-listen for fans of D&D and fantasy storytelling.
If you want the full experience of our favorite tabletop game and have a great sense of humor, this is an amazing show to listen to.
‍
Dragon Talk - An Official Dungeons & Dragons Podcast
"Dragon Talk" is a podcast that offers a behind-the-scenes look at one of the most iconic fantasy brands of all time. Each week, the D&D team sits down with celebrities and personalities from the gaming and pop culture world to discuss all things D&D. From the classic tabletop role-playing game to the latest video games, comics, novels, movies, and television shows, the podcast offers an in-depth look at the brand and its impact on pop culture.
Listeners will have the opportunity to hear from the creators, game designers, and developers of D&D, as well as actors, writers, and other celebrities who are fans of the game. The guests will share their insights, experiences, and memories of playing D&D, and the podcast will also include previews of upcoming products and events. Whether you're a long-time fan of the game or new to the world of D&D, this podcast is sure to provide an entertaining and informative look at one of the greatest fantasy brands of all time.
‍
The Dungeoncast
"The Dungeoncast" is a Dungeons & Dragons 5th Edition podcast that brings together co-hosts Will and Brian to explore all aspects of the world's most popular tabletop role-playing game. From the rich lore and game mechanics to character creation and other creative concepts, this podcast offers an in-depth look at the game in a casual, educational, and humorous manner.
In each episode, Will and Brian discuss various topics related to D&D and delve into the endless possibilities and unforeseen challenges of role-playing, character creation, and dungeon mastering. They also strive to create an inclusive environment for listeners to join in the conversation and learn from the hosts' experiences. Whether you're a new player or a seasoned veteran, The Dungeoncast offers something for everyone interested in D&D.
The podcast is released every Monday and can be found on YouTube, iTunes, and other podcast platforms. Tune in to The Dungeoncast for an entertaining and engaging journey through the world of D&D and all its creative possibilities.
‍
The Homebrew
"The Homebrew" is a D&D actual play podcast that brings listeners on a weekly journey through a re-imagined 5th Edition Sci-Fi campaign called "Absurdism & A Millennium Abroad." The show is led by a group of veteran Dungeons & Dragons players who are passionate about creating phenomenal stories, endearing characters, and thrilling adventures.
The show's unique sci-fi twist on traditional D&D gameplay offers a fresh and exciting take on the game, and the players' chemistry and comedic timing make for an entertaining listening experience. The show is perfect for listeners of all levels of experience with D&D, whether you're a new player, a seasoned DM, or simply enjoy a good story.
The Homebrew podcast is published weekly and can be found anywhere podcasts are available. Join the players as they explore the universe and push the boundaries of what is possible in a D&D campaign. Get in on the adventure and "hunt space dinosaurs" with The Homebrew.
‍
‍
Dumb-Dumbs & Dragons
Dumb-Dumbs & Dice is a podcast production company founded in 2016 by Ryan LaPlante and Tyler Hewitt. The company began with their first show, "Garbage Town: The Movie Podcast," but in 2017, they expanded into live-play podcasts with "Dumb-Dumbs & Dragons." Tom McGee and Laura Elizabeth joined the company full-time and together they started a series of live-play podcasts. In 2019, the company rebranded and launched a variety of shows including "Warhammer 40,000: The Valentyne Heresy," "Blood & Syrup," "The Mythos Mysteries," "Dumb Scum & Villainy" and "One Shots".
The company's mission is to create entertaining and engaging shows that are accessible to a wide audience, and it has been successful in achieving that. As of today, Dumb-Dumbs & Dice has had more than 1.5 million listens and their shows regularly appear in the top 100 gaming and fiction podcasts in North America and around the world.
Their live-play podcasts are known for their humor, creativity and diverse array of settings and genre that cater to many different interests. The company's commitment to quality storytelling and entertaining content has helped it to establish a dedicated fanbase, and it continues to grow with each new episode.
‍
The Lazy D&D Podcast
The Lazy D&D Talk Show is a weekly podcast hosted by Mike Shea, also known as Sly Flourish. The show focuses on various topics related to the popular tabletop role-playing game Dungeons & Dragons (D&D), including news, commentary, and spotlights on different aspects of the game. The show also features a Q&A segment where listeners can ask Shea questions about D&D and get his expert opinion. The show is designed to be accessible and enjoyable for D&D players of all skill levels, and Shea's approach is known as "Lazy DMing" that focus on simple and effective ways to prepare and run games.
‍
‍
Dungeons And Daddies
The Dungeons and Daddies podcast, hosted on Acast, follows the story of four ordinary fathers who find themselves transported into a realm of high fantasy and magic. Stranded in a strange new world, they must embark on a perilous quest to rescue their sons. Along the way, they encounter treacherous landscapes, battle fierce monsters, and uncover ancient secrets. Listeners can tune in to hear these unlikely heroes' exciting and dramatic journey as they navigate through this fantastical world, all while trying to find a way back home. For more information, visit acast.com/privacy.
‍
‍
Adventure a Dungeons and Dragons Podcast
"Adventure" is a Dungeons and Dragons actual play podcast hosted by a group of players, Bobby Shortle, Jacqui Turner, Brian Verderosa, Justin Reilly, and Bob Reyer. Each episode of the show is fully produced with immersive soundscapes, music, and sound effects created by one of the hosts, Justin Reilly, who serves as the group's resident druid. The podcast follows the group as they embark on thrilling and often comical adventures, with many of the players being first-time Dungeons and Dragons players. Listeners can expect to be transported to a fantasy realm filled with danger, humor and unexpected twists as the group navigate the game's mechanics and the improvisational nature of role-playing.
‍
‍
Dungeons and Dragons Lore Cast
If you're a fan of Dungeons & Dragons, you'll love "Dungeons & Dragons Lore and News". This podcast is dedicated to exploring the rich and vast world of D&D, delving into the myths, legends, and unforgettable characters that make the game so beloved. Each week, the hosts take listeners on a journey through the lore of D&D, providing in-depth analysis and commentary on the stories, worlds, and creatures that make up the game. In addition to exploring the lore, the show also covers the latest news and releases from the world of D&D, keeping listeners up-to-date on the latest developments and upcoming events in the world's greatest roleplaying game. Whether you're a seasoned veteran or new to the game, "Dungeons & Dragons Lore and News" is the perfect companion for anyone who loves D&D.
‍
‍
Lawful Stupid - A DnD 5e Actual Play Podcast
Welcome to Lawful Stupid, a virtual corner of cyberspace where the drinks are free and the adventure is boundless! We are a Dungeons & Dragons 5th Edition actual play podcast dedicated to the game's love and passion. Our goal is to create a fun and inclusive space for the Tabletop RPG Community, where we can all come together to explore the fantastic world of D&D and all it offers.
We believe that the community is at its best when we strive to make the world a better place, whether it be through inclusivity, creativity, charitable acts, or fantastical heroism. We are constantly working to build a community of artists, creators, and fun-loving individuals who share our passion for the game.
If you want to be a part of this amazing community and have a good time playing D&D with like-minded individuals, we invite you to join us in our discord server. We are excited to share our love of D&D with you and embark on thrilling adventures together!
‍
Dungeon Master's Block
Welcome to The Dungeon Master's Block, where we shine a spotlight on the most important person in the game of Dungeons & Dragons, the dungeon master. The dungeon master is the one person responsible for bringing the game to life, creating the story, and controlling the fate of the players and their characters. They are the ultimate authority in the game, capable of playing god, killing characters, and keeping the players in check.
Our podcast is dedicated to providing tips, tricks, and advice to dungeon masters, whether they are new or experienced. We cover a wide range of topics, such as world-building, NPC creation, combat, and more. Our goal is to help dungeon masters become better at their craft and create more engaging and exciting experiences for their players.
Follow us on Twitter @DMs_Block, and join us on our journey to becoming better dungeon masters. We are also proud members of the Block Party Podcast Network, which brings together a community of passionate and dedicated podcasters worldwide. So please tune in, and let's explore the exciting world of Dungeons & Dragons together!
‍
Girls Who Don't DnD
"Girls Who Don't D&D" is a monthly real-play Dungeons & Dragons adventure featuring a group of three female players who are new to the game, a Dungeon Master who is familiar with the rules but hasn't fully read the books, and a collection of dice. Each episode follows our protagonists as they embark on a journey in the fantasy world of Kalee, encountering monsters, wielding magic, and uncovering their past memories. This podcast is perfect for those who are interested in D&D but have never played before and want to see how the game is played in a relatable and accessible way. Join us as we explore the realm of Kalee, and discover the fun and excitement of D&D. Please note that the monthly schedule is a goal rather than a guarantee.
‍
‍
Starter Set - A Dungeons & Dragons Podcast
"Starter Set" is a podcast that delves into the world of Dungeons & Dragons, providing an in-depth look at the game for both new and experienced players. Whether you're just starting out and looking for tips and guidance on how to get started, or you're a seasoned player looking for additional ways to immerse yourself in the world of D&D, this podcast has something for you. Each episode features expert analysis and commentary on various aspects of the game, including character creation, campaign building, and game mechanics, as well as interviews with industry professionals and enthusiasts. Whether you're looking to improve your skills, stay up-to-date on the latest developments in the D&D community, or want to expand your knowledge of the game, "Starter Set" is the perfect podcast for anyone interested in all things D&D. With this podcast, listeners can expect to learn the ins and outs of the game, from rules and mechanics to tips and tricks for running a game to storytelling and campaign building. This is the perfect podcast for new and experienced players looking for ways to deepen their experience with D&D.
D&D is For Nerds
Australia's most beloved Dungeons & Dragons (D&D) actual play podcast is set in the world of Ogg Nott, a place steeped in mystery and intrigue. Despite the players' lack of knowledge, the world is slowly coming to an end. The award-winning podcast follows a group of heroes as they embark on thrilling adventures, introducing new stories, characters, and challenges each season.
Both new and veteran listeners can enjoy the podcast, as each season stands alone but also contributes to a larger narrative that spans centuries. The podcast releases new episodes every Sunday, providing fans a consistent source of entertainment. Whether you are new to the world of D&D or a seasoned player, this podcast will surely transport you to a place of wonder, danger and excitement.
‍
‍
Greetings Adventurers - Dungeons and Dragons 5e Actual Play D&D Podcast
Greetings, Adventurers! (formerly known as Drunks and Dragons) is an award-winning, comedy podcast that uses Dungeons & Dragons as a framework for creating an improvised narrative. Listen as a group of friends embark on a journey to save the world, while trying to avoid destroying it in the process. Since its debut in November 2012, the podcast has released new episodes on a weekly basis, and has grown a dedicated fanbase.
As of July 2019, Greetings, Adventurers! has an estimated 180,000 unique monthly listeners worldwide, and has received over 20 million total downloads. The podcast has even inspired the creation of an annual convention, where fans can gather to celebrate the show and their shared love of Dungeons & Dragons. Whether you're a fan of the game or just looking for a fun and entertaining podcast, Greetings, Adventurers! is a must-listen.
‍
‍
Summary
Dungeons & Dragons (D&D) is a beloved tabletop roleplaying game with many fans. Podcasts have become an excellent medium to share this love, and many D&D enthusiasts have turned to them to share their love of the game. Podcasts like The Adventure Zone, Critical Role, Acquisitions Incorporated, The Glass Cannon Podcast, Dice, Camera, Action, The McElroy Brothers Will Be In Trolls World Tour, and The C-Team, are just a few examples of the many D&D podcasts available for listeners to enjoy. These podcasts offer various elements that cater to different audiences, from comedic elements to high-quality storytelling and humor. They also offer a unique chemistry between players and dungeon masters, making for an enjoyable listening experience for game fans. It doesn't matter if it's your first time playing the game or you want to develop your own new story. These podcasts will immerse you into the walls of dungeons and help you fall in love with one of the most famous tabletop roleplaying games.
‍
‍