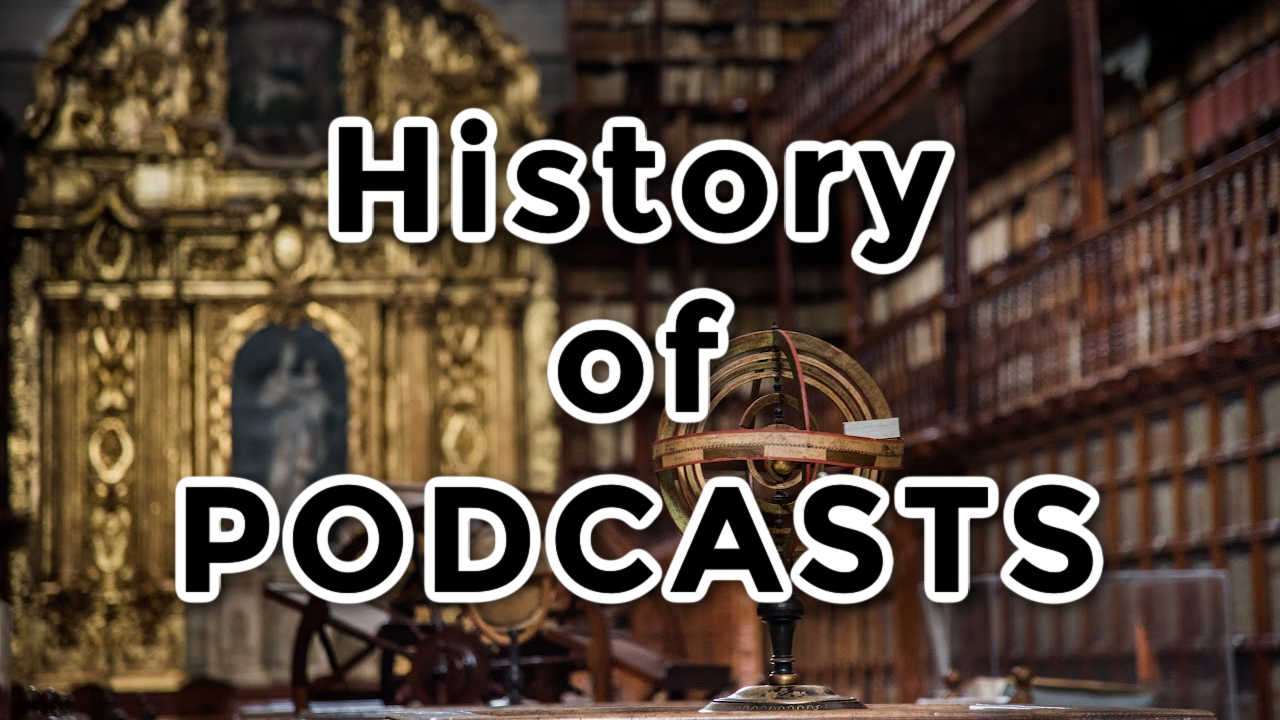 There is an old joke in the marketing world that "a little knowledge is a dangerous thing".... that's why I'm going to give you some knowledge, but it's contained in an ad...so hopefully, there aren't any dangerous side effects. The knowledge that is safe: You will learn more about podcasting and podcast history in this article.
Podcasting has been gaining momentum ever since the introduction of Apple's iPod in October 2001. This was followed by many platforms such as iTunes, Roku, Amazon Alexa and Spotify emerging to support podcasts. The broadest impact of podcasting is what people do it for: podcasting gives birth to networks of people with a common interest.
So, do you wish to know the history of podcasting? Read on…
Understand the History of Podcasting?
Do you know who invented podcasting? According to most sources, Adam Curry and Dave Winer are behind the invention of podcasting.
The history of podcasting goes back to the early 2000s, when it was first introduced as an extension of the Internet's blogging platform. In 2004, an article in The Guardian said that podcasting had "come of age," and by 2006, many reports were stating that podcasting had become mainstream.
According to onefineplay.com, the term podcasting came from renowned journalist Ben Hammersly who was writing for The Guardian in 2004.
Later, in 2007, Apple announced that it would include podcasts in its iTunes Store. Since that time, more than one billion podcasts have been downloaded from that store alone.
How Did Podcasting Gain Momentum?
According to onefineplay.com, in 2005, most big organizations noticed the podcasting trend with Apple (a U.S. company) leading in supporting podcasts through iTunes. If you don't believe it, still the same year, President George W. Bush was named the first U.S. President to deliver his weekly address as a podcast.
Also, it's worth noting that in 2005, "Podcast" was named the word of the year by the New Oxford American Dictionary.
In 2006, Apple CEO Steve Jobs illustrated how to do a podcast through GarageBand. By this time, most competitors, if not all, had started to notice that podcasting was growing and still had a lot of potential. It was gaining popularity, and comedian Ricky Gervais set a Guinness World Record for having the highest number of downloads for his podcast. He hit over 250,000 downloads.
Several years later Adam Carolla is known for holding the Guinness World Record for having the highest number of downloaded podcasts. He got 59 million unique downloads between 2009 to 2011. In 2013, podcasting was huge. The demand was evident. Apple later announced they had crossed the 1 billion number when it came to podcast subscribers.
Still, in 2013, Personal Audio LLC sued several podcasters claiming they had a patent on podcasting. The infamous "Patent Troll". In 2017, the claim was overruled. The court ruled that Personal Audio LLC didn't invent podcasting.
With various podcasts coming up every day on numerous platforms, it's challenging to know the actual number of people listening to them. In 2019, according to data from Music Oomph, an estimated 165 million people were recorded to have listened to a podcast.
In America, an estimated 90 million people listen to podcasts monthly.
Given podcasts have a low barrier to entry, it's worth noting that podcasts are here to stay. You can build a brand from podcasting.
What is a Podcast?
So, what is a podcast? According to the dictionary's definition: Podcast means:
"An audio file made available on the internet for downloading to a personal audio player."
It can also refer to video content that is formatted for viewing on the web or for playback on a computer, mobile device, or portable media player. This describes the original concept of podcasts but doesn't capture the podcasting experience.
Podcasting began as an independent method for people to share their messages and build an audience who share similar interests.
How Do Podcasts Work?
Podcasting is a type of downloading media: audio files (usually in MP3 or AAC format) that are available via RSS feed. Podcasts can be downloaded to a computer, transferred to a portable media device, or listened to directly on a website.
Also, podcasting is different from other types of download media because most podcasts are free, and the content is usually delivered through an RSS feed, which makes it easy for subscribers to receive new information as soon as it is posted.
It's vital to know that podcasting is not really a technology in itself; rather, it uses existing technologies to deliver information in a different way. Podcasting combines the following three technologies: web feeds (RSS), blogging software, and digital audio encoding/compression (MP3).
Growth of Podcasts: The Timeline
2004 – Dave Winer and Adam Curry are accredited with the invention of podcasting.
2005 - Apple iTunes 4.9 was released and supported podcasts.
2005 – President George W. Bush was the first president to use a podcast to deliver a weekly address.
2005 – The word Podcast was named "word of the year".
2006 – Apple CEO Steve Jobs illustrates how to make a podcast through Garageband.
2007 – Comedian Ricky Gervais holds the Guinness World Record for having over 250,000 podcast downloads.
2009 - 2011 – Adam Carolla gets over 59,000,000 podcast downloads.
2013 – Personal Audio LLC claimed they have a patent and sued several podcasters.
2013 - Apple gets over 1 billion subscribers on their podcast.
2017 – Court overrules the claim brought forward by Personal Audio LLC, ruling the company wasn't responsible for podcasting and couldn't collect royalties.
2019 - It was reported over 160 million people had accessed a podcast, and over 90 million Americans listened to a podcast monthly.
How Have Podcasts Evolved Since Their Inception?
The history of podcasting is perhaps best understood by looking at its origins. The name "podcasting" was officially coined by Ben Hammersley in Feb. 2004. The name came about as a combination of the Apple iPod and broadcasting. At the time, the iPod was the top MP3 player and had recently launched an iTunes store that made it possible to buy songs online.
The original podcasting applications were little more than automated audio recording devices that allowed users to record a show and have it sent out automatically when it was complete. However, it wasn't long before ordinary people started using them for a variety of purposes, such as sharing their personal experiences with others or even just talking about their favorite topics of interest.
Today, podcasts are used for everything from education to entertainment, and there are now thousands of different podcasts available through iTunes alone (not to mention other popular podcast directories).
The podcast industry has grown exponentially since its inception in 2004, but not without some bumps along the way.
The Evolution of Audio Recording and Editing Hardware and Software
Before the advent of digital technology, podcasts were typically recorded using tape recorders or other analog recording devices. The tapes were then mailed back-and-forth between collaborators, which had obvious limitations.
Today, most podcasts are recorded digitally using computers or other devices which can record audio. Audio editing software is used to edit the recorded files before releasing them on the Internet. Podcasts are typically released in MP3 format, although other formats such as WAV and M4A are also common. These audio files are then placed on a server where users can download them for free via HTTP or FTP protocols (less common).
iPods and Mp3 Players
In the late 90s and early 2000s, iPods and other MP3 players made their debut, making it easier for people to carry their music around with them. As these devices became more popular, some users wondered if it would be possible to carry around other audio files as well.
In 2004, a software developer named Dave Winer created a new script for his popular blog that allowed him to post audio files along with his posts. He called this script "audio blogging," although it soon became known as podcasting. Podcasting soon caught on: in 2005, the word "podcast" was voted Word of the Year by the New Oxford American Dictionary.
Podcasting is now a popular medium: there are podcasts about every subject imaginable (and some unimaginable as well). The format of podcasts varies widely: some podcasts are just one person speaking into a microphone, while others are more complicated productions with sound effects and multiple hosts.
iTunes
On June 28th 2005, iTunes 4.9 was released and included a new feature called "iTunes Music Store", which allowed users to purchase songs online through the iTunes platform. Additionally, users were able to download podcasts for free.
A podcast is often episodic in nature, as well as allowing for an RSS feed so that listeners can subscribe to regular episodes. Often podcasts are free and include audio advertisements that are provided by advertisers or sponsors who finance the podcast.
What are the Different Types of Podcast Apps to Use in 2022?
If you're a podcast listener, you've likely come across the phrase "Podcast app" before. Podcast apps are applications (usually mobile) that let you subscribe to podcasts, listen (on the go), or even watch episodes.
Considering many people like to listen to podcasts while they commute or are at the gym, podcast apps offer listeners a chance to enjoy the shows they love on their own time.
Podcasting has become one of the most popular methods of entertainment and education. In fact, this year, it has been reported that there will be more than 70 million Americans listening to a podcast each month, while 500 million people around the globe will enjoy the convenience and ease of listening to audio from their smartphones and other devices.
With the increase in usage and popularity, there are many podcast apps in the market. It is very important to know about these various types of podcast apps available. This will help you to understand all the types of functionalities that are included or not included in each of these podcast app design services.
So, what are the different podcast apps that you should be using in 2022?
Apple Podcasts
Apple Podcasts is the world's largest and most popular podcast platform. It's home to over one million shows, which are available in more than 100 languages. All podcasts on Apple Podcasts are free for listeners and creators alike, meaning you don't have to pay any fees to listen to your favorite shows or create a new show.
Apple Podcasts is available on iOS devices (iPhone, iPad), Apple Watch, Mac computers through iTunes, Sonos speakers and other smart home speakers (like Amazon Echo and Google Home), CarPlay and many car stereos. It can also be accessed online through a web browser at podcasts.apple.com.
Podcasting has been built into the iOS operating system since iOS 5 was released in 2012, so it was one of the first apps on every iPhone user's home screen. If you have an iPhone, you probably know how to use Apple Podcasts already. (If not, read this guide.)
Apple is constantly improving its podcast app; it added automatic downloads in 2013, Top Stations in 2017, and Smart Playlists in 2018.
Google Podcasts
Over the past few years, podcasting has grown immensely in popularity. As of 2022, it is estimated that podcast listeners have doubled since 2019. This massive growth has led to a thriving industry with a variety of new players, from apps to services and everything in between. One such innovation is Google Podcasts, a platform that actively seeks to promote, distribute and assist podcasters in their quest for success.
With Google Podcasts, you can listen to podcasts on Android (whether your phone is made by Google or not). You can also play podcasts on your computer using the YouTube application.
With Apple and Google both creating their own podcast apps, it's clear the demand for podcasts is growing. Thanks to the two largest companies in technology, there are multiple ways of listening to podcasts now.
Spotify
When Spotify debuted in Europe several years ago, it was a game-changing online music delivery service. Today, millions of people use the platform for listening to both new and established artists. It's available on a number of different mobile devices (including iPhones) and allows users to stream music from either their personal libraries or from Spotify's collection of over 35 million songs. One of the best features is that it allows you to save your favorite tracks to create offline playlists.
You can also discover new artists nobody knows about yet by listening to trending podcasts or catching up with your favorite shows.
Audible
Audible is a big app required for downloading audiobooks and magazines through Amazon. If you are an Audible app user, then it's mandatory to use this app.
When it comes to listening to podcasts, using an app like Audible is a popular choice among listeners. The app allows users to download and listen to audiobooks without paying for a membership, but the downside is that it requires you to use a specific device. With the rise of smartphones, the demand for open-source podcasts has grown.
You have plenty of options for podcasts, so why not give audible a try?
Stitcher
Stitcher is a podcast app that can be found in Google Play, the Apple App Store and in the Amazon App Store. It is available on iOS, Android, and Kindle Fire devices and can be accessed via any web browser.
Stitcher was one of the first standalone podcast apps in the market and has been around since 2008.
Where Can You Listen to Podcasts?
Do you listen to podcasts? You should. Podcasts are a great place to absorb content, as it gives you an opportunity to flex different parts of your brain. Also, podcasts make the listener feel interesting.
In this article, I'm going to answer one question with four answers: Where can you listen to podcasts?
On and Inside Your Computer or Laptop
You can listen to podcasts on and inside your computer or laptop using the built-in player, through your internet browser, or with media software like iTunes.
Windows Media Player is a free program that is installed on most Windows computers. To listen to a podcast in WMP, you will need to download the podcast file (by clicking on the "enclosure" or "media" link on the podcast's web page) and then open it in WMP.
You can also listen to podcasts without downloading them by using your internet browser (Internet Explorer, Chrome or Firefox). In this case, you would click on the "enclosure" or "media" link within the podcast's webpage, and it would play in your browser window.
Apple iTunes is another free program that comes installed on Mac computers. It allows you to download podcasts by using its built-in podcast directory (located under the "podcasts" section of the iTunes store). You can also subscribe to podcasts so that new episodes are automatically downloaded for you. If you want to listen to a podcast through iTunes but don't want to subscribe, you can manually download individual episodes instead.
On Your Mobile Phone
On your mobile phone, the easiest way is to get an app. There are many podcasting apps for iOS and Android, but Apple has its own app called Podcasts that comes pre-installed on every iPhone and iPad. To find it, open your device's Settings app and scroll down until you see the Podcasts icon. Tap it, and you'll be presented with several options, including where to find podcasts.
In Your Car or Truck
You may be a person who commutes. If so, you're probably aware of the many ways to listen to podcasts and audiobooks in your car or truck. Many newer cars and trucks come with the ability to connect an iPod, iPhone, or other music devices directly to the car's stereo system. More recently, some cars and trucks can also connect directly to a device via Bluetooth or WiFi. You can also listen to podcasts in your vehicle by using a portable satellite radio receiver like SiriusXM Satellite Radio or XM Radio (in Canada).
If you're not sure whether your car or truck is equipped with these features, check your owner's manual or consult your local dealer. And if you don't have the latest tech in your car, that's OK too: you can always connect your music player to an FM transmitter.
On a Smart Speaker
Most smart speakers can play podcasts. However, each device has a different procedure for adding new podcasts and playing episodes. Here are the steps for some of the most popular smart speakers:
Amazon Echo: Most podcast apps have integration with Alexa. This means that you can say, "Alexa, play [podcast name]" or "Alexa, tell [app name] to play [podcast name]." You can also try saying, "Alexa, play the episode [episode number] of [podcast name]." Or visit here for more information on how to listen on your Amazon device.
Google Home: You can't yet use Google Assistant to search for new podcasts or specific podcast episodes. Instead, you need to open the Google Home app on your phone and use it as a remote control. Open the menu in the upper left corner > More Settings > Videos and Photos > Add Podcast by URL. Then return to the main menu and select My Library > Podcasts > + Add Podcast. Once you've added a podcast series, you can ask Google Home to play the latest episode by saying, "OK Google, play my [podcast name] podcast." Or visit here for more information on how to listen on your Google device.
Apple HomePod — Apple's Siri-powered speaker only supports Apple Podcasts.
Can YouTube Be Considered a Podcasting Platform?
Podcasting has been around for almost a decade, and it's not going anywhere. YouTube, on the other hand, has been around for about a decade and a half, and it's only expanding. But can YouTube be considered a podcasting platform?
When I think of podcasts, I think of audio files that can be downloaded or streamed from the web. YouTube, arguably, is not that. But if we think of podcasts as an audio file that you can consume on your mobile device (or laptop), then yes, YouTube could be considered a podcasting platform.
But why would you want to listen to an audio file through YouTube when there are so many other ways to listen to podcasts? Well, maybe you're sitting on your couch watching TV with your phone in your pocket, and suddenly you want to hear the latest episode of This American Life. Rather than unzipping your pocket and opening up an app like Pocket Casts or Overcast or Stitcher or iTunes Podcasts or whatever podcast app you use, it's much easier to just open up YouTube and search for "This American Life," because you know that they've posted new episodes there.
It's much easier to just go to YouTube than it is to open up an app designed specifically for podcasts.
As of right now, the answer to this question is yes. You can podcast on YouTube or any other platform you choose. The important question is—can YouTube be considered a good podcasting platform?
The short answer to that question is also yes. In fact, it may be one of the best choices for some.
YouTube gives your podcast a home where people can find it and watch it whenever they want. The content will stay there forever so that people can keep watching it in the future and recommending it to others. This means that you won't need to worry about using another hosting service or paying for hosting—you can just use YouTube's servers for free, as long as you don't mind their ads or having a few videos placed before your own every so often.
How to Create a Podcast for Free
Podcasting is a great way to share information with a wide audience. It's free and easy to create your own podcast, and you can broadcast to the world! In this section, we will go through all of the steps necessary to record, edit, and then publish your podcast.
Before you start podcasting, it's important to figure out what direction you want your podcast to go in. What type of content do you want to communicate? Who is your target audience? Answering these questions will help you choose the topic of your podcast.
Once you know what type of content you want to discuss, it's time to write a script. Podcasts can be very casual, but having a script will help keep you on track and make sure that you don't miss any important points.
Next up: recording. There are many options for recording your podcast, such as using a USB or analog microphone or even just using the built-in microphone on your computer. To get started, I recommend using the built-in microphone on your computer as it is easy and free!
After recording your voice, it's time for editing. You can use a free program like Audacity (https://www.audacityteam.org/)
What is the Future of Podcasting?
Podcasting is growing at an exponential rate. It's easier than ever for anyone with a computer and a microphone to create and distribute audio content to the world. This might sound scary if you are worried about the quality of content, but distribution costs are so low that there is no need to worry.
There is a lot of competition out there, but I believe podcasting will continue to grow and flourish as more people discover its benefits. Podcasting has many advantages over other forms of media: It can be listened to while doing something else like driving or exercising; it has lower production costs than video; it's easy to produce and distribute.
More than half of all Americans have listened to a podcast. The number of podcasts is increasing rapidly because there are so many people who could benefit from them, including students, educators, entrepreneurs and business owners, working professionals, journalists, and anyone who wants to learn something new or gain a new perspective on a particular topic.
Every year there are more and more podcasts being created by people all around the world, with different topics and styles. This means that there are also more opportunities for listeners to find podcasts that interest them! There will always be something new out there worth listening to!
It's safe to say the future of podcasting looks bright!
Final Thoughts
The history of podcasting proves that it is a powerful medium for sharing information.
‍