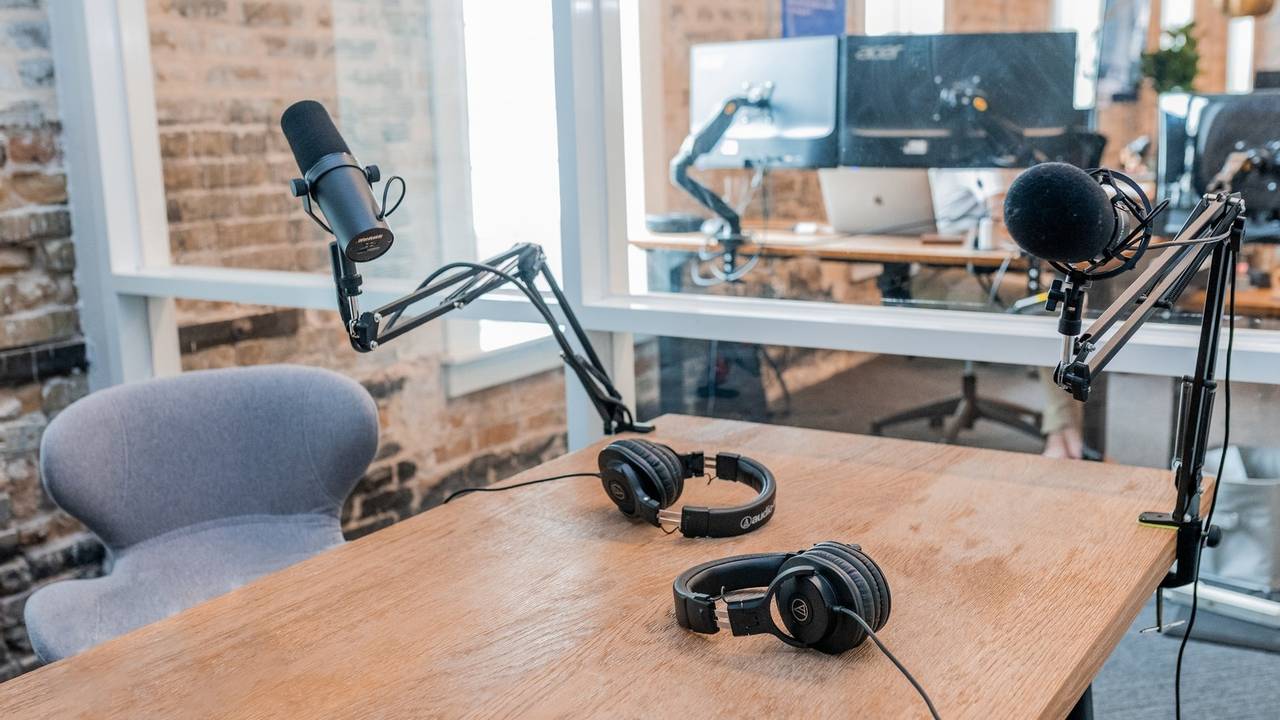 It's the news that's swept the podcast business world. On May 20, Joe Rogan signed a 100 million dollar deal with Spotify to host his podcast exclusively on the platform. And he's not the only one. Spotify is also paying Bill Simmons up to 196 million for his podcast company, The Ringer, not to mention mega-deals for Gimlet Media and Anchor.
It's clear to see that podcasting is the future. And there are significant stats to show we're just at the start of growth and revenue opportunities:
There are over 850,000 active podcasts today.
Over 100 million Americans listen monthly, using platforms like Apple and Alexa.
55% of homes in America listen to or follow a podcast carefully.
45% of podcast listeners have an income of 75K and over.
Podcasts are estimated to bring in over 600 million in ad revenue.
These stats alone should be enough to encourage you to start a podcast business. Not only for the monetary potential. But also for the fact that someone out there needs your help. And they need it through an audio form. If you've had some passion for a subject and love speaking about it, now's your chance.
Radio isn't dead. It's reborn
What is a podcast anyway? For the uninitiated, a podcast is a recorded piece of audio that gets distributed for public consumption. Podcasts happen in different forms. You can have a podcast where it's just you speaking about a topic or service. The most popular podcasts take on an interview format, where the host interviews a thought leader (see Joe Rogan). Other programs follow a series, spanning several episodes or hours. There's no right or wrong way, or right or wrong length. As long as your podcast adds value, you can then turn that into revenue.
If you're thinking about starting a podcast business, you probably think you need a sleek podcast setup that you see on popular podcasts online. That's far from the truth. As we're about to outline for you, a podcast business that's professionally recorded and edited can cost as little as $500.
If we're honest, you probably have all the tools you need to start.
A computer and a pair of Apple headphones.
But as you move along your podcast journey, those tools end up being inadequate. You'll want capable equipment to record, edit, and distribute your content.
With as little as 500 dollars, you can have a professional podcast business!
Your complete $500 setup
USB Microphone: $80 - $190
Of course, to start your podcasting business, you'll need a quality microphone. The audio needs to be as transparent as possible. The Audio Technica AT2005USB Cardioid Dynamic USB/XLR Microphone is one of the most popular on the market. And at only $80, this mic is the perfect starter.
The AT2005USB has dual outputs for USB and standard mic output and comes with a tripod desk stand.
Unfortunately, if you're going to have an interview-style podcast, you'll need another mic. You can purchase two mics, which will double your mic price.
Or you can get the well-known Blue Yeti podcast mic.
While a lot more expensive, the Blue Yeti has some handy features that will save you money down the road.
This USB mic is omnidirectional, meaning you can have two or more persons using the same mic. This makes it perfect for interviews, group discussions, or variety shows. You can even turn on which direction you want with the flip of a switch.
The only disadvantage is that this mic has three condensers, making it so high-quality that it can pick up surrounding noise easily. That means you will need a studio space or quiet room for the best results.
Headphones - $50
Headphones can save you a lot of headaches with your audio and post-production work. An over-the-ear headphone lets you know if you're speaking too loud or soft, so you can adjust your audio accordingly. You'll also pick up any strange sounds and adapt on the fly. Most over the ear headphones work well, but the Audio Technica ATH-M20x is a cheap but high-quality option that will work well for your budget.
Audio Interface - $160
While your computer has a built-in soundcard, you'll need a piece of equipment that can take your voice and convert it into a useful digital asset. This is especially useful with more than one microphone. Plugging your mic into an audio interface does just that. The Focusrite Scarlett 2i2 is perfect for connecting two mics and even has an output for your headphones.
Pop Filter - $10
No one likes hearing those annoying 'P' pops and 'S's that happens when we naturally speak. Sometimes, a loud exhale through our nose can come out on the recording too. A pop filter is a mesh device that reduces those pockets of air that slams onto the mic. Don't overthink the brand and shape. This $10 filter will do the trick.
Boom Arm - $50
Both microphones come with their respective mic stands. However, you'll want something a bit more flexible. A boom arm connects your microphone to an adjustable metal arm that easily attaches to your desk. You can move the mic out of your way and set it up at an ergonomic angle so you can be audible. Try this Boom Arm from Knox for $50.
Shock Mount - $20
A shock mount takes the power of a pop filter to another level. If the mic stand or boom arm vibrates, a shock mount reduces that vibration that's near impossible to edit out. Shock mounts come in different sizes. However, this Koolertronuniversal shock mount covers most mic types.
Editing Software - $0
With your audio recorded, you'll need software for basic editing. Audio software helps with editing audio levels, background noise, and long periods of silence. You can use Garageband, which is free with all Apple computers. However, Audacity is the best free audio editing software available. Audacity has a bit of a learning curve but has the same features as many high-end products.
Podcast Hosting - $0 - $18/mth
You need somewhere to host your audio files, as most platforms don't host audio files. Others can charge you for a set number of hours. Based on the length of your episodes, you can get a freemium account. But in most cases, four episodes a month of 60 minutes means you will need to upgrade.
Soundcloud is one of the most popular hosting services for podcasts, offering users up to 3 hours of content per month. You'll spend $16 a month for the Pro version. What makes the platform amazing is the built-in audience of over 170 million monthly listeners. If you're looking for a headstart to your podcast audience, it's a great choice.
At the same time, Soundcloud is just one of many podcast platforms. If you want maximum reach, you need to distribute your content across Apple, Stitcher, Google, Spotify, and the like. Buzzsprout is an excellent platform to help with distribution and much more.
Along with storage, Buzzspout helps with creating meta descriptions, optimizing and distributing on several platforms, analytics, and much more. Like Soundcloud, you can get 2 hours of free upload, hosted for 90 days. An upgrade starts at $12/month. But the best bang for your buck is $18/month.
You'll Need Time - Cost depends
This is an essential part of a podcast business. Business owners need time to record, edit, and upload your content. You'll need more time to distribute the content on social media, connect with guests, and negotiate sponsorships. Since this is a business, you should work on reclaiming your time. Start outsourcing tasks early, like editing and content marketing. Over time, you'll get better at planning, recording, editing, and uploading, saving you some valuable time.
Let's add the costs up. Everything comes up to just under $500! The best bet is to get set up with two mics or a Blue Yeti, so this budget takes that into account. Of course, you can save significant money if you know for sure the podcast business is a one-man show.
Item
Cost
Microphone
$190
Headphones
$50
Audio Interface
$160
Pop Filter
$10
Shock Mount
$20
Boom Arm
$50
Hosting Software/Storage
$18/mth
Editing Software
$0
TOTAL
$498
Conclusion
Before you know it, you'll have your very own podcast business. You'll have a high-quality sounding podcast, hosted on a robust platform and ready for distribution. Of course, these are just the tools to help with your new business. You'll still need to work out details like the mission, vision, content type, and monetary goals.
These are just some of the tools I've used to create the Brutally Honest Podcast, a show that connects the audience with exciting business owners, movers, and shakers from all walks of life. Podcasts are a great way to express your thoughts, connect people, and provide value through audio. And you can do it like the pros for a small investment.
‍