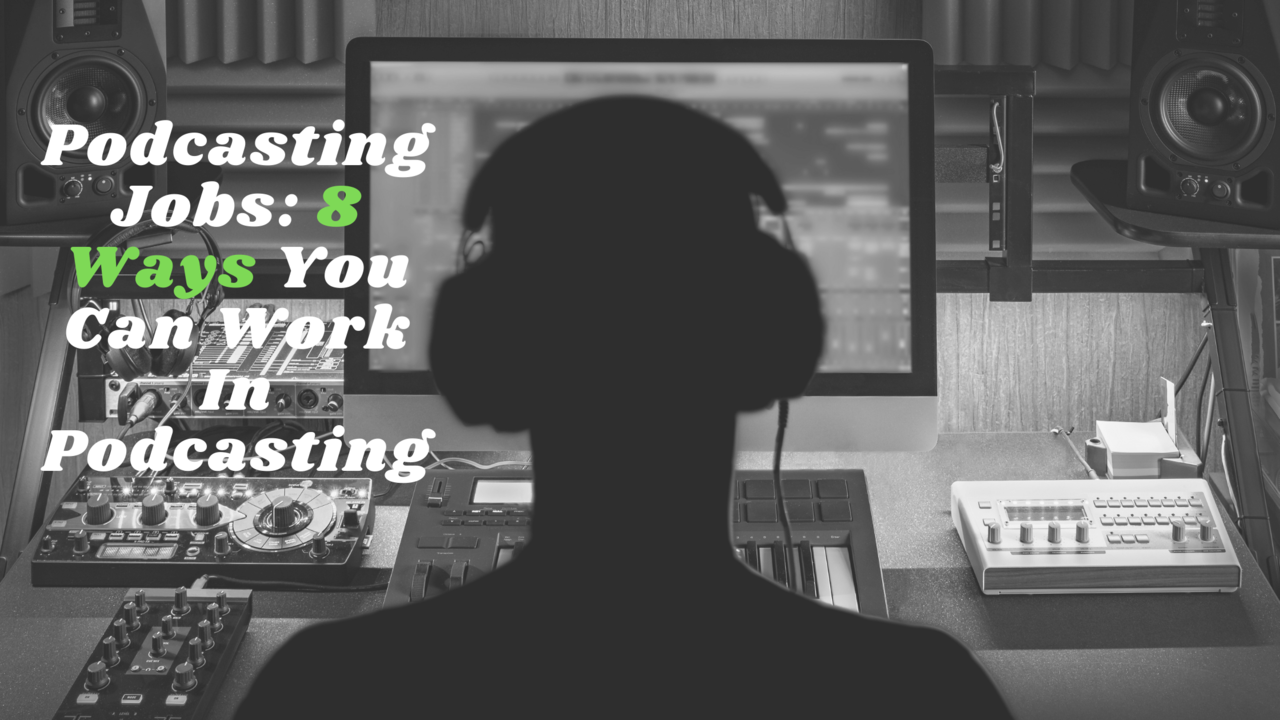 Podcasting continues to grow in popularity and reach. There are more than 750,000 active podcasts, with thousands of episodes uploaded monthly. It's also a budding content medium with new podcasts starting almost daily. And with a pandemic year like we've had, it's gained significant spikes since people are looking for more ways to stay entertained.
You may be tempted to start your own podcast. But if you ask the best in the game, podcasting takes significant time, effort, and a bit of luck to take off. I would know, as it took some time for my podcast, Brutally Honest, to get some traction too. This information is not to discourage you in any way. It's to set realistic expectations, especially if you're looking to podcasting to earn a full-time income.
However, that does not mean you can't capitalize on the podcast industry as early as this month. Instead of working on a podcast, why not work in it? Podcasters need help with different tasks so they can get the best out of their content. And that's where you can come in. Podcasting jobs are a growing niche, and if you have these existing skills, you can land a job with a top podcast. Or you can freelance, start your side hustle, or open a business that serves podcasters. If you don't, you can learn them from an online course and start taking action almost immediately.
1. Manage their Search Engine Optimization, aka SEO
While podcasts are a convenient way to consume content, it's a struggle to bring in organic traffic. Yes, podcasters can build a following on platforms like Soundcloud, iTunes, or Spotify. However, they will be missing out on an even larger audience if they only focus on these platforms. Organic traffic from Google Search is still one of the best ways to grow an audience over time. In fact, Google (finally) started indexing and ranking podcast episodes in 2019. So if podcasters can get their episodes to rank on the first page for specific keywords, they can experience rapid growth.
Do you have SEO experience? Then you can look for SEO jobs in the podcasting niche. By helping podcasters optimize their episodes for keywords, promoting content, and even building backlinks, you can provide massive value. If there are no jobs out there, you can create a side hustle by reaching out to podcasts to help them rank. Once you get one client, you're off to the races. Brush up on your SEO using free training from sites like Hubspot and Moz.
2. Podcast Setup and Equipment Management
Anyone can start a podcast with just their phone and phone headset. But high-quality podcasts need great audio equipment. Podcasters also need some expertise in sound quality and managing tools like mixers. If they're adding a video element to your podcast, then that needs some additional skills. If you're a whiz with audio equipment, audio fundamentals, and how to set up a podcasting studio, you can easily land a job with an up and coming show. They would need you to make sure the video and audio are in the right place and adjust levels as required. If you'd like, you can teach others how to set up their podcast, similar to Chris Curran's Podcast Engineering School.
3. Audio Editing
For an amazing experience, some podcasters need post-production work as well. This is different than our previous point and will require you to know editing software. With editing, you can remove loud background noises and balancing the audio where the speaker has gone too loud or quiet. You may also need to master and prepare the files for publishing, inserting the necessary ad-rolls, for instance. Audio editing jobs are popular on sites like UpWork and Fiverr, so that means there is a growing demand. Some podcasts are looking for an in-house audio engineer. If you can learn to edit, you can have a fruitful career.
4. Content Writer
Podcasting is all about audio, but don't ever rule out the power of the written word. Podcasts need content writers to help them reach a new audience. For instance, if you're good at transcribing, you can become a Transcription Content Writer. The same goes for writing show notes or copywriting. Content writing services and jobs for podcasts can be a niche for freelance writers and is a great way to start earning money immediately. This ties seamlessly into podcasting SEO, so if you and a content writing buddy can team up, you may have an SEO business on your hands.
5. Podcast Marketer
Search Engine Optimization (SEO) is just one part of the marketing process. Podcasters want marketers to help them grow their influence, reach more listeners, and earn more revenue. If you're interested or already know Marketing, podcasting is an excellent niche for you to explore. You'll need to create a Marketing Strategy and execute that strategy using the tools at your disposal. Marketing may run the gamut of social media, joint ventures, press, and even paid ads. If you've managed massive Marketing campaigns before, this may be an excellent opportunity.
6. Audio or Podcast Producer
Podcast producer jobs are another way to get deep into podcasting without creating one yourself. A producer is responsible for the running of the podcast. They manage guests, schedule guests, help plan content, report progress, and manage other team members. Becoming a podcast producer means you should have extensive knowledge of how podcasts work. If you have previous producer experience, you can leverage that to land a job at a popular podcast.
If you don't, start consuming content on podcast operations to get a feel for what's required. Then you can apply for your first job or become a producer for free while you learn the ropes. Podcast producers can go freelance, operate as a consultant, or take a full-time job.
7. Web Developer
Most podcasts have a website. While repositories like Spotify and iTunes show a podcaster's content, it's not done the way they'd like. Furthermore, podcast content is at the mercy of the rules of the provider. A website is a hub for podcast content while showing off their brands, collecting email addresses, and selling products. With a web developer background, you can design podcast websites, landing pages, and funnels.
You can learn these skills relatively quickly. For starters, you can learn to build podcast websites with WordPress, a website builder (that most websites run on) with a short learning curve. You can actually learn to create a full site in 2 hours. With WordPress, you can even build landing pages. However, you can learn ClickFunnels, one of the top landing page and sales funnel builders. From there, you can start applying for podcast website jobs or pitch your services to podcasts that have yet to build their website.
8. Podcast Virtual Assistant
Some podcasters may no be able to hire a producer. But that does not mean they don't need help. A Virtual Assistant (VA) can support podcasters by taking care of time-consuming tasks. A VA can post on social media, answer emails, write podcast descriptions, find guests, and much more. VAs have the flexibility in terms of hours, so you can work for multiple podcasters and build a profitable side hustle.
Final Thoughts
The podcast industry shows no signs of slowing down. But that does not necessarily mean you need to start one now. Like the gold rush in the 1800s, the successful people weren't the gold diggers but the ones who sold shovels. You can provide support and tools for podcasters to succeed through podcasting jobs. And have a successful career doing it! IF you'd like to learn more about podcasting, sign up for my email list for tips, coaching, and more content.
‍