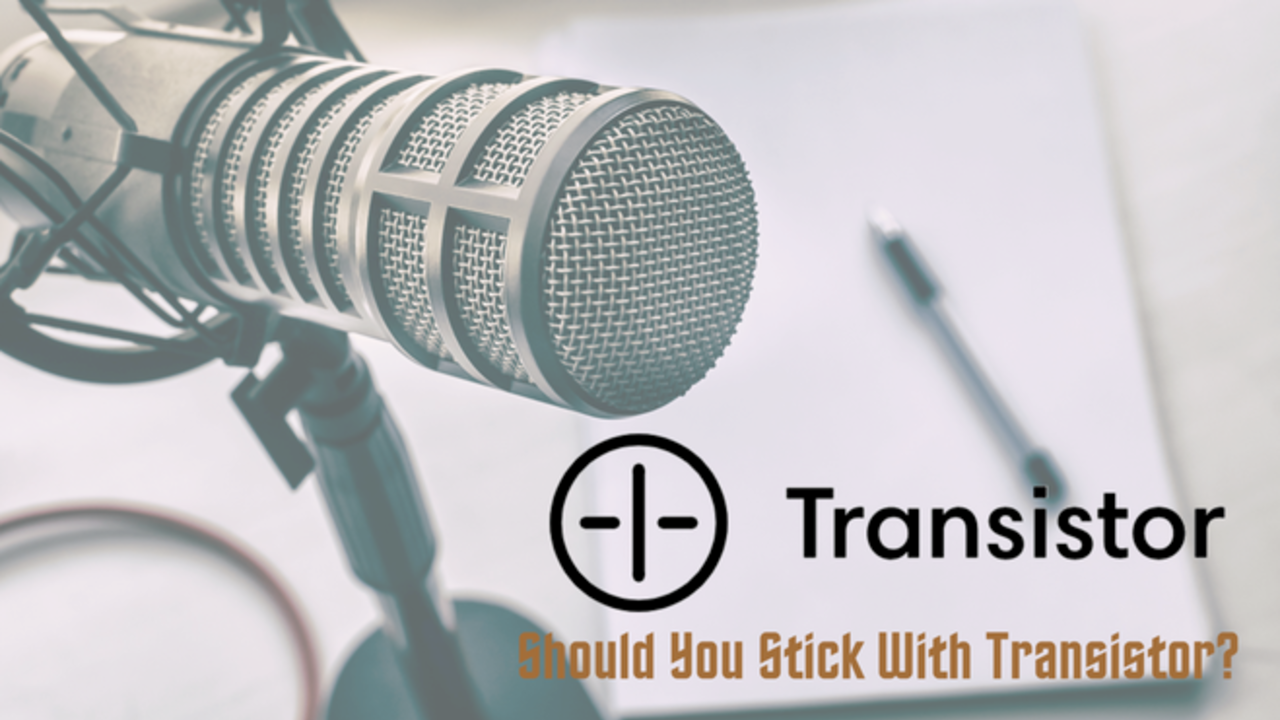 When creating a podcast, there are a lot of moving parts. To create a show your listeners will enjoy, you need the right equipment, editing, and quality, high-value content. You'll also need a podcast host, and choosing the right one can sometimes make or break your podcast. I've done some short reviews on popular podcast hosting services like Podbean, Buzzsprout, and Anchor. Transistor has been one of the new kids on the block.
Podcast hosting and why you need one
When you launch a podcast, you need to create an RSS feed where your listeners can find and download your content. But where is that content located? It would need to be available online 24/7 and easily downloadable. Now you can create your own hosting stack, but this may cost your thousands of dollars in bandwidth fees. You may be able to get away with hosting them on your website, but you run the risk of taking up too much bandwidth. This can get your site shut down, paying hundreds per month in fees, or losing both audio and website access to listeners.
A podcast hosting service helps with that and much more. At the core, these services allow you to store your audio files while sharing your RSS feed. With increased competition, these sites have also gone the extra mile, like adding starter websites, transcription services, and more. The right host could be your all-in-one stop for everything podcast.
About Transistor.fm
Transistor has been around since 2018, an idea from Jon Buda and Justin Jackson. Since it's inception, it's got excellent reviews and has been lauded for its simplicity. Since then, Transistor now boasts roughly 9000 podcasters on their network. Podcasting can be confusing for newcomers, so their goal is to remove some of that friction. But have they achieved it? Here are some key benefits for podcasters.
A stupid simple interface
With just a few clicks, you can get your podcast name, bio, and upload your podcast image. Transistor will create your RSS feed, which you can distribute to popular podcast repositories like Apple Podcasts, Spotify, Stitcher, or Google Podcasts. From there, you can upload your latest episode, add your show notes, and publish with a few clicks.
Transistor achieves simplicity in almost every labor-intensive task. You can import your episodes from a previous hosting provider and embed your podcast in WordPress, Twitter, or other social platforms. Furthermore, you can connect your email providers like Convertkit, MailChimp, or MailerLite to directly interact with and share your content with your email subscribers.
A built-in podcast website
A website is an excellent way to promote your podcast and generate organic traffic through SEO. Transistor gives you the option of creating a standard website with a 'podcast.yourpodcastname.com' domain. The website does not allow for much customization besides colors, fonts, and a logo. However, you can create and About, Subscribe, and Episode page. This is a great start before you invest in a full-fledged website. Your listeners get a simple built-in player to listen to your content with a simple click.
Solid podcast analytics
Transistor gives reliable podcast analytics expected now from podcast hosts. This includes a world map of listeners, average downloads, and trend graphs. Transistor does this along with listens by device and breakdowns per episode. You get to see how you're performing on platforms like Spotify and Apple Podcasts.
Transistor also provides an Estimated Subscriber Count. Measuring subscribers is one of the most challenging things for podcasts. Since these distributors are just sharing an RSS feed link, it's near impossible to track true subscriber count. Transistor tries to give you an estimate based on downloads within 24 hours over your last three episodes. Is it accurate? Of course not. But you get an idea of your potential growth and which episodes resonate with your audience.
Great for multiple podcasts
It's Transistor's unique selling proposition; you can host multiple shows in one account. As you become a better podcaster, you'll probably want to create another one (or two or three!). Maybe you have a goal of creating a paid, premium podcast that listeners can subscribe to. You can now create a separate podcast without having to create a new account or pay separate podcast hosting fees. Transistor seems to not charge for file size or bandwidth either. You pay one set subscription, and you get unlimited podcasts. They, however, cap your downloads per month, depending on your package.
Pricing
Transistor does not have a free plan, compared to popular hosts like Buzzsprout. They're confident that you'll love their interface and back it up with a 15-day free trial. Transistor starts at $19 monthly or $190 yearly. Unlike competitors like Podbean or Buzzsprout, Transistor's plans are only limited by downloads and not the size of their files.
The entry plan has a 15,000 download limit
The professional plan has a 75,000 download limit
The business plan has a 200,000 limit along with 1,000 private subscribers.
For unlimited podcast shows, Transistor's pricing is one of the best on the market.
Downsides
Transistor aims to get your podcast running as quickly as possible. However, when you're looking to scale and optimize your podcast, Transistor misses some features. These include built-in transcription, an option to create video clips, or a monetization marketplace. Now there are external apps and services you can use to achieve these features. However, it would be nice to see them inside Transistor. Overall, if you're looking for a simple interface, not to mention hassle-free steps to upload and share your content, you're in the right place.
Final Thoughts
Transistor may be new, but they've been able to gain traction with their simplicity, reasonable price, and reliable analytics. Transistor will appeal to those looking to start their podcast networks, persons who need multiple shows and prefer one interface (and one price). You can even create three or more users, depending on your plan. Your associates can upload and update episodes. Transistor still has some growth opportunities; however, starting at $19 a month, you get a reliable host.
Subscribe to learn more.
Are you unsure which podcast host will work for you? Read our feedback on services like Podbean, Anchor, and Buzzsprout. You can also connect to our list, where you can learn how you can create a sales generating podcast, leverage LinkedIn, and a whole lot more.
‍